Discover Readyslate: the ultimate innovation for roofing contractors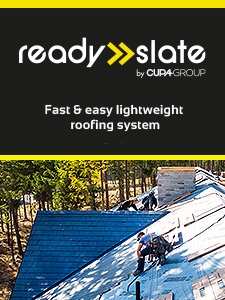 Readyslate stands as a testament to innovation, embodying all the exceptional qualities of natural slate—a material that nature herself crafted with unmatched precision. Developed and patented by CUPA GROUP, renowned leaders in slate production, this roofing marvel redefines the industry landscape.
The standout feature of Readyslate lies in its lightweight design, offering unparalleled ease and speed of installation. Comprised of six hand-quarried natural slate pieces mounted on a waterproof bituminous membrane, this roofing system's modular structure guarantees impeccable waterproofing and seamless integration with existing roof components.
From traditional roofs to low-pitch applications, Readyslate delivers unrivaled versatility.
Readyslate ensures compliance without a hitch. Installation is a breeze, making it accessible to a broader spectrum of workers and reducing construction costs.
One of the most compelling aspects of Readyslate is its timeless aesthetic. Composed mainly of natural slate, renowned for its peerless resistance, this roofing system is poised to last a lifetime.
The inimitable beauty of natural slate cannot be replicated by synthetic alternatives. Plus, investing in Readyslate adds substantial value to any property, enhancing curb appeal and offering a long-lasting roofing solution that pays dividends over time.
In summary, Readyslate is a groundbreaking innovation tailored for roofing contractors. It seamlessly marries the enduring charm of natural slate with contemporary construction techniques. Its lightweight, easy-to-install modules are a testament to efficiency, making it an accessible choice for a range of roofing projects.
With Readyslate, you're not just getting a roofing system; you're securing an enduring, visually stunning, and cost-effective solution for your clients, a choice that elevates your craft and enhances property values. Don't miss the opportunity to embrace the future of roofing with Readyslate.