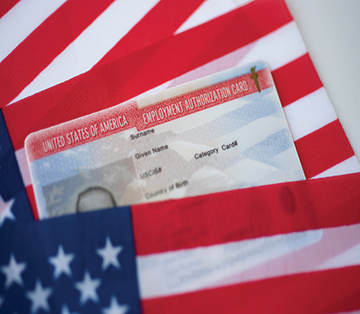 As the U.S. roofing industry continues to face persistent workforce shortages, NRCA is pursuing innovative solutions to address the problem. Federal immigration policy reform is a key component of addressing workforce development needs among contractors, manufacturers, distributors and other industry employers.
An aging workforce, other demographic changes and the COVID-19 pandemic have increased the industry's workforce challenges. A 2019 study commissioned by the Roofing Alliance and conducted by Arizona State University, Tempe, found 90% of U.S. roofing contractors faced workforce shortages during the previous year. NRCA members consistently indicate they could take on 10-30% more work if they could attract sufficient, qualified workers, which is becoming more difficult despite employers offering competitive wages and benefits. This represents billions of dollars of lost economic activity within the roofing industry annually. To achieve stronger economic growth, workforce shortages must be addressed.
Proposed legislation
Federal policies that provide sufficient levels of legal immigration to meet workforce needs are critical to addressing the problem. One key proposal is the Essential Workers for Economic Advancement Act (H.R. 3734), bipartisan legislation recently introduced by Rep. Henry Cuellar (D-Texas) and Rep. Lloyd Smucker (R-Pa.). The bill would establish a new visa system to allow temporary workers from abroad to enter the workforce when needed based on economic demand. NRCA strongly supports this legislation as a key solution that would help resolve chronic workforce shortages.
The deployment of visas under this legislation would be governed by market forces to respond to changes in the economy, and the number of visas allocated annually would vary based on demand. The bill contains strict requirements employers must follow in seeking U.S. workers before they could use the program. Employers unable to fill positions after extensive recruiting efforts could apply to hire visa holders. The bill also would allow employees to eventually work for any employer that is approved to hire visa holders, giving employees greater portability than under existing visa programs. Additionally, the bill would require participating employers to use the E-Verify program to check the authorization status of all new hires. With these and other provisions, the bill is designed to respond to the needs of employers and workers while combating illegal immigration.
NRCA also supports the Dignity Act of 2023 (H.R. 3599) introduced by Rep. Veronica Escobar (D-Texas) and Rep. Maria Salazar (R-Fla.). This bill takes a comprehensive approach to reforming the U.S. immigration system and has significant bipartisan support. The bill would provide $25 billion to bolster border security, reform the asylum system and phase in mandatory use of the E-Verify program for all employers. The bill also attempts to address the highly contentious issue of undocumented workers in the U.S. by proposing a new program to enable qualifying undocumented immigrants to transition to legal status with a potential path to U.S. citizenship. Finally, the bill would allow individuals with Temporary Protected Status and "Dreamers" eligible for the Deferred Action on Childhood Arrivals program to adjust to lawful permanent resident status.
NRCA supports the Dignity Act's reasonable, practical approach to immigration reform. Ideally, the reforms contained in the Dignity Act would be coupled with the new visa system contained in the Essential Workers for Economic Advancement Act to help address the roofing industry's workforce needs. NRCA commends Reps. Cuellar, Escobar, Salazar and Smucker for their strong leadership and willingness to work together to prioritize necessary reforms.
Uncertain prospects
As NRCA works to build more bipartisan support for the proposed legislation, it remains uncertain whether Democrats and Republicans will overcome the impasse regarding immigration policy.
In May, House Republicans put forward and approved the Secure the Border Act (H.R. 2), legislation that focuses solely on enhancing border security, reforming asylum laws and combatting illegal immigration by mandating use of the E-Verify system by employers. Although H.R. 2 has some provisions in common with the Dignity Act, it does not contain any provisions to reform the legal immigration system that are needed to address workforce shortages. It is unclear whether the Senate will take up any immigration-related proposals, but there are periodic discussions taking place among key senators behind the scenes. However, political pressure for Congress to move forward regarding immigration reform is steadily building as workforce shortages become more widespread in a variety of industries.
NRCA will continue working with lawmakers to address immigration policy on a bipartisan basis to find short- and long-term solutions that will benefit the roofing industry. NRCA also has joined with allied business groups in the LIBERTY (Legal Immigration and Border Enforcement Reforms This Year) campaign to urge Congress to enact measures to improve the legal immigration system and border security before the end of 2023.
---
DUANE L. MUSSER is NRCA's vice president of government relations in Washington, D.C.
WEB
EXCLUSIVE
Web exclusive: Click below for more information.