Membrane systems are heat-welded
IKO® has introduced its Innovi™ TPO Single-Ply Roofing Systems. Designed for use with mechanically attached, fully adhered or induction-welded low-slope roof systems, Innovi TPO is heat-welded at the seams to create a continuous, water-resistant membrane. The membranes are available in gray, tan or white. White Innovi TPO membranes are reflective and reportedly meet or exceed ENERGY STAR® and LEED® standards. Offered in 100- or 200-foot rolls, Innovi TPO membranes are available in 45-, 60- and 80-mil thicknesses with widths ranging from 5 to 12 feet. A variety of corresponding components and accessories designed to work with Innovi TPO systems also are available. Innovi TPO Single-Ply Roofing Systems are available in Canada and the eastern half of the U.S.
iko.com/innovi
Skylight accessory is flame-resistant
Solatube International Inc. has added the Solatube Rooftop Fire Glazing accessory to its tubular skylight offerings. Made with a fully tempered top layer and two layers of glass laminated with a layer of polyvinyl butyral, the product reportedly prevents skylight glass from dropping inside a building and igniting a fire. When used with a flame-resistant Solatube Dome Edge Protection Band, the Solatube Rooftop Fire Glazing accessory is said to meet the prescriptive building code requirements for areas in high fire areas and Wildland Urban Interface zones. The Solatube Rooftop Fire Glazing accessory can be used for commercial and residential applications.
solatube.com
Roof board has reinforced panel
National Gypsum® Co. has added DEXcell® FA VSH™ Glass Mat Roof Board to its line of DEXcell roof boards. Designed for use in areas prone to Very Severe Hail damage, the roof board reportedly is hail- and puncture-resistant. The roof board features a reinforced gypsum panel with enhanced moisture-resistant gypsum core and heavy-duty coated glass mat facers. DEXcell FA VSH Glass Mat Roof Board reportedly enhances fire and moisture resistance and provides dimensional stability. The roof board can be used as a cover board, under membranes, above insulation or as a thermal barrier for metal deck assemblies.
dexcellroofboard.com
Nailers drive 1 1/2-inch nails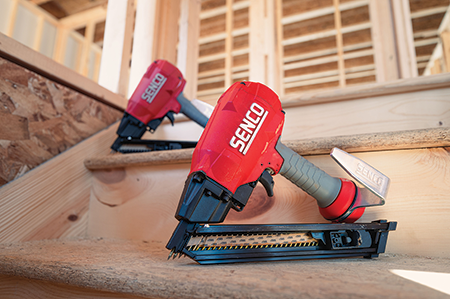 KYOCERA SENCO Industrial Tools has introduced its JN91H1 and JN91H2 pneumatic metal connector nailers designed to fully sink nails in tough substrates. The nailers can be used to fasten pre-punched metal structural connectors and reportedly are strong enough to drive nails into dense engineered lumber, such as OSB. Both nailers are compatible with 1 1/2-inch nails with diameters of .131 to .148 of an inch. The JN91H1 nailer is lightweight and maneuverable with a magazine that holds a single rack of 34-degree paper tape-collated nails. The JN91H2 nailer has an extended magazine that can accommodate two racks of nails for quick production with fewer reloads. The nailers also have a nosepiece design that leaves nail points exposed for accurate placement in pre-punched hardware and feature overmolded grips said to increase comfort and control while reducing slipping, adjustable exhaust ports that direct blowback away from a user, and rugged belt or rafter hooks made from heavy-duty steel.
senco.com
Concrete sealers minimize water penetration
W. R. MEADOWS has added PENTREAT™ 244-40 W/B with 40% silane content and PENTREAT 244-20 W/B with 20% silane content to its concrete sealer portfolio. The water-based concrete sealers reportedly protect concrete and masonry surfaces by minimizing water and water-soluble salt penetration, reducing concrete surface spalling, extending the life of concrete and masonry structures and penetrating surfaces for maximum protection.
wrmeadows.com/pentreatportfolio
Blades feature precision tensioning
DEWALT® has made available DEWALT Large Diameter Circular Saw Blades. Designed for improved finish quality, the saw blades feature optimized tooth geometry for increased accuracy, body slots for low vibration, precision tensioning for added stiffness and sharp carbide-tipped teeth for clean cutting. DEWALT Large Diameter Circular Saw Blades are designed by tooth count to increase performance; saw blades are available with 24-40 teeth, 60 teeth or 80-100 teeth. Various saw blades can be used for cutting soft wood, hard wood, trim, sheet goods and plastics, among other materials.
dewalt.com