Celebrate National Roofing Week June 5-11!
National Roofing Week will be held June 5-11 to raise awareness of the significance of roofs on every home and business and share the industry's good deeds.
Organized by NRCA, National Roofing Week traditionally takes place during the first full week of June and promotes the importance of hiring a professional roofing contractor and making informed decisions about maintaining, repairing or replacing any roof system.
In celebration of National Roofing Week, NRCA will host a new 15 Seconds of Fame Raffle sponsored by A.C.T. Metal Deck Supply, Aurora, Ill. Open to all NRCA member companies, the raffle involves companies making a 15-second video about their companies and submitting it to NRCA for a chance to win a $500 or $1,000 prize pack. The deadline for submissions is May 27. Additional information is available at nrca.net/nationalroofingweek.
NRCA also will be sharing members' stories through social media outlets and Professional Roofing magazine. We encourage members throughout the U.S. to share their stories of charitable giving, crew and staff appreciation, and signature roofing projects with NRCA.
Contractors share how they navigate the supply chain crisis
Prices for essential parts such as roofing materials and steel pipe have risen by at least 50% in a year, and lead times for materials have increased significantly, according to constructiondive.com.
Supply chain issues are leading some contractors to take measures such as renting or building warehouses to stockpile supplies or putting in "ghost orders"—multiple bids for a single product.
"It's as bad as any time during COVID," says Erin Roberts, who leads London-based Ernst & Young's global construction and engineering practice. "You've got all this demand after a brief pause shutting down the supply chain, and it's just causing havoc."
Supply shortages have led to the largest annual spike of input prices to construction since data collection began in 1987. On average, input prices for nonresidential construction surged more than 24% during the past year. And construction companies are trying to manage owners' expectations amid the chaos.
"We're at the point now where we're warehousing materials and getting them wherever we can," says Peter Tuffo, president of Boston-based Suffolk Construction's South Region. "If you have to move it twice, you move it twice. But you know what? That cost of moving it twice is much less than having no work to put in place for that month."
Chris Bailey, senior vice president of integrated solutions at XL Construction, Milpitas, Calif., says some lead times for materials have been pushed into 2023. His most challenging materials and lead times include roofing and roof insulation, steel bar joists and metal decking—all with a lead time of eight to 10 months. EPDM membranes reportedly are nearly impossible to find.
Additionally, with companies renting warehouses to store materials, a shortage of warehouse space has emerged. Some contractors even are building their own warehouses—temporary structures on or near job sites to store materials.
Manufacturers have had to pull back on orders. Chris Fitzgerald, global vice president at Downers Grove, Ill.-based Univar Solutions says if a product is limited, he might only give customers 70% of the previous year's order. Additionally, Brian Sudduth, president at Fort Lauderdale, Fla.-based Miller Construction Co., says mid-level suppliers are "pushing back and asking for project-specific information ... so they don't have a bunch of ghost orders down the line."
Contractors have started to kick off the preconstruction phase of projects as much as 18 months ahead of groundbreaking, which is almost a year earlier than typical. The extra months are spent gathering supplies.
"You're spending the first two months ordering to get material there so it's on-site or in a bonded warehouse or in storage bins," says Granger Hassmann, vice president of preconstruction at Adolfson & Peterson Construction, Minneapolis. "Wherever you can put it just to make sure you've got it and it's captured."
Former NRCA president Marlin Potteiger passes away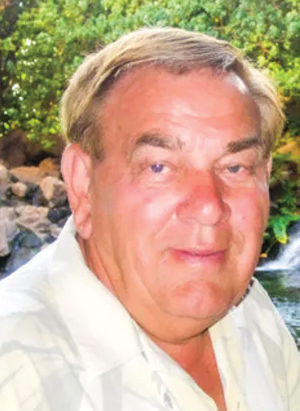 Potteiger
Marlin Earl Potteiger, principal at Potteiger-Raintree Inc., Glen Rock, Pa., and a former NRCA president, passed away Feb. 26. He was 89.
Potteiger started working in the roofing industry when he was 19 years old, and it became a profession he loved for 70 years. He helped found several companies, including M Potteiger Inc., York, Pa.; Mueller-Potteiger Inc., York; and Raintree Services, Jacobus, Pa. He also helped form Roofers Mart in Pennsylvania and Tecta America, Rosemont, Ill. An NRCA member since 1969, Potteiger was elected to NRCA's board of directors in 1979 and served as NRCA president from 1988-89. In addition, he served on several NRCA committees, including the Insurance Board of Governors and the Technical Operations Committee. Following his retirement, Potteiger continued to serve as a mentor and supported start-up ventures in roofing technology and generational connectivity.
Potteiger was preceded in death by his parents, Samuel E. Potteiger and M. Elizabeth Shipp Potteiger; brother, Samuel Potteiger Jr.; and sister, Geraldine Hodapp. He is survived by his loving partner, Katie Blair; children, Janice (Richard) Freeh, Valerie (Greg) Gunn, Thomas (Kris) Potteiger, Michele Cauchon and Lisa (Edward) Duras; 14 grandchildren; seven great-grandchildren; Katie's two children and five grandchildren; sisters, Linda Wagner and Betsy Ibaugh; nieces and nephews, stepchildren and longtime friends.
Adams and Reese now is one of the largest U.S. construction law practices
Adams and Reese LLP, New Orleans, has announced the expansion of its construction practice by merging with Tampa, Fla.-based Cotney Construction Law LLP, a full-service legal and consulting firm serving the U.S. construction and infrastructure industries.
Cotney Construction Law's 16 attorneys and professionals will join Adams and Reese's current roster of 58 construction attorneys, making the company one of the largest construction practices in the U.S. The combined practice now has eight Florida Bar board-certified construction lawyers and two Florida-certified general contractors.
The complete list of attorneys from Cotney Construction Law includes Trent Cotney, the firm's CEO and NRCA's general counsel, who now becomes a partner at Adams and Reese.
"Our construction practice is a driver for the firm, and client needs are fueling its growth," says Gif Thornton, managing partner of Adams and Reese. "Our strategic plan calls for doubling down on existing areas of strength. Trent and the Cotney team are national leaders in the construction law space, and their capabilities complement ours. This combination moves us toward dominance nationally and in the Southeast in particular, coinciding with the economic growth in the region."
The team joining Adams and Reese brings knowledge and experience in serving publicly traded companies, private businesses and individuals in transactions and disputes nationally and internationally. Their singular focus is meeting legal, business and consulting needs in the construction space.
"We are excited about this opportunity to add our already deep bench to a national firm like Adams and Reese, whose resources and platform will take us to the next level," Cotney says. "As advocates for construction clients in the U.S. and around the world, our combined team has a deep understanding of what we must bring to bear when providing the most comprehensive counsel to our clients, and we can better meet their needs through our collective strengths. Our team shares Adams and Reese's forward-thinking vision and commitment to diversity, which will exponentially grow our combined capabilities."
The new team of attorneys will relocate to Adams and Reese's downtown Tampa office.
Attracting women to the construction industry is key
The Bureau of Labor Statistics shows only 10.9% of U.S. construction workers are women, and women account for only one out of every 100 employees in the field, according to forconstructionpros.com. As the construction industry continues to struggle with a long-term labor shortage, attracting more women to the industry is key.
Following are some tips from forconstructionpros.com that could change the way women view careers in construction and help attract them to the industry.
Money talks. Although women lag in earnings in all industries, the gender pay gap is much smaller in the construction industry. In 2018, women working full-time in construction and extraction occupations made $785 per week at the median compared with $834 for men. Although women overall earn 81 cents for every dollar earned by a man, women in construction earn 94 cents for every dollar earned by a man. The construction industry offers women well-paid jobs that do not require a college degree; job security; competitive benefits; paid vacation and the satisfaction of building something that contributes to their communities.
Highlight training and advancement opportunities. Many women do not realize construction careers are accessible through apprenticeships, which provide paid on-the-job learning combined with postsecondary classroom instruction. Women-focused pre-apprenticeship programs have succeeded in increasing women's access and success in construction careers.
Change perceptions and advocate for equality. There are a wide range of roles in the construction industry, and women must be encouraged to seek these roles and given the opportunity to advance. Children are exposed to potential careers at a young age, and the industry should tailor its message to young girls—not just boys—and change outdated perceptions. Also, when women enter construction careers, company leadership must ensure they are being respected. For example, be sure there are female personal protective equipment options that include work clothing that fits properly and allows women to do their jobs comfortably and safely.
As the roofing industry strives for women to view the trade as a viable career path, normalizing women in roofing can help the industry reach that goal.
Survey reveals consumers prefer digital payment options
A new study from Thryv Holdings Inc., Dallas, and Payments Dive, Washington, D.C., has revealed most small-business customers prefer to use digital payment options. The 2022 Consumer Payments Survey shows 73% of consumers say when comparing two businesses, the type of payment options available will influence their final decision.
The companies surveyed 2,050 small-business consumers to determine how payment strategies have changed, what customers seek from vendors and how they'll respond if a business doesn't offer their preferred payment method.
"We've seen consumers grow accustomed to the ease, convenience and safety of digital payments, and the COVID-19 pandemic accelerated this trend," says Ryan Cantor, chief product officer for Thryv Holdings. "Consumers want more digital and contactless payment options, and the small businesses choosing to adapt and capitalize on consumer preferences will win the war of customer retention."
Younger consumers are driving the trend. According to the survey results, 68% of Millennials and 71% of Gen Z respondents prefer cashless payment options. These younger generations are spending at greater rates than older customers, and their purchasing power has grown significantly as they have aged and advanced in their careers.
During the past two years, contactless payments have become ubiquitous, and consumers have grown accustomed to using digital wallets, touchless terminals and tap-to-pay platforms. Fifty-nine percent of consumers say they used such tools more often during the pandemic, and 71% say they intend to continue using cashless or contactless payments in the future.
WEB
EXCLUSIVE
Web exclusive: Click below for more information.