Nations Roof announces new leadership lineup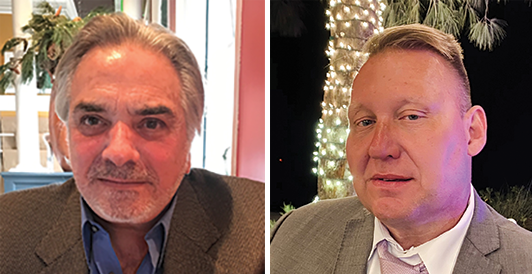 Nations Roof, Mobile, Ala., has announced Rich Nugent has taken on the newly established role of chairman of the board and Jake Hyatt has been promoted to CEO. Founded in 2004, Nations Roof provides commercial and residential roofing services from 37 offices in the U.S.
Nugent is dedicated to increasing the professionalism of the roofing industry and has created a culture of quality and safety at Nations Roof. He also has served the industry through many leadership and committee opportunities at NRCA, including as NRCA president from 2014-15.
Hyatt joined Nations Roof in 2013 as vice president of operations. Since then, he has been promoted to president and COO, giving him excellent experience overseeing the operations of the company.
Saint-Gobain to acquire Building Products of Canada Corp.
Saint-Gobain, Courbevoie, France, has entered into a definitive agreement to acquire Building Products of Canada Corp., Lasalle, Québec, a privately owned manufacturer of residential roofing shingles and wood fiber insulation panels, for $994 million in cash. Closing of the transaction is subject to customary conditions and expected by the end of the year.
With the acquisition, Saint-Gobain will reinforce its role in light and sustainable construction in the Canadian market and position itself to better serve Canadian customers.
Building Products of Canada has three manufacturing plants in Edmonton, Alberta; Montreal; and Pont-Rouge, Québec, and employs 460 workers. The company offers a variety of exterior building products, including asphalt shingles, acoustic panels and wood fiber insulation panels.
"I am pleased to announce the acquisition of Building Products of Canada, and I look forward to soon welcoming into our group the Building Products of Canada teams who have built an attractive, highly respected and renowned position in Canada," says Benoit Bazin, CEO of Saint-Gobain. "This is an important and logical step for Saint-Gobain, allowing us to establish a leading position in roofing in Canada and completing our offering of solutions for light and sustainable construction in Canada as we have done successfully in the U.S."
NRCA videos highlight career opportunities in roofing
NRCA has made available a new recruitment video, "Find a rewarding roofing career!" Developed by NRCA's Industry Image and Outreach Committee, the video highlights roofing professionals who changed careers and found opportunities and rewards in the roofing industry.
In addition, NRCA's "The roofing industry is booming!" video highlights the benefits available to young people who choose to enter the roofing industry.
Roofing employers are encouraged to use the videos as an effective tool to recruit new workers. The videos are available at youtube.com/@NRCAnews.
NRCA continues to work to promote the professionalism of the industry and highlight roofing as a rewarding career. Learn more at nrca.net/workforce-recruitment.
Younger generation of parents more open to alternative education paths
During the past 20 years, college tuition has increased 134% at private institutions and 141% at public institutions, according to business magazine Fast Company.
Despite the rising cost of higher education, the construction industry and other trades have faced challenges getting parents to support children pursuing a path that does not include college.
However, a new report from talent-matching startup Multiverse indicates most parents would support their children if they did not want a college degree, with younger parents being more open to an alternative path.
Multiverse surveyed more than 1,000 U.S. parents with children ages 12-19 regarding their thoughts about college and what they want for their children's futures. Half the parents surveyed were white and half were people of color.
Following are some findings from the survey:
Sixty-four percent of parents said they would be somewhat or very supportive if their child did not want to get a college degree. This number was higher for younger parents; 71% of parents ages 25-34 said they would be supportive compared with 57% of parents ages 55-64.
Eighty-two percent of parents said paying tuition or thinking about their child taking on student debt causes some or significant amounts of stress.
More than half of respondents said financial stress regarding paying for higher education is an obstacle affecting their family.
Sixty-nine percent of respondents said they would be totally supportive if their child entered the workforce instead of going to college after high school. Thirty-eight percent of those respondents said it was because they believed a job would be more effective for gaining necessary skills, and one in five said it would relieve their family from college costs.
For those surveyed, career potential and skill preparation were crucial factors in making the decision. Seventy-eight percent said they had heard about apprenticeships as a post-high school option before taking the survey, and 25% had considered it as an option this year.
NRCA launches certification for modified bitumen systems installers
NRCA is pleased to announce experienced installers who demonstrate substantial skills and knowledge of torch-applied polymer-modified bitumen systems now can apply to become NRCA ProCertified® Modified Bitumen Systems Installers.
NRCA ProCertification® is NRCA's national certification initiative to create a competent, sustainable and high-performing roofing industry workforce. Certifications now available include:
NRCA ProCertified Architectural Metal Flashings and Accessories Installer
NRCA ProCertified Asphalt Shingle Systems Installer
NRCA ProCertified Clay and Concrete Tile Systems Installer
NRCA ProCertified EPDM Systems Installer
NRCA ProCertified Metal Panel Roof Systems Installer
NRCA ProCertified Metal Shingle Systems Installer
NRCA ProCertified Modified Bitumen Systems Installer
NRCA ProCertified Roofing Foreman
NRCA ProCertified Slate Systems Installer
NRCA ProCertified Thermoplastic Systems Installer
Additional information about NRCA ProCertification is available at nrca.net/procertification.