New standard will address design of barriers in building construction
A new ASTM International standard will describe in detail the design and specification process for water vapor transmission properties of water-resistive barriers and air barriers in building construction. ASTM International's Committee E06 on Performance of Buildings developed the new standard, which will soon be published as E3127.
ASTM International member Danko Davidovic says the new standard will explain how water-resistive barrier and air barrier systems perform in different wall and roof assemblies in various climates when the moisture migration by water vapor diffusion is taken into consideration. The standard reflects the current best building science practices with regards to how water vapor transmission properties of water-resistive barriers and air barriers impact moisture transport and moisture management in wall and roof assemblies. It also acknowledges the dynamic behavior of water-resistive barriers and air barriers and describes the benefits of expanding testing requirements to several temperature and relative humidity levels to better describe behaviors of water-resistive barriers and air barriers in service.
"The new standard is focused on the most relevant factors affecting performance of water-resistive barriers and air barriers, best practices to test, report and specify water vapor transmission characteristics without going into in-depth analysis and not using overwhelming technical language," Davidovic says.
Davidovic envisions several ways the new standard will be used:
Manufacturers can use the standard as a resource to educate themselves about the actual performance of water-resistive barrier and air barrier products and use it as a guide to improve product characteristics and make the barriers more suitable for certain climates and building envelope types;
Regulatory agencies can use the guide to improve requirements for water-resistive barrier and air barrier materials and systems in current building codes;
Architects, designers and engineers will use the standard to better calibrate requirements and specify water vapor transmission properties in design documents; and
The new standard could be a supplemental educational tool in engineering curriculums pertinent to building envelopes in colleges, as well as in industry trade training programs.
"Recommendations and guidelines provided in the new standard should establish a solid framework for design of more durable wall and roof assemblies that will provide healthier indoor environments for humans and reduce potential risk for moisture-related damage in building envelopes," Davidovic says. "This could lead to longer lifespan of buildings and reduction in construction waste, which also may result in more sustainable and resilient buildings, advocating construction practices that will support such intent."
Drones can assist with job-site safety
Construction contractors use drones for site surveys, stockpile profiling, material measurement and more, allowing them to quickly gather real-time data about job-site progress, according to forconstructionpros.com. Information gathered by drones can be used to get high-quality work done faster and at a lower cost.
Jason Hurdis, global market professional for Caterpillar, Irving, Texas, says drones also can offer the following safety benefits:
Removing people from potentially unsafe situations. Drones can handle jobs risky for humans, such as climbing a pile to measure stockpile inventory or climbing a ladder to access a roof.
Getting a bird's-eye view of a job site. Seeing where people are in relation to machines and other hazards can make it easier to identify blind spots and potential risks before accidents happen.
Responding to near misses. Drones can capture footage of particular tasks or locations, enabling employers to analyze footage and make changes.
Reacting to site changes. What might be a safe situation on day one may not be safe during a project's later stages. A drone can take snapshots of progress over time and help employers incorporate necessary changes into safety plans.
RT3 seeks submissions for Innovator of the Year award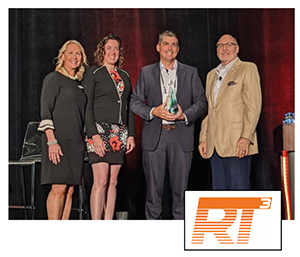 Ken Kelly (third from left), president of Kelly Roofing, Bonita Springs, Fla., was the 2021 recipient of RT3's Innovator of the Year award.
Roofing Technology Think Tank, a group of roofing professionals focused on technology solutions for the industry, is accepting nominations for the 2022 Innovator of the Year award.
The award was created to nationally recognize a roofing contractor who has contributed to the advancement of the roofing industry through technical innovation and/or product development in one of the following areas: production/technology efficiency; safety innovation; client service/quality of delivery; employee recruitment/training/retention; or environmental impact.
Judging criteria will be based on innovation, results, design and strategy. The recipient will be announced at the Best of Success conference in Scottsdale, Ariz., Dec. 4-6.
To be eligible, a roofing contractor must be licensed and bonded for a minimum of five years and have a minimum $2 million in annual revenue. He or she also must be a member of a professional industry association and be able to cite community enrichment ties through support of nonprofits or company culture programs.
The deadline for submissions is Sept. 15. For more information or to submit an award application, visit rt3thinktank.com/award. There is a $50 nomination fee to cover processing and award costs.
WEB
EXCLUSIVE
Web exclusive: Click below for more information.