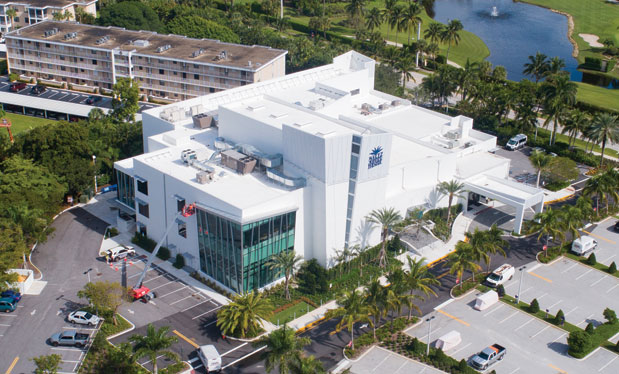 Maltz Jupiter Theatre in Jupiter, Fla., is one of Florida's preeminent professional theaters. Committed to performance, production and education through collaborations with local and national artists, the state's largest regional theater has drawn rave reviews from media outlets across the world.
A cultural hub and landmark in Palm Beach County since opening in October 2001, the three-story Maltz Jupiter Theatre has received 18 Carbonell Awards, South Florida's theater and arts honors.
Looking to elevate its entertainment and cultural offerings, theater administration took advantage of the COVID-19 pandemic shutdown to accelerate a $36 million renovation project while closed to the public. The project was fast-tracked to compress two stages of construction into 13 months to include a new Broadway-scale stage, 199-seat second theater space, expanded conservatory, and redesigned entrance and lobby.
Advanced Roofing Inc., Fort Lauderdale, Fla., was selected by the project's general contractor, Kaufman Lynn Construction Inc., Delray Beach, Fla., to tie the theater's existing roof areas into the roof system on a new addition.
"Advanced Roofing has done a variety of projects for Kaufman Lynn Construction in the past," says Jessica Kornahrens, project manager for Advanced Roofing. "They contacted our company once more to help complete work on Maltz Jupiter Theatre."
Tear-off and installation
The Advanced Roofing team began work on Maltz Jupiter Theatre in July 2021. Four existing roof areas were tied into the theater's new 33,300-square-foot roof system.
For roof area one, crew members removed the existing polymer-modified bitumen membrane and adhered Johns Manville TPO Fleece Backed Roofing Membrane as temporary roofing until the new structure was built to join the existing structure.

For roof area two, the team performed a moisture survey and repaired the existing polymer-modified bitumen membrane; pressure-washed the membrane; and applied Tropical Roofing Products #996 Eterna-Sil Premium Bleed Blocker primer at 1 1/2 gallons per square, followed by Tropical Roofing Products #924 Eterna-Sil Premium Silicone Roof Coating at 2 1/2 gallons per square.
On area three, crew members performed a moisture survey and pull test; removed the existing polymer-modified bitumen membrane down to the lightweight insulating concrete; repaired the lightweight insulating concrete as needed; and adhered Holcim Elevate UltraPly™ TPO XR membrane in ISO Spray R low-rise polyurethane foam adhesive.
On roof area four, the team removed the existing polymer-modified bitumen, poured new lightweight insulating concrete and adhered Holcim Elevate UltraPly TPO XR membrane in ISO Spray R.
"We used lightweight insulating concrete in some areas instead of polyisocyanurate insulation because of lead time," Kornahrens says.
The newly constructed areas incorporated two additional roof assemblies.
"In one area, we adhered 1/4-inch tapered polyisocyanurate insulation with 1/4-inch crickets in Elevate XR Stick foam adhesive and fully adhered Elevate 60-mil UltraPly TPO XR membrane in Elevate UltraPly TPO XR Bonding Adhesive," Kornahrens explains. "Another area required the crew to pour 1/4-inch tapered lightweight concrete followed by fully adhering a 60-mil TPO membrane."
Challenges and safety
Work was coordinated in phases with other trades.
"Coordination proved to be the most common challenge with this project," Kornahrens says. "We overcame the challenges by using several mobilization and set-up areas."
Working on more than 300 rooftop penetrations—including mechanical curbs and flashings—for the new main roof on several levels while tradespeople worked on curbs, ductwork, structural wall supports, etc., added to the congestion.
"Numerous on-site trades workers resulted in a tight, challenging staging area, especially when we were pouring the lightweight concrete," Kornahrens says. "There were four mobilizations for the project, including scaffolding setups for access and flashings."
Material lead time caused some issues, requiring changes to materials used. The project also required an existing permit and a new construction permit, creating administration obstacles.

In addition to Advanced Roofing's safety program, established by its full-time safety division, the team followed Kaufman Lynn Construction's training requirements, ensuring a safe and secure worksite for team members.
"The general contractor required all on-site personnel to take its training class," Kornahrens says. "Advanced Roofing's safety department provided a site-safety plan, job hazard analysis and fall-protection certification for every on-site employee plus the lightweight concrete subcontracted employees."
A tight project timeline posed challenges for the team. Although other trades personnel were delayed because of material shortages, the theater's official reopening date remained unchanged.
"Because of tight schedules, we had to work on small portions of the project at a time as they became available and lay down temporary roofs," Kornahrens says. "Through consistent and constant communication with Kaufman Lynn Construction, the Advanced Roofing team was able to meet the project schedule and proactively anticipate potential challenges to prevent any issues and ensure the theater would be able to kick off its reopening and highly anticipated new season of programming to the public."
Curtain call
In January 2022, Maltz Jupiter Theatre reopened to the public with excitement about opportunities for staging pre-Broadway productions in South Florida. Although the Advanced Roofing team had an amplified project schedule with several mobilizations, the team completed the project safely, on time and within budget.
"Meeting the challenging schedule presented to us and being able to successfully coordinate the logistical issues we faced, such as limited staging during new construction and many trades on-site, was rewarding," Kornahrens says.
PROJECT NAME: Maltz Jupiter Theatre
PROJECT LOCATION: Jupiter, Fla.
PROJECT DURATION: July 9, 2021-Jan. 30, 2022
ROOFING CONTRACTOR: Advanced Roofing Inc., Fort Lauderdale, Fla.
ROOF SYSTEM TYPE: TPO membrane
ROOFING MANUFACTURERS: Holcim Solutions and Products LLC, Nashville, Tenn.; Johns Manville Roofing Systems, Denver; Tropical Roofing Products, a SOPREMA® Group company, Hallandale, Fla.
---
CHRYSTINE ELLE HANUS is Professional Roofing's associate editor and an NRCA director of communications.