Since the EPDM Roofing Association (ERA) was founded in 2002, it has sought to educate the construction and roofing communities by providing current, accurate data; technical information; and educational forums to discuss the characteristics and benefits of EPDM roof systems. As one of the newest trade organizations in the roofing industry, ERA has worked with its members to provide a balanced viewpoint about the various regulatory agendas and trends affecting EPDM product usage.
During 2004, ERA focused much of its efforts on research projects that verified the performance of EPDM roof systems. Although economic factors and technology improvements have combined to produce much of EPDM's recent growth, at least part of the credit must go to ERA for its efforts to improve awareness of EPDM performance. Following are some of the major initiatives undertaken in 2004 that will continue into 2005.
Research focus
An objective of ERA is to provide new technical information to the architectural, roofing and construction industries regarding EPDM performance. To meet this objective, ERA undertook two research studies that explored various facets of the long-term field performance provided by EPDM roof systems. The studies—one on membrane performance and the other on maintenance history—provide useful data about the life-cycle performances available from EPDM roof systems.
The EPDM membrane study evaluated the physical properties of roof membranes that had been in place for 16 years to 26 years. An independent laboratory assessed 33 roof systems in nine states. Membrane samples were taken from existing EPDM roof systems and evaluated to determine the effect of time and exposure on tensile strength, tear resistance and elongation. In all cases, the membranes were found to be watertight and functional with no obvious effect from long-term exposure to water, ultraviolet radiation, ozone, heat and thermal cycling. The tensile- and tear-resistance data obtained for ballasted and exposed roof systems exceeded ASTM D4637, "Standard Specification for EPDM Sheet Used In Single-Ply Roof Membrane," for new and aged membranes even after 16 years to 26 years of service life (see Figures 1 and 2).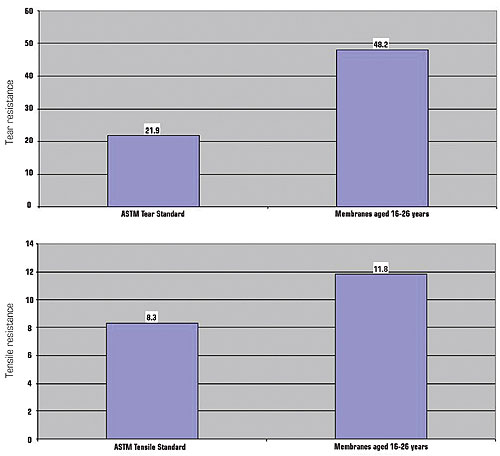 As part of the study, random samples of EPDM membranes were cut from existing commercial roofs representing all climatic conditions and geographic regions. The samples were taken from 22 fully adhered roofs, 10 ballasted roofs and one nonpenetrating, mechanically fastened roof.
A second study, "EPDM System Performance: An Update of Historical Maintenance Costs," by James L. Hoff, vice president of marketing and technology of Firestone Building Products Co., Indianapolis, evaluated the maintenance costs for 3 billion square feet (278700000 m²) of EPDM roof systems installed between 1982 and 1987 and revealed maintenance costs declined 85 percent during that time.
Based on cost data derived from a nationally published construction cost estimating workbook, indexed installation costs were calculated for several types of EPDM systems in the database. And the 10-year maintenance costs for EPDM roof systems account for a small percentage of total roof system costs, even for systems installed during the early 1980s. Although 10-year maintenance costs for EPDM roof systems installed in 1982 amounted to less than 10 percent of the original installed cost, the same 10-year maintenance costs for EPDM roof systems installed in 1993 are barely more than 1 percent of the original installed costs.
The study showed the improvements made in technologies for seaming, flashing and securement also have contributed to an impressive decline in maintenance costs.
EPDM sustainability
EPDM manufacturers have produced literally billions of square feet of EPDM since the product was introduced 40 years ago. With documented performance of the membrane now available, ERA members are focused on promoting EPDM's key attribute—sustainability.
Several projects are under way for 2005 that help EPDM conform with the "Tenants of Sustainable Roofing" as defined by the CIB/RILEM (International Council for Research and Innovation in Building Construction/International Union of Testing and Research Laboratories for Materials and Structures) Environmental Task Group in 2001.
Three of the areas targeted as necessary for global improvement are especially applicable to EPDM roof systems. The three areas are: minimizing the burden of the environment, conserving energy and extending roof system life span. EPDM's ability to meet these three categories is a testament to the sustainability of EPDM products. For example, consider the following:
EPDM requires little energy on a relative basis to produce and ship.


EPDM systems that incorporate the use of polyisocyanurate insulation are energy-efficient. In addition to the apparent energy savings offered by the insulation, the insulation and EPDM membrane material contain varying amounts of recycled content.


EPDM has a long service life—more than 20 years, according to the first study mentioned in this article.
EPDM roof systems can help contribute up to 12 possible credits to a project registered under the U.S. Green Building Council's Leadership in Energy and Environmental Design (LEED) Green Building Rating System.®
In April 2005, Hoff and Samir Ibrahim, systems design and review director for Carlisle SynTec Inc., Carlisle, Pa., will present a paper about sustainable roofing at the Roof Consultants Institute's (RCI's) 20th International Convention in Miami Beach, Fla. The paper will address the importance of roofing material durability as part of the process to define sustainable roofing products. In addition, the paper will discuss specific recommendations for the design of sustainable EPDM roof systems.
This paper is important to the EPDM segment because it specifically recommends ways to increase roof system life span rather than focusing on value engineering of the various elements of a roof system. The paper also offers concrete guidelines for specifiers interested in enhancing roof system durability and life span.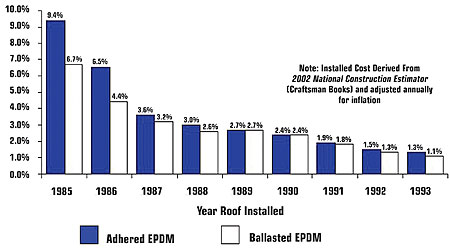 Another study currently being conducted by Hoff is an analysis of the life-cycle performance of roof systems. Scheduled to be released later this year, the study seeks to demonstrate the benefit of selecting a high-performance roof system designed for long-term performance. With EPDM roofs warranted as long as 30 years, it will be useful to better understand the payback available.
Restoration
Filling a void that has existed within the industry, ERA has undertaken the development of specifications and details for the restoration of EPDM systems. Now that EPDM roof systems are, in some cases, decades old, more frequent inquiries are received regarding potential actions that can be taken to extend roof system life. To date, little has been done within the industry to develop a consensus protocol regarding the remedial work that could be done to enhance an aged roof system and maintain its performance level. The development of this tool should prove useful to a wide range of users such as contractors, specifiers and facility managers.
The restoration specification addresses the options available to building owners and roofing contractors who are interested in maximizing roof system life. The specification will be released in early 2005. The restoration specification, which is on ERA's Web site, provides specific recommendations regarding cleaning procedures and possible repair materials that can be used for restoration.
ERA's goal is to provide remedial procedures that can be taken for the most common EPDM details such as seams and flashing work. In addition, the specification will recommend solutions to common problems at termination details and drains.
ERA emphasizes it is imperative manufacturers work with architects and specifiers to provide solutions for aged assemblies. This process is in demand by building owners who are more focused than ever on extending roof system life.
Education
A recent undertaking for ERA has been the development of a series of daylong continuing-education seminars, which provide relevant single-ply technology and roof system design for specifiers and building owners.
The program's objective is to provide a detailed overview of the important considerations for the selection and design of a quality commercial roof system, as well as to increase awareness of essential factors that contribute to a long-term roof system.
For each program, topics will be determined by market demand and local roofing trends. For example, programs in Chicago might include information about green roof systems, and programs in the Northeast may focus on vapor retarders.
The first conference in this series was held in Washington, D.C., in November 2004. The next sessions are slated for Chicago on April 14 and Seattle on May 19. Program topics include:
Material options—physical characteristics of various roof membranes


Roof system design—determining suitability of system type for project demands


Roof system components—evaluating the need for a vapor retarder


Wind design, standards and codes—design considerations to meet standard and code requirements


Warranties—evaluation of warranty options


Reroofing considerations—proper detailing for existing roof systems


Restoration of single-ply roof systems—pro-active steps to extend roof system life
The full-day educational program is accredited by The American Institute of Architects and RCI and provides six learning units to qualified roofing professionals.
Web site
A key ongoing priority for ERA is the communication of educational, technical and up-to-date research data to the roofing community to aid in the evaluation of roofing products. The development of a comprehensive Web site was one of the first priorities for the organization. The Web site, www.epdmroofs.org, offers technical bulletins, research studies, case studies, design guides and new articles.
Another valuable Web-site offering is the EPDM Attributes Technical Bulletin #1, which provides nonproprietary information regarding EPDM performance characteristics, system descriptions and coverage on warranties. The bulletin recently was converted to Spanish and French.
Looking forward
For 2005, ERA plans to conduct research into the performance of EPDM in hail-prone areas, as well as address recyclability. ERA also is closely following the LEED Program and similar initiatives. Although the percentage of new construction that actually receives LEED certification is small, the demands for information about LEED compliance for roofing products have increased. ERA will continue to take a lead role in the roofing industry by supporting interest in the LEED program and environmentally responsible design.
Although significant progress has been achieved, ERA believes it has more work to do this year in addressing the significant forces affecting the roofing industry, including material shortages and ongoing education.
Mike DuCharme is EPDM marketing manager for Carlisle SynTec Inc., Carlise, Pa., and chairman of ERA's Technical Committee.