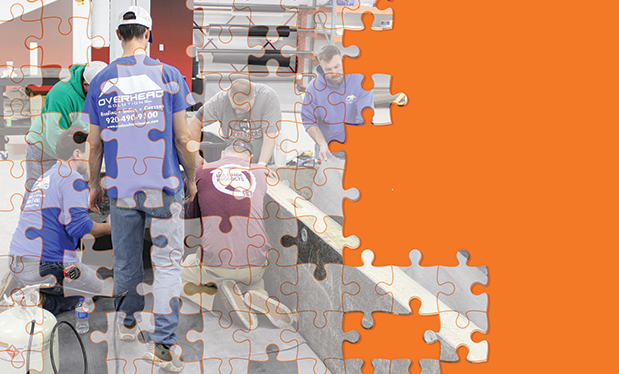 Roofing is a multifaceted, dynamic industry with a constant stream of new products and installation techniques to learn; changing regulations to understand; and crew members to onboard or prepare to take on new roles. However, with looming project deadlines and other must-do priorities, it is easy to defer or eliminate all but the most basic training.
In doing so, your company could be missing out on significant business opportunities. Training should not be thought of as a one-and-done event or a nice-to-have benefit but rather as an ongoing necessity for all employees regardless of tenure or job description.
Training should be viewed as a strategic business investment that can bring significant competitive advantages and be a powerful tool for recruiting and retaining quality employees. One way your company can reap the benefits of employee training is to take advantage of manufacturer-provided instruction.
Quality installations
Manufacturers are continually introducing new products and improving existing ones to help roofing contractors provide roof systems that perform better, last longer and are faster to install.
Manufacturer-provided training gives your team the knowledge and hands-on experience it needs to deliver high-quality projects more efficiently, more safely and with fewer callbacks. It helps you stay on top of the latest product innovations and regulations. It is a signal to potential customers your company is committed to quality and delivering the most appropriate solutions to meet their needs.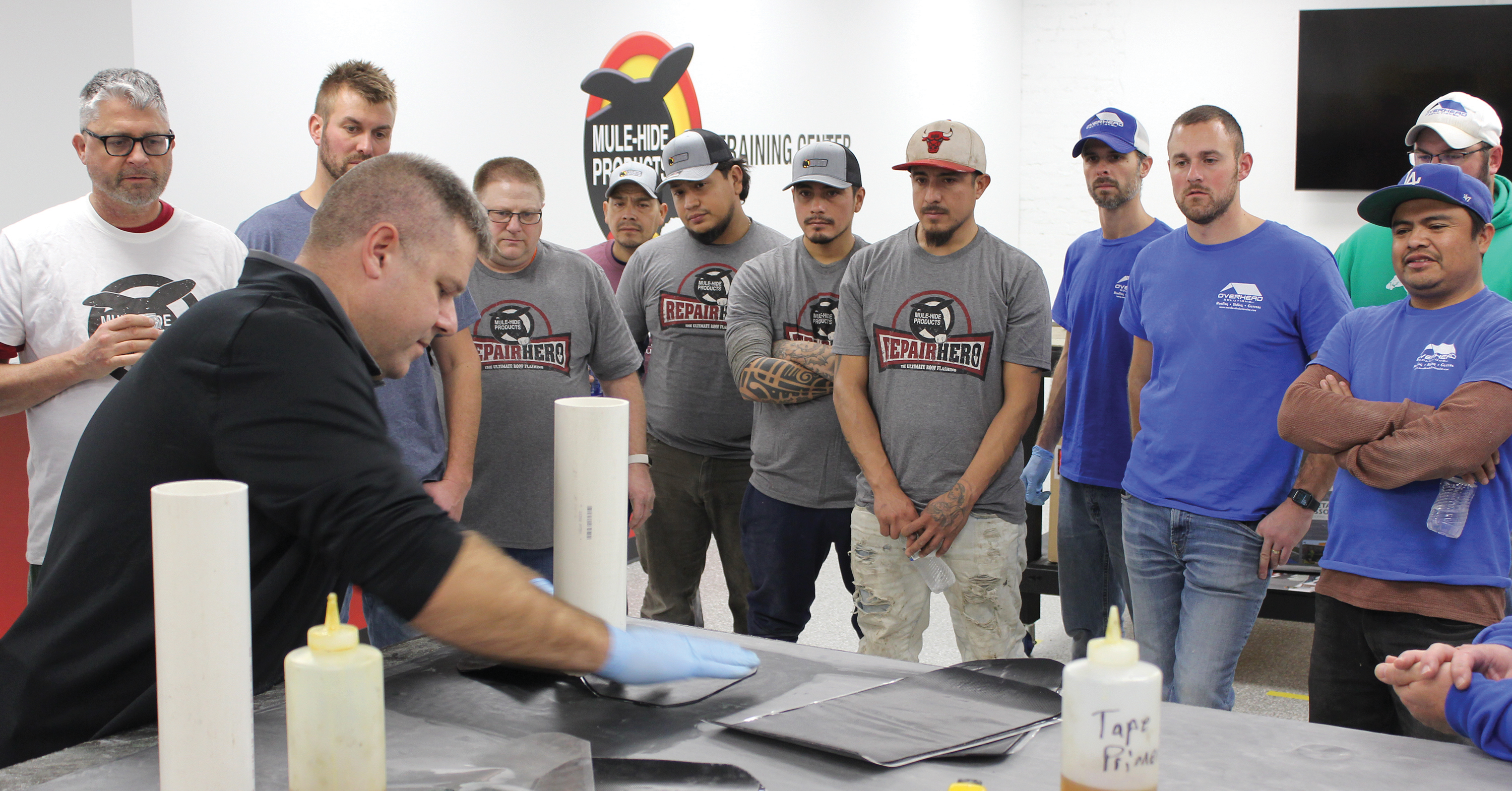 Through manufacturer-provided training, you and your employees gain an understanding of a product's features, the role it plays in a roof system, the applications for which it is well-suited and how to properly install or apply it. Such training provides another tool to add to your arsenal, giving you greater flexibility in crafting recommendations for each project and the ability to offer multiple solutions to meet a customer's needs.
Enhanced efficiency
Although the need for instruction in the use of a new product may be clear, it can be equally valuable with products your company has been using for years. If a manufacturer changes a product, training will help you and your staff understand those improvements, how to communicate them to customers, and learn alterations to the installation or application specifications.
With proper training and equipment, your company can incorporate products specifically designed to help crews work smarter and faster. Low-slope roofing examples include aerosol bonding adhesives that can reduce labor costs by as much as 60% compared with traditional roller-applied adhesives; self-adhering TPO and EPDM membranes that eliminate delays waiting for an adhesive to tack off; and wider TPO membrane sheets that can dramatically speed up installations on larger roofs with few penetrations and obstructions. And the list keeps growing as roofing manufacturers regularly introduce new efficiency-boosting products.
Expand products and services
Adding products and services or entering an entirely new segment of the industry can present significant growth opportunities, allowing you to pursue customers and project types that previously were off limits. When you and your company are ready to realize these business opportunities, training is an essential first step.
For example, if you've never installed an EPDM membrane roof system, you should acquire a solid foundation of knowledge before bidding on your first job. It will ensure you and your team understand the product and how it works, its advantages and drawbacks, and how to properly install it.
Or if you want to add fluid-applied systems to your company's offerings because consumer demand for these products is high, the barrier to entering this segment is lower after receiving manufacturer-provided training.
Also, government, institutional and architect-driven projects often have a no-dollar-limit warranty written into bid requirements. Most, if not all, roofing manufacturers require contractors to receive hands-on product and installation training before they are eligible to offer such warranties. The ability to offer a no-dollar-limit warranty covering materials and installation can expand the range of projects your company pursues.
Attract and retain employees
Nothing is more vital to a roofing company's success than having talented, hardworking, dedicated people to send up on a roof. But attracting and retaining such people is among the toughest challenges owners and managers of roofing firms face. Offering a solid training and continuing education process can make it a bit easier.
People want to work for quality employers, and a strong training process is a tangible sign of quality. It communicates to current and prospective employees your business takes care of its employees, gives them the knowledge and tools they need to do their jobs well, and invests in their long-term success and career growth.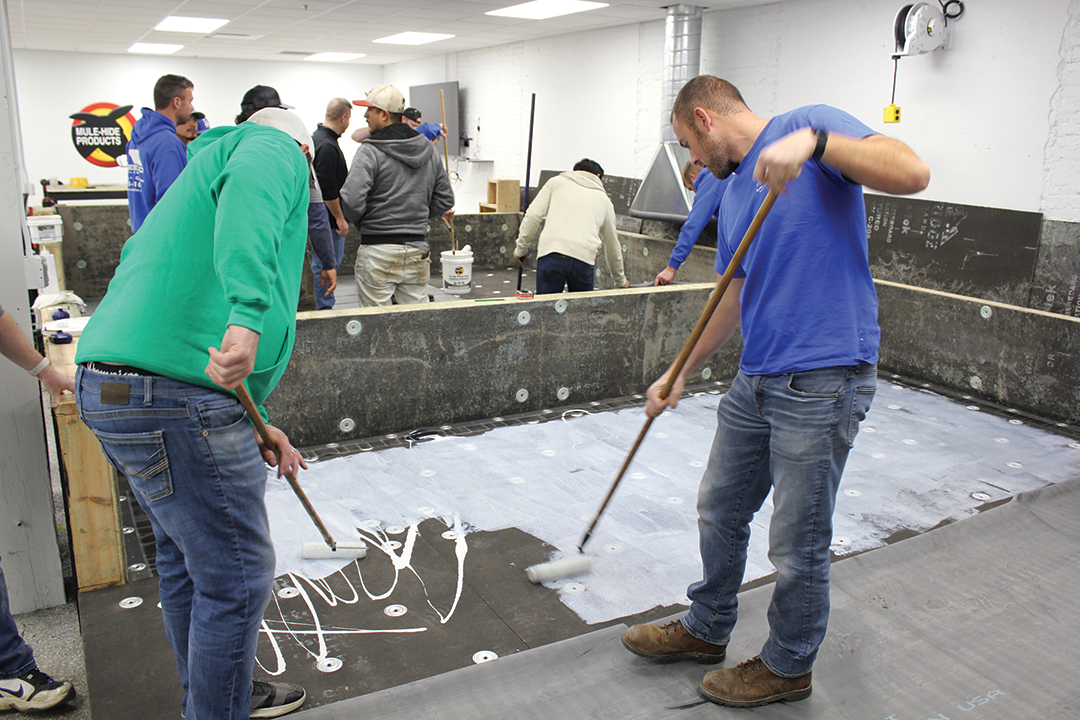 In the roofing industry, safety training is key. If proper precautions are not taken, a job site can turn deadly. Ask any roofing contractor what his or her top priority is, and the response most likely will be ensuring everyone makes it home safely at the end of every day. A training process with safety at its core puts action behind those words, making a business a more attractive place to work.
The onboarding process for new employees—whether roofing novices or tenured veterans—should include thorough instruction in all relevant safety regulations and practices and the proper use of safety equipment. Safety also should be an important component in the ongoing training all employees receive.
Everyone benefits from regular refreshers regarding safety practices. Training serves as a reminder that proper ladder placement, being aware of surroundings and properly using personal protective equipment prevents injuries and saves lives.
Offering ongoing product and installation training also gives employees the knowledge and skills they need to advance in their careers. Continuous learning creates opportunities for them to achieve goals while simultaneously making them more invested in your company and more committed to its success. Training is an incredibly powerful recipe for retaining top-notch talent.
Manufacturers can be valuable resources for such training, providing advanced training in designing, installing, maintaining and repairing specific roof types.
Ready to help
There always is something to learn no matter how long you have been in the industry. Manufacturers are ready, able and eager to be contractors' training partners. They want to help contractors use their products correctly, effectively and efficiently. They want to help contractors succeed and expand their businesses.
Manufacturers offer programs for a wide range of topics and can customize sessions to meet a contractor's specific needs. Many have on-site training centers where contractors and their crews can go for dedicated training, or they will lead sessions at a contractor's facility or a distributor's location nearby.
NRCA training opportunities
NRCA offers a wide range of educational and training opportunities from leadership development, technology and health and safety-related topics to NRCA ProCertification,® Qualified Trainer Conferences and customized education to maximize your company's success. To learn more, visit nrca.net/education.
Manufacturer-provided training also can be cost-effective. There typically is no tuition or registration fee, so the contractor only is responsible for travel expenses if attending a class at a manufacturer's in-house training facility. Again, manufacturers want contractors to understand their products and be able to install or apply them according to specification.
Manufacturer-provided training can give contractors big competitive advantages: high-quality projects completed more efficiently, skilled crews who are happier and safer in their work, opportunities to cast a wider net in pursuing jobs and the ability to offer customers a broader range of solutions. By partnering with a manufacturer for training, you are making a smart, strategic investment in your business and its future success.
---
KYLE STAVISH is national training manager for Mule-Hide Products Co. Inc., Beloit, Wis.