Sept. 11, 2020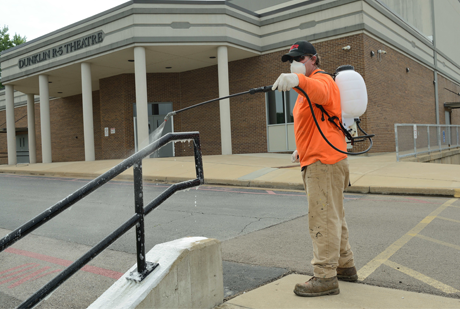 The Garland Co., Cleveland, is using its D7™ antimicrobial disinfectant to help schools in Missouri reopen safely during the COVID-19 pandemic. The company is working with the Dunklin R-5 school district in Herculaneum, Mo., to provide a safe environment for students, teachers and staff to return to school. The district serves about 1,500 students in kindergarten through 12th grade and has welcomed back about 70% of its students for in-person classes while the remaining 30% of students chose to participate in virtual learning.
Part of the school district's newly-established disinfection routine included an application of D7 to high-contact touchpoints on the exterior of Herculaneum High School and Taylor Early Childhood Center and its playground. Dunklin R-5 Superintendent Clint Freeman witnessed the disinfectant's trial run application at the schools.
"We wanted to learn about the D7 product and see how it worked before setting up a full-scale application," Freeman said.
D7 is an Environmental Protection Agency-registered disinfectant that kills bacteria, fungi and viruses in minutes. The disinfectant can be spray-applied to hard, nonporous interior and exterior surfaces.
After observing the initial application of D7 carried out by Leak Stoppers Roofing LLC, Festus, Mo., Freeman was impressed.
"D7 didn't leave behind a film or grime. It went on quickly and foamed up so you can see where you've applied it. It was a very good process," he said.
Freeman is now working with The Garland Co. to explore additional applications of D7 throughout the school district. The company is offering a D7 subscription plan that provides monthly deliveries of the disinfectant to allow for frequent use of the product without requiring regular reordering.