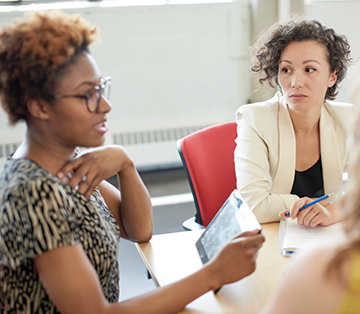 My daughter is 8 years old, but if age is a construct, I'd peg her closer to 14. She's a strong-willed, stubborn, smart planner/hustler/go-getter. Sounds a lot like a roofing contractor, right?
When she was 4, I asked her and her older brother to help set the table. Trying to pretend to be a good dad, I decided to make it a game.
I said: "Cicily, Thatcher, come help set the table. We can pretend we're at a restaurant and be waiters and bring out the food!"
She, who could barely enunciate her "R's" or "S's," wasted zero time in her response: "I'm not going to be the waiter. I'm going to be the boss!"
I've told this story several times since it happened because it's awesome on so many levels:
A child already staked her claim in the world.
A young girl decided she was not going to fit into a predetermined role.
She was perfectly comfortable with her brother being the waiter!
This story came to mind again recently during the 2023 International Roofing Expo® in Dallas.
During the week, I encountered a number of daughters with their parents (exclusively fathers, actually).
Scott Gipson, vice president and general manager for Fibertite Roofing Systems, Wooster, Ohio, introduced me to his daughter, Jodie, who was attending the IRE for the first time. Jodie was attending the week's events because of her work with Creativate, an Ohio marketing firm whose principal, Michelle Jones, was leading an educational session during the week. A father and daughter at a roofing industry function as peers was pretty cool to see.
John Campbell, vice president of sales and marketing for Eagle Roofing Products, Rialto, Calif., introduced me to his daughter, Reagan, who works in communications for the roofing industry. The three of us engaged in a way-too-nerdy discussion about Gallup's StrengthFinders capabilities and how Eagle Roofing Products has successfully used it (John and Reagan even use it for family dynamics and offer it to employees as a benefit if they wish, which is amazing).
NRCA Chairman of the Board Kyle Thomas, executive vice president of Thomas Industries Inc., Mobile, Ala., brought his daughter-in-law, Campbell, to the show. She works in the company as an estimator.
Tim Stephens, vice president of Architectural Sheet Metal Inc., Orlando, Fla., introduced me to his daughter, Rylee, who was working for Dallas-based National Roofing Partners. She had only been with the company for a week but was getting a quick immersion in the field by helping staff the company's booth. Even better, when talking with Tim later, he mentioned there were actually two Stephens sisters at the IRE—both working in the industry!
Even a member of the Chinese delegation who attended the IRE brought his daughter with him for the week. She's studying data and robotics in Pittsburgh and is graduating in a few months.
When I mentioned some of these encounters to Gary Howes, COO of The Durable Slate Company, Columbus, Ohio, he said his daughter has been to a number of IREs and would have been at this one, too, had she not been on maternity leave!
And during NRCA's Annual Member Meeting during which the upcoming slate of NRCA's officers and directors are presented for approval, Sherri Miles, vice president of JD Miles & Son Inc., Chesapeake, Va., was nominated. Chairman Thomas introduced her as: "Sherri Miles of JD Miles & Son (and daughter!)."
Daughters can start in the industry young, too. During the past few Roofing Day in D.C. events, Greg Bloom, vice president of national and strategic accounts for Beacon Building Products, Herndon, Va., has brought his young daughter, Kelly, to help attendees register. She was 10 years old at her first Roofing Day in D.C.
This is fantastic!
Before the IRE kicked off, National Women in Roofing held its annual event, and roughly 500 women from throughout the U.S. and all segments of the industry participated.
Although this, too, is fantastic, we now need to multiply it tenfold! And I think it's possible with a bit of focus and proactivity.
The roofing industry is filled with sharp, smart, tough individuals. The nation is full of sharp, smart, tough women. We just need to invite, cajole and beg them to join the industry for the industry's sake!
If you've read this column a few times, you'll rightly assume I'm a music fan of all sorts and genres. But humor me and search for the lyrics to "Anything You Can Do (I Can Do Better)." It was written in 1946 by Irving Berlin for the Broadway musical Annie Get Your Gun about Annie Oakley. The song is a duet between Annie Oakley and her male competitor in a sharp-shooting contest, and they riff through various scenarios where Annie one-ups him through a series of activities. And. It. Is. So. True.
The song may have been shocking and unprecedented in 1946 just like Billie Jean King beating Bobby Riggs in 1973 in the battle of the sexes shook the foundation of tennis. But in 2023, we should be through with being surprised by women and stop making their successes a rarity.
The Washington Post recently published an article titled "People doubt her as a female roofer: 'We're proving them wrong every day.'" The story contained many anecdotes from a number of women in the roofing industry who participated in a two-week GAF Roofing Academy exclusively for women. They are modern Annie Oakleys.
In the article, Kimberly Santiago-Vega, an instructor in the course who left academia to join the roofing industry, says: "Women can play an important role in filling the shortages in the industry. To those who think we can't do it, guess what? We're proving them wrong every day."
And Nancy Yobei, a 25-year-old class participant, states: "I love to see women do what men can do because we can do it better."
The roofing industry would be far better having greater engagement from the 51.1% of the population that are women, a segment with which we are currently dramatically underperforming. But that increased engagement isn't just going to happen on its own. We've got an unprecedently low unemployment rate in this nation; talented workers aren't likely to randomly stumble through your door. We need to go get them.
Look around your shop, home, community and bring the next boss into the roofing pipeline. Our industry's workforce needs are so great and women's talents so exceptional, we'd be idiots not to.
---
MCKAY DANIELS is NRCA's CEO.
mdaniels@nrca.net
This column is part of News + Views. Click here to read additional stories from this section.