New standards are bringing the U.S. to the forefront of solar power. Just look at what's happening in the Golden State—we are counting down to solar mandates in California that require all new single-family homes to include solar.
This far-reaching energy policy was adopted in 2018 by the California Energy Commission and requires solar photovoltaic electric systems to be installed on virtually every new residential dwelling built in the state. It will apply to all houses, condominiums and apartment buildings with up to three stories that secure building permits after Jan. 1, 2020. This will affect all residential roofing and solar professionals doing business in California.
The effects
Robert Raymer, technical director for the California Building Industry Association, says it best: "California is about to take a quantum leap in energy standards. No other state in the nation mandates solar, and we are about to take that leap."
The number of homes affected by the mandates will be significant. About 80,000 to 90,000 new single-family homes are built in California every year, according to building permit statistics from the U.S. Cenus Bureau. On average, about 12,000 to 15,000 of those are outfitted with solar energy. Around 140,000 PV systems currently are installed (retrofit or new home installations) and running on single-family homes across the state. The 2020 solar mandates apply to new construction, so the number of single-family homes being installed with a solar system is poised to jump from 140,000 to 150,000 and up to 240,000 to 250,000 after 2020, according to PetersenDean Roofing & Solar projections.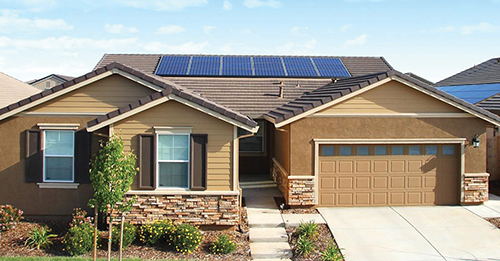 As similar policies become more prevalent, roofing contractors in other states will need to be more in tune with the demands and requirements of structural design and implementation that optimize the performance of solar, as well as other clean energy systems.
Other states are expected to follow California's lead and enact similar policies. Arizona, Colorado, Hawaii, Nevada, New Mexico and Texas are among the states adopting new mandates and incentives that are giving solar a big boost. Roofing professionals everywhere will need new knowledge and expertise to fully understand solar power system installation. One way to achieve this is to bring in an energy consultant or company with expertise and experience in the solar energy market.
"Partner with local, regional and national solar firms in the California market to better coordinate and meet the new rules more cost-effectively," advises Sean Gallagher, vice president of state affairs for the Solar Energy Industries Association. "One of the benefits of installing solar on new construction is the ability to integrate the solar installation with the design, planning and construction processes. This significantly reduces the permitting time."
This knowledge base improves a roofing contractor's expertise in solar planning, budgeting and construction. Roofing professionals who can demonstrate expertise in all aspects of solar and related systems will have a significant competitive advantage over others who are not as well-prepared.
Being solar smart can substantially boost marketing programs, promote sales and add to bottom lines. At PetersenDean Roofing & Solar, we believe solar will open new doors of opportunity for the roofing industry and create new demands for competition and market positioning.
Obviously, labor is a huge consideration. As California has been the perennial leader in U.S. solar power system installations, at PetersenDean Roofing & Solar, we have seen an increase in the number of experienced and aspiring roofing and solar energy professionals in California, but more skilled labor definitely will be needed to keep up with growing demands. The need for solar installers will continue to increase with demand driven not only by legislative mandates but also ever-increasing interest for retrofit installations across the U.S.
How to help customers
One of the biggest challenges roofing contractors face as they prepare for California's 2020 residential mandates is educating homeowners. The message of sustainability helps sell homes, but how that message is communicated is important. Following are the most common questions from customers my company has received about solar and what you need to know to answer them.
Why should I be excited about solar?
Solar can save money on electricity bills and add value to a home, allowing it to sell more quickly and command a higher value. According to a 2019 article published in Popular Mechanics: "It's difficult to say how much more your house is worth with a solar system, since so much depends on the home size, condition, location, and other real-estate issues. But, you can typically expect an increase of $5,000 to $6,000 for each kilowatt (kW) of solar installed."
Thanks to shorter paybacks and great pricing, homeowners can reap all the benefits of solar. It's a simple message for builders to communicate that buyers will appreciate: You will help save the planet, and you will save on your energy bills.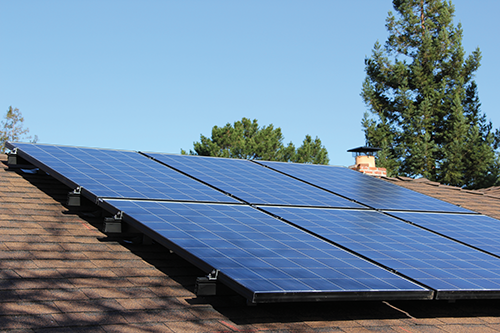 Should I purchase or lease?
At PetersenDean Roofing & Solar, we believe in making the solar experience as simple and cost-effective as possible for homebuyers and homebuilders. We work with builders using purchase and lease options. There are practical differences in cost, maintenance, terms, opportunities for financial offsets, savings, returns on investment, tax credits and other issues that all have to be carefully explained to buyers whether it's a lease or purchase.
What is my return on investment?
The ROI can be quite significant. The GeoStellar Solar Index, a new scientific and economic analysis of savings through rooftop solar, shows solar is a wise investment that can generate more wealth for homeowners in much of the U.S. than treasuries, bonds, CDs and other investments. As electricity rates rise, so does interest in solar power. Solar systems can cost about 8 cents per kilowatt-hour with an average six-year payback, according to the GeoStellar Solar Index.
Homeowners usually want to see a comparison of the cost per kWh for solar versus the price per kWh being paid to an electric company (this is an average in tiered rate structure). The great thing about solar electricity is calculating costs and savings can be done on a per kWh unit basis using simple division. From there, it is easy to demonstrate lifetime savings and payback time frames for each customer.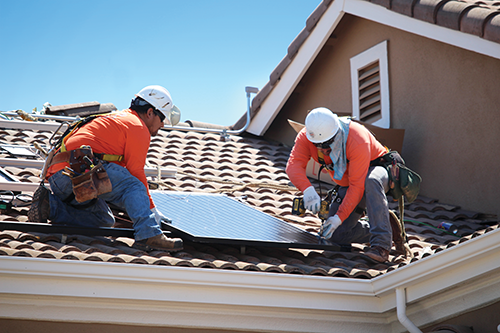 What do the savings look like?
We advise against quoting actual savings to potential homebuyers because each household has different habits and usage. After a system is designed for a home, the homeowner is given the approximate energy that will be generated from the solar system. This number provides the homeowner the opportunity to look at an electric bill for his or her current home to see what he or she would have saved with solar. Customers recoup their investments through the production offset and corresponding savings over days, months and years. And as fossil fuel electricity rates continue to rise, the total savings through fixed energy costs lead to growing savings.
However, homeowners still will ask these questions so the following is what the California Energy Commission estimates: "The new standards could add about $40 to a residential homeowner's average monthly payment, but they will save consumers $80 on monthly heating, cooling and lighting bills."
What are the payback periods?
The payback periods also have dropped significantly and can be as short as three years. Residents of the top states in the GeoStellar Solar Index can see their investments would be completely paid back in four to six years.
What about resale values?
Solar power can add a tremendous amount of resale value to a home. People are keyed in to what solar energy does for their pocketbooks and the efficiency of their homes. If a buyer has to choose from a home that has low energy bills versus one that doesn't, it's an easy decision.
A new generation begins
California has been a leading proponent of solar power for the past decade with its goal of reaching net-zero energy usage by 2045, but other states already are following its lead. This means roofing professionals everywhere will need to be trained in solar.
We are indeed at the cusp of a new generation of intelligent energy production and use. This new paradigm of energy partnerships is a win not only for professional roofing contractors but for energy providers, people and the planet.
Mark Vogel is president and chief operating officer of Petersen-Dean Inc., Fremont, Calif.
---
For an article related to this topic, see "A high-performance solution."
WEB
EXCLUSIVE
Web exclusive: Click below for more information.