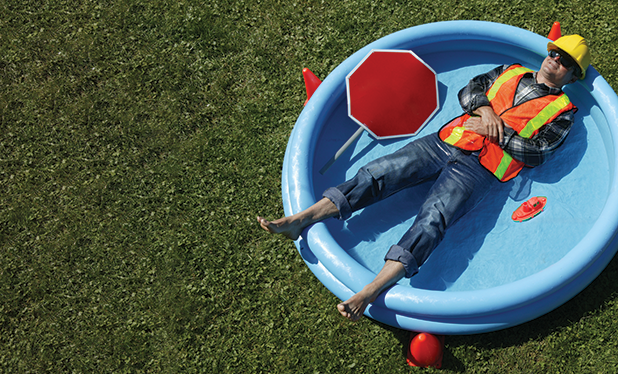 As summer weather arrives, temperatures heat up, and in northern regions, roofing workers are able to get back on rooftops. According to the National Institute for Occupational Safety and Health, body temperature can rise to 106 F or higher within 10 to 15 minutes of people being exposed to high temperatures, and heat stroke can cause death or permanent disability if emergency treatment is not provided. Other heat-related effects include heat exhaustion, heat cramps and heat rash.
Knowing how to work safely in hot weather can help prevent heat-related illnesses. Professional Roofing's May 2022 article, "When is hot too hot?," discussed the topic and early Occupational Safety and Health Administration rulemaking activity. Since then, the emphasis on heat safety has been increasing across the roofing and construction industries. We will take a closer look at accelerated regulatory activity and practical solutions and approaches to heat-related illness prevention.
Regulations
In October 2021, OSHA issued its Advanced Notice of Proposed Rulemaking for Heat Injury and Illness Prevention in Outdoor and Indoor Work Settings, setting in motion the agency's official rulemaking for a heat standard covering all industries, including construction. NRCA submitted comments to OSHA regarding the rulemaking, as well as signed onto comments submitted by the Construction Industry Safety Coalition, which comprises numerous construction trade associations.
NRCA's comments focused on the need for protective measures that follow a practical approach while considering the dynamic and unique nature of the roofing workforce and workplaces. Since the formal comment period closed in January 2022, OSHA has held several stakeholder meetings. The Advisory Committee on Construction Safety and Health, representing stakeholders throughout the construction industry, is required to review proposed rulemaking affecting construction. During a June 2022 public meeting, ACCSH voted to recommend OSHA proceed with a heat standard rulemaking.
In January during a meeting of the National Advisory Committee on Occupational Safety and Health, the committee addressed recommendations and updates from its Heat Injury and Illness Prevention Work Group. The work group was tasked with evaluating and providing input and recommendations regarding compliance assistance materials associated with heat-related illness prevention and creating key recommendations regarding potential elements of a Heat Injury and Illness Prevention Standard rulemaking for OSHA's consideration.
The committee did not receive any rulemaking recommendations. However, it voted unanimously to accept recommendations aimed at improving OSHA's guidance for heat dangers, expanding outreach efforts, and identifying new technology and best practices to mitigate and/or monitor heat.
OSHA also is moving forward and initiating the Small Business Regulatory Enforcement Fairness Act review process, where a panel of small-business representatives reviews the draft regulation and provides a report to OSHA 60 days following review completion. This is an important next step in the process and another opportunity for small businesses to comment.
Although OSHA's regulatory agenda is possibly the busiest in recent history, industry experts and those close to the process expect the heat standard to become a rule within the remaining months of the Biden administration. NRCA will continue to closely monitor and stay engaged in the rulemaking process for an OSHA heat standard.
In the meantime, you should be aware enforcement action is possible even absent a final OSHA standard. Under OSHA's General Duty Clause in Section 5(a) of the Occupational Safety and Health Act, all employers are required to provide a work environment "free from recognized hazards that are causing or are likely to cause death or serious physical harm."
Additionally, OSHA launched an enforcement National Emphasis Program for Outdoor and Indoor Heat-Related Hazards in April 2022. The NEP applies to outdoor and indoor workplaces, including those in construction and general industry.
What does this mean? The NEP directs OSHA compliance officers conducting inspections for other purposes to open or refer a heat-related inspection for any hazardous heat conditions observed. OSHA also may initiate inspections in high-hazard industries when the National Weather Service issues a heat warning alert or advisory for an area. Additionally, the NEP establishes heat priority days when the heat index is expected to be 80 F or hotter, allowing OSHA to take enforcement action.
During a heat-related inspection, OSHA compliance officers are instructed to review OSHA 300 logs and 301 incident reports and other records for heat-related incidents and interview workers about heat-related symptoms such as headaches, dizziness, dehydration and other conditions to indicate a heat-related illness. OSHA may ask to review a company's heat illness and injury program for adequate measures to address heat exposure including access to water, rest breaks, shade, acclimatization procedures, a buddy system and training to list a few.
As part of your company's overall safety and health progam, you should examine heat-safety plans and procedures, as well as heat-illness prevention training and emergency procedures to ensure they address these key components.
At the state level, Oregon OSHA's new Heat Illness Prevention Standard took effect June 15, 2022, and replaced the temporary emergency rule enacted in July 2021. The permanent standard applies to workplaces when employees are performing work activities in any environment (indoor and outdoor) when the heat index is 80 F or hotter.
Oregon employers must provide access to shade, cool or cold drinking water, and supervisor and employee training. In addition, Oregon employers must develop emergency medical plans, acclimatization plans and a written heat-related illness prevention plan. Additional high-heat requirements apply if the heat index reaches 90 F.
ANSI/ASSP A10.50
While OSHA continues moving forward with a federal standard, development of the first consensus standard addressing heat by the American National Standards Institute, A10 Committee for Construction and Demolition Operations is nearly complete.
The A10.50 Standard for Heat Stress Management in Construction and Demolition Operations was developed to assist users in recognizing signs and symptoms of heat-related disorders in indoor and outdoor work environments; provide methods and strategies for reducing or eliminating workers' emergent heat-related disorders at construction worksites; and provide planning help to establish training content for workers and supervisors related to heat stress and heat-related disorders.
During the past two years, NRCA risk management staff and other safety professionals met weekly to develop the voluntary heat standard that will serve as a guide to prevent heat-related illnesses and injuries in the roofing industry and across construction.
The draft standard currently is in technical review and will be sent for ballot before the full A10 Committee for Construction and Demolition Operations. Public and committee comments will be addressed before the standard receives final ANSI approval and is published.
Advocacy
In addition to the hefty amount of regulatory activity, NRCA is thrilled to participate in some notable efforts to prevent heat-related illnesses.
Roofing Alliance research
A heat stress research study currently is underway through the Roofing Alliance's Heat Stress Task Force to address multiple aspects of heat illness, including an investigation into roofing worker response to working in hot environments. The three-phased research program, Heat Stress Conditions and Awareness Research, was developed through Florida Gulf Coast University's U.A. Whitaker College of Engineering, Fort Myers.
The research project studies the effects of heat on workers by performing real-time on-site observations, conducting a national survey of roofing contractors and workers, and developing educational programs based on survey findings to assist roofing contractors in establishing safer work practices for hot environments. The findings of the heat-stress survey have been prepared and are being reviewed by the research team. Next, the team will create an educational resource roofing contractors can use to strengthen their training programs for working in hot conditions.
Heat-safety coalition
The Heat Safety & Performance Coalition, a division of the Korey Stringer Institute at the University of Connecticut, Storrs, is focused on preventing heat-related injuries and illnesses in working populations.
You might remember in August 2001, Korey Stringer, a Minnesota Vikings offensive lineman, passed away from exertional heat stroke. Since Stringer's death, his wife, Kelci, has worked tirelessly to develop an exertional heat stroke prevention institute to honor her husband's legacy. As a result of her efforts, the Korey Stringer Institute was founded, and a Heat Safety & Performance Coalition was created.
The Heat Safety & Performance Coalition produces high-quality heat-safety research, education and awareness in a variety of labor settings. The coalition is fully equipped to assist companies in creating and/or developing their heat policies, emergency action plans and heat-safety training materials to reflect evidence-based approaches to reduce risk of injury and fatality.
The Heat Safety & Performance Coalition also advocates for heat stress consensus standards and recommendations to improve heat safety in workers who labor in the heat.
Prevention
Creating and implementing an overall heat-safety plan not only can reduce or prevent heat-related illnesses and injuries but also demonstrates a company's dedication to keeping workers safe from the dangers of heat. It can reap rewards for your company by building a strong reputation for taking care of employees while reducing productivity losses associated with heat stress.
Committing to a heat-safety plan can be a win-win for employees and employers. Following are some key elements to consider:
Designate a heat-safety champion who can help develop the plan, assist with implementation and help assess effectiveness. Create a safety committee to get feedback about implementing the plan.
Take time to examine your company's current heat-safety practices and make necessary adjustments for current safety guidelines sooner than later. Assess worksite heat safety hazards to optimize heat safety and its effectiveness through greater preparedness.
Consider a daily checklist to assist with heat monitoring and preparedness.
Develop or update written plans that clearly communicate your company's policies and procedures for preventing heat-related illnesses, including a heat emergency action plan that is clearly communicated and workers are properly trained to implement.
Gather heat-safety resources, training materials and supplies such as those available through NRCA and other resource-rich organizations like CPWR—The Center for Construction Research and Training, NIOSH and other health and safety solutions providers.
Training
Training is an important part of an effective heat-safety plan. Start by asking whether the amount and level of training being conducted is adequate. Is it a quick toolbox talk that everyone rushes to sign so they can get back to work? Or is it training that will help ensure supervisors and workers know how to recognize the signs and symptoms of heat-related illness, understand personal risk factors, know how to prevent heat-related illness and know how to respond in the event of a heat emergency when critical seconds count?
New employee onboarding is a great way to communicate information in your company's heat-safety plan, including risk factors for heat-related illness, signs and symptoms, how to mitigate or prevent heat-related illness with acclimatization, hydration, body cooling and what to do in a heat emergency, among other things.
Remember, the information and delivery of heat-safety training should not be complicated but rather delivered in a straightforward and effective way that is easy for employees to understand.
NRCA is available to help
Preventing heat-related illnesses is a familiar topic and one that continues to develop. Notwithstanding the high level of regulatory activity, the past year has proved there now is a much greater interest in the topic.
NRCA will continue to remain engaged with all regulatory rulemaking and consensus standard development related to heat safety while providing updates as efforts progress. NRCA is available to provide members with resources and training regarding heat safety and other safety- and health-related topics. For more information, visit nrca.net/safety.
---
CHERYL AMBROSE, CHST, OHST, is NRCA's vice president of enterprise risk management, and RICH TREWYN is NRCA's director of enterprise risk management.
WEB
EXCLUSIVE
Web exclusive: Click below for more information.