Manufacturer news
Owens Corning offers Business Building Days
Owens Corning, Toledo, Ohio, has made available a series of Owens Corning University Business Building Days designed to help contractors enhance their businesses.
Available in multiple regions throughout the U.S. through early December, Business Building Days give contractors education, resources and practical insights to help build their businesses. Participants will learn how to evaluate their businesses, target growth goals and implement strategies to achieve key performance metrics such as higher revenues.
"Contractors can expect a highly interactive day where they can take advantage of a wide variety of resources first-hand and enjoy one-on-one conversations with industry-leading solution providers," says Jon Gardner, national training and education leader for Owens Corning. "Our goal was to make Owens Corning University Business Building Days a one-stop shop where contractors can speak with a range of experts under one roof and be ready to put the content to good use when the busy spring season arrives."
A list of upcoming Business Building Days is available at www.owenscorning.com/roofing/events.
CertainTeed sponsors National Women in Roofing
CertainTeed Corp., Malvern, Pa., has announced its gold-level sponsorship of National Women in Roofing.
Sponsorships support NWIR's program initiatives. In addition to sponsorship, CertainTeed collaborated with NWIR to establish the organization's Philadelphia chapter, which helps members connect regularly to exchange ideas, attend educational events and develop relationships to advance women within the roofing profession.
"Through recruiting, networking, educating and mentoring women in roofing, NWIR is making valuable strides to further strengthen our industry," says Barb McDonough, general manager of CertainTeed's commercial roofing division. "Not only does the organization shine visibility on new opportunities for women, it also champions the accomplishments and dedication of those already established in the industry."
Polyglass U.S.A. opens plant
Polyglass U.S.A., Inc., Deerfield Beach, Fla., has opened a new 62,000-square-foot facility in Phoenix dedicated to manufacturing roof coatings and primers.
The facility features automated equipment to improve efficiency and ergonomics; expanded shipping and receiving facilities; a laboratory with quality testing and color matching equipment; and a new customer service hub to serve regional and national customers. Automated computer-controlled ingredient delivery and recipe control equipment increase accuracy and repeatability between product batches.
"The automated recipe control leads to unsurpassed precision and accuracy between batches," says Jeffery Umberger, director of manufacturing for Polyglass U.S.A. "We see this as a great beginning and just the start of what we hope to accomplish at the new facility—with even more modern automated equipment that can expand production."
Huntsman will acquire Icynene-Lapolla
Huntsman Corp., The Woodlands, Texas, has announced its agreement to acquire Icynene-Lapolla, Houston, a North American manufacturer and distributor of spray polyurethane foam insulation systems for residential and commercial applications.
Icynene-Lapolla has annual revenues of about $230 million and two manufacturing facilities located in Houston and Mississauga, Ontario. Under terms of the agreement, Huntsman will pay $350 million—subject to customary closing adjustments—in an all-cash transaction funded from available liquidity. The transaction is expected to close during the first half of this year.
"As the demand for energy efficiency continues to grow, both in residential and commercial construction, this combination of companies will provide Huntsman with the largest global array of spray foam technology, integration of raw materials and associates," says Peter Huntsman, chairman, president and CEO of Huntsman. "This is the size and type of downstream assets that we will continue to add to our company as we strengthen margins, move downstream and be less reliant on a single product or application."
Distributor news
ABC Supply receives award
ABC Supply Co. Inc., Beloit, Wis., has received a Glassdoor Employees' Choice Award. The award recognizes the best places to work in 2020 based on employee input. This is the second consecutive year ABC Supply has been honored with the award.
Glassdoor, a job and recruiting website, uses company reviews shared by current and former employees to determine which companies will be included on its list of Best Places to Work in 2020. Employees are asked to rate their overall satisfaction with the company and key workplace factors such as career opportunities, compensation and benefits, culture and values, and work-life balance. In addition, employees are asked to share what works well at their company as well as any areas for improvement. ABC Supply employs more than 15,000 workers in the U.S.
"The belief that every person has within themselves the ability to do great things is part of our core purpose at ABC Supply. We want our associates to feel valued and empowered," says Mike Jost, chief operating officer for ABC Supply. "It's an honor to receive this recognition, but it's even more rewarding to have so many positive, dedicated people on our team."
Other news
Roofing Alliance welcomes new members
The Roofing Alliance has welcomed North American Roofers Insurance IC, Burlington, Vt., and Robert and Kathleen McNamara, Oconomowoc, Wis. North American Roofers Insurance joined at the Service Provider level, and Robert and Kathleen McNamara joined at the Individual level.
Founded in 2007, North American Roofers Insurance is a national risk management and insurance program for commercial roofing contractors that is owned and controlled by its participating members.
Robert McNamara has been active in the Roofing Alliance since his father, Donald McNamara, majority owner of F.J.A. Christiansen Roofing Co. Inc., Milwaukee, joined the Roofing Alliance in 1996.
Since its inception, Roofing Alliance members have committed more than $13.3 million to fund research, educational and technical projects. The Roofing Alliance also supports philanthropic outreach, including its partnership with Ronald McDonald House Charities© to maintain the roof systems on the 165 standalone Ronald McDonald Houses in the U.S. The Roofing Alliance now has 170 members.
MCA releases white paper
The Metal Construction Association has released "Labeling: Who Cares and Why," a white paper intended to clear up growing confusion regarding metal composite material labeling.
Metal composite material is formed by joining two thin skins of metal—typically aluminum but sometimes zinc, copper, stainless steel or titanium—to a polyethylene or fire-retardant core and then bonding them under a precise temperature, pressure and tension. The result is a light material said to be more versatile and flexible than a solid metal of similar thickness.
As the use of metal composite material increases, the white paper is intended as a resource to help uphold industry product standards. The white paper addresses the need to make sure a metal composite material product or system has been tested by an approved agency and labeled according to the International Building Code.®
The white paper is available for free at www.metalconstruction.org/Tech-Resources.
NRCA members partner with roofing apprentices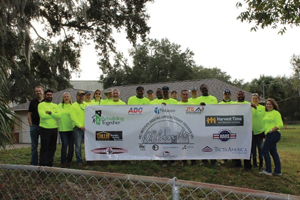 NRCA members partnered with ABC Institute Roofing Apprenticeship Program GNJ in Orlando, Fla.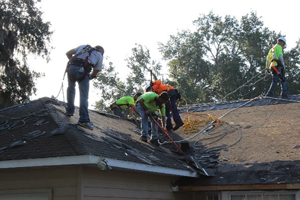 Thirteen apprentices worked for three days to install a new residential roof system.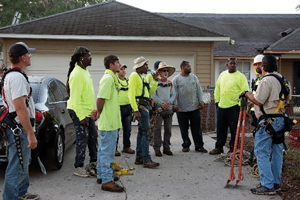 The apprentices learned about interacting with building officals and how an inspection progresses.
Members of the ABC Institute Roofing Apprenticeship Program GNJ, Orlando, Fla., recently had the opportunity to apply their classroom training to a real need when they helped install a new residential roof system in partnership with Harvest Time International Inc. and Rebuilding Together® Orlando.
Thirteen apprentices worked for three days with NRCA members Tecta America Southeast LLC, Sanford, Fla.; Collis Roofing Inc., Longwood, Fla.; and Advanced Roofing Inc., Sanford, as well as Florida Roofing and Sheet Metal Contractors Association member RMS Orlando. The apprentices applied their training in safety, permitting, local building codes, tear-off, deck inspection and replacement as they helped install a new architectural asphalt shingle roof system. The apprentices also learned about interacting with building officials, what documents need to be submitted for an inspection and how an inspection progresses.
The project was made possible through Rebuilding Together and Harvest Time International connecting with local agency partners ABC Institute, Valencia College, FRSA and CareerSource Central Florida. Product donations were provided by local roofing contractors and suppliers, including NRCA member ABC Supply Co. Inc., Beloit, Wis.; Advanced Roofing; NRCA member Beacon Roofing Supply Inc., Herndon, Va.; Collis Roofing; RMS Orlando; Tecta America Southeast; and Total Roof Services, Orlando. Gutters and downspouts were provided by JTO Contracting Inc., Sanford.
NRCA new members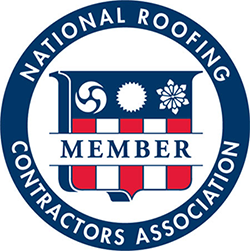 7CES, Dyess Air Force Base, Texas
Aztec Roofing & Construction LLC, Riverview, Fla.
Blue Chip Roofing, Cincinnati
Building Technology Associates Inc., Oak Park, Mich.
Can-Sky Roofing & Sheet Metal Inc., Toronto, Ontario
Carmen Roofing Services, McKinney, Texas
Charger Roofing, San Antonio
Commercial Roof Repair Solutions LLC, Montgomery, Texas
Design Roofing & Restoration, Billings, Mont.
Diamond Roofing-Dodge City, Dodge City, Kan.
Granoff Architects, Greenwich, Conn.
Harbor Roofing and Contracting Inc., Crofton, Md.
Heinz Associates LLC, Anderson Township, Ohio
KOG Roofing, Granbury, Texas
Landmark Roofing, Waltham, Mass.
Martin Carpentry Inc., Pine Grove, Pa.
Maven, Jacksonville, N.C.
Midsouth Commercial Roofing LLC, Nashville, Tenn.
Momentive Performance Materials Inc., Huntersville, N.C.
Nunez Brothers Construction Inc., Mission Hills, Calif.
Olsson Roofing Co. Inc., Aurora, Ill.
Pisgah Roofing & Restoration, Candler, N.C.
Platinum Roofing, Garden City, Kan.
Premier Construction Inc., Bloomingdale, Ill.
Quality RRC Inc., Mt. Juliet, Tenn.
Ray's Roofing Solutions Inc., Melbourne, Fla.
Smart Choice Contracting, Melville, N.Y.
Southeastern Roofing LLC, Suwanee, Ga.
Sure Roofing & Exteriors LLC, Williamstown, N.J.
SW Engineering Co. PLLC, New York City
Tadlock Roofing, Tampa, Fla.
Tim Nichols Construction, Marshalltown, Iowa
Touchstone Roofing LLC, Lakewood Village, Texas
Turtle Group LLC, Los Angeles
Warren Roofing, Twain Harte, Calif.
WISA Solutions, Lorton, Va.

Events
February
2-6
NRCA's 133rd Annual Convention and the 2020 International Roofing Expo®
NRCA and Informa Exhibitions
Dallas
Contact: NRCA's Customer Service Department
(866) ASK-NRCA (275-6722) or info@nrca.net
www.nrca.net
VISIT THE NRCA BOOTH

7-8
NRCA's Qualified Trainer Conference
NRCA
Irving, Texas
Contact: NRCA's Customer Service Department
(866) ASK-NRCA (275-6722) or info@nrca.net
www.nrca.net

11-14
Sprayfoam Convention & Expo
Spray Polyurethane Foam Alliance
Pasadena, Calif.
Contact: Mickey Riesenberg
(703) 222-4267 or michele@sprayfoam.org
www.thesprayfoamshow.com
19-20
NRCA's Qualified Trainer Conference
NRCA
LaVergne, Tenn.
Contact: NRCA's Customer Service Department
(866) ASK-NRCA (275-6722) or info@nrca.net
www.nrca.net

26-27
NRCA's Qualified Trainer Conference
NRCA
Glendale, Ariz.
Contact: NRCA's Customer Service Department
(866) ASK-NRCA (275-6722) or info@nrca.net
www.nrca.net

March
12
LEGALCon 2020
NRCA
Rosemont, Ill.
Contact: NRCA's Customer Service Department
(866) ASK-NRCA (275-6722) or info@nrca.net
www.nrca.net

17-19
NERCA's 94th Annual Convention & Trade Show
North East Roofing Contractors Association
Atlantic City, N.J.
Contact: NERCA
(781) 849-0555
nerca.org

20
Foreman Leadership Training, Level 1
NRCA
Rosemont, Ill.
Contact: NRCA's Customer Service Department
(866) ASK-NRCA (275-6722) or info@nrca.net
www.nrca.net

26-31
2020 IIBEC International Convention & Trade Show
International Institute of Building Enclosure Consultants
Houston
Contact: IIBEC
(800) 828-1902
www.iibec.org

April
9
CERTA Train-the-trainer Program
NRCA
Elgin, Ill.
Contact: NRCA's Customer Service Department
(866) ASK-NRCA (275-6722) or info@nrca.net
www.nrca.net