Manufacturer news
The Garland Co. gives back
The Garland Co. Inc., Cleveland, is celebrating its 125th anniversary by giving back to its community. The company is funding a scholarship and donating food, supplies and employee volunteer hours during a yearlong campaign.
In March, The Garland Co. introduced an annual scholarship program for the children of its employees. One $12,500 scholarship will be awarded to a current college student or a high school senior who plans to continue his or her education at a trade school, community college or university. The scholarship amount will increase in subsequent years to reflect the company's years in business.
During the summer, The Garland Co. will donate 125 backpacks and uniforms to students at a local school. In the fall, the company plans to purchase supplies to donate to a local senior center and hand out 125 Thanksgiving turkeys to local food banks. In addition, The Garland Co. is donating $125 to a charity of each employee's choice.
"Giving back to our community is the cornerstone of what The Garland Co. was founded on," says David Sokol, president of The Garland Co. "As a company, supporting our neighbors in the community is ingrained in our values and culture. There is no other way we would want to celebrate our anniversary than by giving back to the community that has shown The Garland Co. so much support throughout these 125 years."
Longtime sales executive passes away
Thomas E. Rock, senior vice president of sales and marketing for TAMKO® Roofing Products LLC, Joplin, Mo., passed away April 17. He was 86.
Rock spent nearly 50 years working in the roofing industry, beginning in the 1970s when he was responsible for northeast sales at GAF, Parsippany, N.J. He later became a respected salesman and corporate leader for TAMKO Building Products where he served as senior vice president of sales and marketing from 1997 until his death. Rock's legacy continues in the dozens of men and women he mentored during his tenure.
Rock is survived by his daughter, Linda; son, Thomas; daughter-in-law, Lisa; four grandchildren; and five great-grandchildren. He was preceded in death by his parents, Edward and Kathleen; and his wife, Lorna.
ATAS International honors sales team
ATAS International Inc., Allentown, Pa., has announced Jared Gorman, sales representative for Maine, eastern Massachusetts and New Hampshire, and Ernie Kortvely, inside technical salesperson for Maine, eastern Massachusetts and New Hampshire, received ATAS International's Malan S. Parker Award. The award annually recognizes the company's top sales team.
Gorman has more than 15 years of industry experience, and Kortvely has more than 22 years of industry experience. The salesmen were recognized for their teamwork in overall sales growth and observance of corporate goals and objectives.
"Jared and Ernie's dedication and hard work in 2019 was outstanding, resulting in continuous years of sales growth," says Mark Bus, national sales manager for ATAS International. "We have great customers in the eastern New England market, and Jared and Ernie provide exceptional service to maintain their loyalty."
GAF announces award winners
GAF, Parsippany, N.J., has announced the winners of the 2019 President's Club Awards. Presented annually, the awards celebrate roofing contractors' exemplary efforts in high-quality service and industry leadership across North America.
President's Club Awards honor roofing contracting companies that have demonstrated proper licensing (in states that require it), maintained insurance, have proven reputations and are committed to ongoing professional training. In addition, qualifying companies must have met the criteria to earn the designation of GAF Master Elite® residential contractor, GAF Master Select™ commercial contractor or GAF Premium Coating System commercial contractor. Roofing contracting companies that receive the award also earn one, two or three stars for meeting specific criteria regarding reliability and service.
The complete list of 2019 President's Club Awards winners is available at www.gaf.com.
Distributor news
ABC Supply enhances online ordering
As contractors practice social distancing, ABC Supply Co. Inc., Beloit, Wis., has announced its customers now can use myABCsupply to place orders anytime; ordering is not yet available in California.
First launched in November 2019, myABCsupply allows customers to view price information, adjust quantities, reorder and select the locations from where they would like to order. In addition to placing orders online or through the ABC Supply app, customers can send orders via phone, fax, text or email. Customers also can now view order details and detailed delivery information; access billing documents and pay invoices; and add additional users to an account.
ABC Supply customers can sign up for a myABCsupply account at myabcsupply.com.
Contractor news
Former NRCA director passes away
Richard "Rick" Rampy Birkman, president and CEO of Texas Roofing Co. of Austin and a former NRCA director, passed away May 14. He was 62.
Birkman began his lifelong roofing career working as a laborer for his uncle's roofing company in El Paso, Texas. In 1993, Birkman purchased Texas Roofing Co. of Lubbock, and in 1995, he opened Texas Roofing Co. of Austin where he was president and CEO. He served as president of the Roofing Contractors Association of Texas and served on the boards of directors for the Midwest Roofing Contractors Association and NRCA. An active member of ROOFPAC's Political Insiders Council, Birkman testified before the Immigration, Border Security and Citizenship Subcommittee in the U.S. Senate regarding former President George W. Bush's temporary guest worker proposal in February 2004.
Birkman is survived by his wife, Lisa; his children, Elizabeth, Randolph, Ricki and Virginia; his sons-in-law, Bryan and Ethan; his brother, Randolph; his sister, Samantha; his nephew, Zachary; his nieces, Alexandria and Ruth-Ann; and many extended family members and friends. He was preceded in death by his parents, Donna and Edgar. Donations in Birkman's honor may be made to St. Philip's United Methodist Church at www.stphilipsumc.org/give or Williamson County Regional Animal Shelter at www.wilcopets.org.
Other news
Roofing Alliance to celebrate charity initiative
To celebrate roofing industry partners who have donated their time and expertise to work with Ronald McDonald House programs throughout the U.S., the Roofing Alliance is collecting stories of giving in recognition of the 165 roofs adopted through the partnership between the Roofing Alliance and Ronald McDonald House Charities.®
RMHC helps families with critically ill children stay together and near the hospitals providing them medical care through its Ronald McDonald House programs, which provide private sleeping rooms, meals and opportunities for families to interact with one another as they go through difficult times.
The initiative to adopt all 165 Ronald McDonald House roofs started in April 2017, and the goal was reached by June 2019. It has brought together roofing professionals and companies, including contractors, manufacturers, distributors, media and service providers who donate their time and talents to provide regular roof system inspections, maintenance, repairs and/or replacements while also volunteering and donating financially. On June 13, the 165th day of 2020, the Roofing Alliance will celebrate that accomplishment by sharing roofing industry partners' stories through traditional and social media.
To share your RMHC roofing story, contact Bennett Judson, the Roofing Alliance's executive director, at bjudson@roofingalliance.net.
ARMA recognizes workplace safety
The Asphalt Roofing Manufacturers Association has recognized the workplace safety practices of more than 70 asphalt roofing manufacturing facilities, including four that received the prestigious President's Award.
ARMA's annual Accident Prevention Contest honors individual facilities in North America that have low incident rates among workers. The President's Award is presented to facilities that have the best safety score during a two-year period. This year, facilities belonging to NRCA member Owens Corning, Toledo, Ohio, received President's Awards. Owens Corning's Atlanta; Summit, Ill.; Houston; and Irving, Texas, facilities were recognized for their outstanding safety records.
MCA announces new leadership
The Metal Construction Association has named three new members to its Executive Committee and four new members to its board of directors.
James Bush, vice president of sales and marketing for NRCA member ATAS International Inc., Allentown, Pa., is chairman; Brian Partyka, vice president of sales and marketing for Drexel Metals, Louisville, Ky., is chairman-elect/treasurer; and J.B. Wissman, president of NRCA member Dimensional Metals Inc., Reynoldsburg, Ohio, is secretary. Chandler Barden, national sales manager for NRCA member CIDAN Machinery Inc., Peachtree City, Ga.; Michael Beck, director of sales, engineering and new product development for Accurate Perforating Inc., Chicago; Brian Jaks, vice president of Green Span Profiles, Waller, Texas; and Miguel Pena, sales, marketing and operations for GSSI Sealants Inc., Houston, are directors.
IIBEC to host virtual convention
The International Institute of Building Enclosure Consultants has announced its first virtual IIBEC Convention and Trade Show will be held June 12-14. The virtual event was organized following the postponement of IIBEC's annual convention in March as a result of the COVID-19 pandemic.
All 24 previously planned educational sessions, an opening session and a virtual trade show will be provided. Attendees who previously registered for the annual convention will automatically be registered for the virtual event. Attendees will have access to the virtual education and trade show until July 15 to give participants enough time to view every educational session offered.
Participants will be able to virtually attend educational sessions and visit trade show booths. Exhibitors can connect directly with customers through live chat. Outside of the designated trade show hours, the live chat feature will turn into an email that goes directly to the exhibitor. Full registrants also will receive digital proceedings, including papers from all the educational sessions. Registration is open for new attendees and exhibitors at iibec.org.
SPFA releases online certification courses
The Spray Polyurethane Foam Alliance is encouraging members of the SPF community to participate in professional development activities during any downtime resulting from the COVID-19 outbreak in the U.S.
For a limited time, the alliance is offering Exam Preparatory Courses of its Professional Certification Program free to SPFA members and companies with employees enrolled in the certification program. Those who do not fall into either category may enroll in the Professional Certification Program and receive full access to all courses. All courses are offered in an online format for remote access.
The seven online certification courses available are SPF Assistant Exam Preparatory Course; SPF Roofing Installer Exam Preparatory Course; SPF Roofing Master Installer Exam Preparatory Course; SPF Roofing Project Manager Exam Preparatory Course; SPF Insulation Installer Exam Preparatory Course; SPF Insulation Master Installer Exam Preparatory Course; and SPF Insulation Project Manager Exam Preparatory Course.
Additional information about SPFA's online certification courses is available at spfa.learnworlds.com.
NRCA news
NRCA Midyear Meetings will be virtual
NRCA has announced its 2020 Midyear Meetings originally scheduled for July 7-11 in Chicago will be held virtually during a two- to three-week period in July as a result of the COVID-19 pandemic.
NRCA's Executive Committee, board of directors, committees and task forces will engage in virtual meetings to discuss NRCA and industry issues and plan for NRCA's 2020-21 fiscal year. Committee staff liaisons will communicate objectives and meeting dates in the weeks ahead once they are finalized.
NRCA new members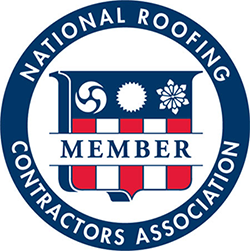 10 Men Roofing, Omaha, Neb.
Andrew Davis, Los Angeles
APFULLER CONSULTANTS PLLC, Winter Haven, Fla.
Bloomfield Construction, Bloomfield Hills, Mich.
Boling Construction, San Antonio
Built By Bennett, Springfield, Va.
Christian Brothers Roofing & Contracting Inc., Louisville, Ky.
Dan Dixon Architect LLC, Orlando, Fla.
Eco-Solar Solutions LLC, Morton Grove, Ill.
Empire Contracting Group, Cincinnati
Forensix Consulting LLC, Allen, Texas
Gallagher Office of Architecture LLC, Lexington, Ky.
Geobest Construction LLC, Huntingdon Valley, Pa.
Hamati Roofing Ltd., Toronto, Ontario
Integrity Group Northwest, Gig Harbor, Wash.
Jones Architectural Metals, South Elgin, Ill.
Lebolo Roofing and Development LLC, Gainesville, Ga.
Manuel Ruiz Roofing and Construction, Chaparral, N.M.
McFarquhar Group Inc., Waxahachie, Texas
Miller Roofing and More Inc., Canton, Ga.
Nehemiah Building Group, d.b.a. Carey Roofing and Construction, Willow Spring, N.C.
Reliable Roofing and Construction, Winnsboro, Texas
RGM Architects LLC, Dallas
Ridgeline Services Inc., Mississauga, Ontario
Six Star Roofing, Santa Cruz, Calif.
SkyGuard General Contracting, Louisville, Ky.
Stone Creek Roofing Exteriors, Longmont, Colo.
Topside Management Services Inc., Fort Worth, Texas
Unique Surfaces LLC, Owensboro, Ky.
United Professional Engineering, Lake Worth Beach, Fla.