MANUFACTURER NEWS
Altenloh, Brinck & Co. unveils training center
Altenloh, Brinck & Co., Bryan, Ohio, has unveiled a new 12,000-square-foot training center at its headquarters in Bryan. The creation of the training center was made possible by the company's expansion to a new packaging facility in Pioneer, Ohio.
"We are proud to open this newly built training center for not only training specific to plant operators but also overall workforce development education," says Allyn Luce, vice president of manufacturing for Altenloh, Brinck & Co. "Building our new Pioneer packaging facility and shifting team members and equipment to that location enabled us to dedicate space at our home office for these important training needs."
The training center has one large training classroom with the capacity to fit 114 people or convert to four separate training rooms. Each room features new technology, including Clevertouch interactive smart boards for training, presentations and collaboration. The training center also features an open space to accommodate full production equipment for hands-on operator training.
Other training elements include hands-on training carts and individual modules for maintenance, controls and robotic training. Training will be completed by full-time, dedicated training staff with experience in continuous education and cold-forming technology.
GAF plans asphalt shingle recycling operation
GAF, Parsippany, N.J., has announced plans for a commercial-scale asphalt shingle recycling operation to reclaim post-consumer shingle waste and support production of the first roofing shingles manufactured with recycled asphalt.
The operation includes a new asphalt shingle recycling center in Corsicana, Texas, designed to take end-of-life roofing shingles, reclaim 90% of the waste material collected and create high-quality recycled asphalt briquettes that can be transported and used in the manufacture of new products. It also includes an expansion to GAF's Ennis, Texas, shingle plant, allowing the plant to use the briquettes to manufacture shingles containing recycled material.
GAF expects both components to be fully operational by the end of 2023. The company plans to scale the recycling capability with a goal of incorporating recycled asphalt content across all GAF shingle products and diverting at least 1 million tons of asphalt shingles annually from landfills by 2030. Once operations are up and running, the Corsicana facility will be able to divert 300,000 tons of shingle waste from landfills per year, supplying the Ennis plant and other shingle facilities with enough recycled asphalt briquettes to produce shingles containing recycled content for more than 660,000 homes each year.
"The breakthrough technology that we have developed not only allows us to create a circular economy for asphalt roofing shingles but also creates a product that can be used by any company that requires asphalt as a component of its manufacturing process," says Jim Schnepper, GAF's CEO. "We are proud of this important milestone, which is good for the industry and the planet."
Atlas® Roofing sponsors ARCA Menards Series race
Atlas Roofing Corp., Atlanta, was the title sponsor of the ARCA Menards Series race on the Springfield Mile at the Illinois State Fairgrounds Sunday, Aug. 21. The event was televised live on MAVTV. Since the 1960s, the final weekend of the Illinois State Fair has featured two days of motorsports on the 1-mile dirt oval, with open-wheel cars on Saturday and stock cars on Sunday.
"We always look forward to the summer months because that's prime roofing season," says Stanley Bastek, sales and marketing vice president for Atlas Roofing's shingles and underlayments division. "It was exciting for all of us to see the Atlas Roofing name as the entitlement sponsor for an ARCA Menards Series race and even better for us to be associated with one of the most unique and traditional races on the schedule."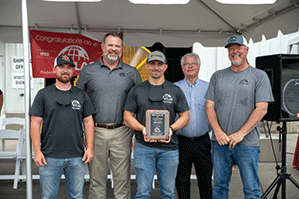 Atlas Roofing's Meridian, Miss., manufacturing plant was recognized for workplace safety.
In addition, Atlas Roofing announced four of its asphalt shingle manufacturing plants received recognitions for safety in the Asphalt Roofing Manufacturers Association's 2021 Accident Prevention Contest. The annual contest honors asphalt roofing manufacturing facilities for workplace safety, specifically low-incident rates among workers.
Four Atlas Roofing plants won six awards in two categories for their continued and improved safety records. Facilities in Ardmore, Okla.; Daingerfield, Texas; and Meridian, Miss., won Perfect Employee Safety Certificates, and facilities in Daingerfield; Hampton, Ga.; and Meridian won Certificates of Safety Improvement. Perfect Employee Safety Certificates recognize plants that have perfect scores for the reporting year, and Certificates of Safety Improvement recognize plants that demonstrated an improvement of at least 25% over their previous year's performance.
Georgia-Pacific Chemicals acquired by Bakelite Synthetics
Georgia-Pacific Chemicals LLC, Atlanta, has been acquired by Bakelite Synthetics, Atlanta, a global producer of thermoset specialty resins, solutions and engineered thermoset molding compounds.
With the acquisition, Bakelite Synthetics expands its portfolio of products, brands and customers with Georgia-Pacific Chemicals' resin and formaldehyde technology and increases access to end markets in building materials, transportation, industrial, chemical intermediate and specialty resins.
The acquisition includes 11 chemical facilities employing about 600 people in the U.S. and South America. Georgia-Pacific Chemicals' new headquarters will be in Atlanta.
TAMKO® Building Products launches affinity programs
TAMKO Building Products, Galena, Kan., has launched three new affinity programs featuring EagleView, HailTrace and RoofersCoffeeShop® for members of The TAMKO Edge™ contractor program.
The affinity relationships make available special offers and discounts for members of The TAMKO Edge. EagleView provides aerial imagery and property measurement reports. HailTrace offers hail, wind and tornado tracking solutions to give contractors timely leads regarding properties affected by severe weather. And RoofersCoffeeShop is a networking site for roofing professionals that also provides information, materials, services, tools, labor and training.
Additional details are available at tamkoedge.com.
CONTRACTOR NEWS
Founder of Roofing Solutions recognized by Engineering News-Record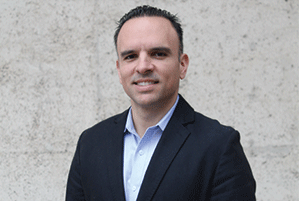 de la Cruz
Tupac de la Cruz, founder of Roofing Solutions LLC, Prairieville, La., was recognized by Engineering News-Record as one of its Top 20 Under 40 for 2022.
The 2022 Top 20 Under 40 were selected from nearly 400 nominations submitted during fall 2021. A panel of independent industry judges chose 20 individuals who represent the pinnacle of leadership skill, community service, work ethic, talent and diversity.
Highlighted in an Engineering-News Record article available at enr.com, the top 20 met in Tempe, Ariz., in February for a conference and conversation about the construction industry's top issues. They discussed topics such as climate change, the skilled labor shortage, the role of technology and investing in training.
During the discussions, de la Cruz cited supply chain issues as one of his biggest concerns.
"It's hitting the whole industry," he said. "I am hoping it gets fixed—hopefully not through a recession but through manufacturers being able to keep up and ports being able to receive some raw materials to make some of the components that we need."
He also noted how his company works to overcome the challenge of having four generations in the workforce with distinct views regarding construction careers.
"We continue to proactively work with trade schools and local high schools so we can attract some of these kids that decide not to go undergrad," de la Cruz says. "But it's complicated."
DISTRIBUTOR NEWS
Gulfeagle Supply acquires Brightview Distribution
Gulfeagle Supply, Tampa, Fla., has acquired Brightview Distribution, Farmingdale, N.Y.
Established in 2008, Brightview Distribution specializes in siding, roofing, windows and doors for customers in the greater Long Island area.
The acquisition expands Gulfeagle Supply's presence to Long Island and the surrounding boroughs of New York City to better serve builders and remodelers.
Gulfeagle Supply has more than 100 locations in the U.S.
ABC Supply receives workplace award
ABC Supply Co. Inc., Beloit, Wis., has received a Gallup® Exceptional Workplace Award for the sixteenth consecutive year.
The award recognizes the best workplaces in the world in terms of employee engagement. ABC Supply is one of 41 companies to receive the 2022 award and one of two companies to have received the award each year since its inception. A complete list of winners is available at gallup.com.
OTHER NEWS
Roofing Alliance announces new leadership
The Roofing Alliance has announced its board of trustees for 2022-23. Kelly Van Winkle, president and CEO of King of Texas Roofing Co. LP, Grand Prairie, is the organization's first female president, and Greg Bloom, vice president of national and strategic accounts for Beacon Building Products, Herndon, Va., is vice president. Jason Dark, vice president of sales for Duro-Last Roofing Inc., Saginaw, Mich., is secretary/treasurer.
Additionally, the following are serving as trustees:
Charles Antis, founder and CEO of Antis Roofing & Waterproofing Inc., Irvine, Calif.
Piers Dormeyer, president of construction and utilities for EagleView, Bellevue, Wash.
Greg Hudson, director of commercial Dens sales for Georgia-Pacific Gypsum, Atlanta
Michelle Lane, vice president of marketing and communications for Holcim, Nashville, Tenn.
Dave Lawlor, national sales manager, roofing, for ROCKWOOL, Ontario, Canada
Steve Little, president of KPost Roofing & Waterproofing, Dallas
Bob Morgan, CEO of Upstate Roofing and Painting Inc., Rochester, N.Y.
Stephen Phillips, senior partner at Hendrick Phillips Salzman & Siegel P.C., Atlanta
Bob Pringle, vice president of Evans Roofing Co. Inc., Elmira, N.Y.
Kyle Thomas, vice president of Thomas Roofing, Mobile, Ala.
Dave Tilsen, president of Tilsen Roofing Co. Inc., Madison, Wis.
Daniel Tinker, president and CEO of SRS Distribution Inc., McKinney, Texas
John Yuko, president of GSM Roofing, Ephrata, Pa.
Roofing & Exteriors announces Power Players list
Roofing & Exteriors, the digital media brand for the International Roofing Expo,® has announced its Power Players list—an industry recognition program sponsored by SRS Distribution Inc., McKinney, Texas. The program honors 50 top roofing and exteriors firms selected based on various factors, including annual revenue, community engagement, social media use, innovation and growth, diversity efforts and technology adoption. Companies named on the list are recognized on Roofing & Exteriors' website and in its weekly newsletter.
The following NRCA members were named Power Players:
Absolute Roofing & Waterproofing, Austin, Texas
Allied Xteriors, Ponchatoula, La.
Antis Roofing & Waterproofing Inc., Irvine, Calif.
Aspen Contracting Inc., Lee's Summit, Mo.
Boyce's Roofing & Repair, Oceanside, Calif.
CentiMark Corp., Canonsburg, Pa.
CMR Construction & Roofing, Haltom City, Texas
Cross Timbers Roofing, Richmond, Va.
The Durable Slate Co., Columbus, Ohio
E. Cornell Malone Corp., Jackson, Miss.
Gorman Roofing Services Inc., Phoenix
Gunner, Greenwich, Conn.
Harbeck Roofing & Remodeling, Angier, N.C.
Henson Robinson Co., Springfield, Ill.
Kalkreuth Roofing and Sheet Metal, Wheeling, W.Va.
Kelly Roofing, Naples, Fla.
Legacy Roofing, Clearfield, Utah
Merit Contracting, Rochester, Minn.
MG Roofing Inc., Muscle Shoals, Ala.
P&A Roofing and Sheet Metal Inc., Orlando, Fla.
Pinnacle Construction, Omaha, Neb.
The Pinnacle Group, Richmond, Va.
Rackley Roofing Co. Inc., Carthage, Tenn.
Roofing Solutions LLC, Prairieville, La.
Spann Roofing & Sheet Metal Inc., Conway, S.C.
Sterling Commercial Roofing Inc., Sterling, Ill.
Superior Roofing Inc., Aurora, Colo.
Tecta America Corp., Rosemont, Ill.
United Materials LLC, Denver
The complete list of 2022 Power Players is available at roofingexteriors.com/news-views/industry-news.
ASTM International presents award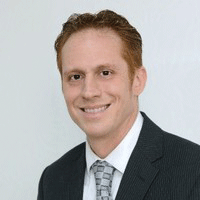 Innocenzi
ASTM International, West Conshohocken, Pa., has presented the Award of Merit to Matthew Innocenzi, principal at Nick Innocenzi and Sons Consulting Engineers & Associates LLC, Warrenton, Va., for his contributions to ASTM International's Committee C11 on Gypsum and Related Building Materials and Systems.
Established in 1949, the Award of Merit is ASTM International's highest recognition for distinguished service and outstanding participation in ASTM International committee activities.
Innocenzi was recognized for his refined technical acumen, helpful assistance creating standards and measured negotiation of tough industry issues. An ASTM International member since 2003, Innocenzi previously was honored by the committee with the Award of Appreciation in 2018.
RT3 announces board of directors
Roofing Technology Think Tank, York, Pa., has announced Deryl Kratzer, president and COO of National Roofing Partners, Coppell, Texas, will serve as president, and Wendy Marvin, CEO of Matrix Roofing & Home Solutions, Five Corners, Wash., will serve as treasurer.
In addition, Jeremy Dickmann, CEO of Apollo Primm Commercial Roofing, Forest Park, Ga., and Jon Gardner, national training and development leader for Owens Corning, Toledo, Ohio, are the newest board members. Andrew Centauro, COO and director of marketing for Elmer W. Davis Inc., Rochester, N.Y., and John Kenney, CEO of Cotney Consulting Group, Tampa, Fla., also serve on the board.
UP THE LADDER
Jobba Trade Technologies has named Dennis Keglovits chief customer officer.
Mule-Hide Products Co. Inc. has named Chris Kuykendall fluid-applied segment manager.
TuffWrap® Installations Inc. has named Daniel J. Schmidt national sales director.
THE INDUSTRY ONLINE
RoofersCoffeeShop® has announced MetalCoffeeShop,™ a new website benefiting the metal construction industry, now is available at metalcoffeeshop.com. The website focuses on providing education for the growth and success of metal construction businesses, including those that install metal roofing, walls, gutters and HVAC, while maintaining an online community for metal professionals.
Westlake Royal Roofing Solutions™ has introduced its Dream Home Visualizer, an interactive design tool developed to enhance users' roof selection experiences. The tool allows builders, contractors, remodelers and homeowners to visualize the exterior of a home with a variety of roofing material options and trim colors. The Dream Home Visualizer is available at westlakeroyalroofing.com/dream-home.
NRCA NEWS
Registration is open for NRCA's legal conference
NRCA has opened registration for its legal conference, Roofing Issues: Decks to Dockets, Oct. 27-29 at the JW Marriott Austin in Austin, Texas.
The legal conference offers tools and knowledge to enhance business operations, manage risk and help propel companies to new levels of success. During the three-day learning experience, participants will receive 11 hours of in-depth information about current legal, contractual, safety, technical and business issues that will inspire innovative business ideas attendees can implement immediately.
Register online at nrca.net/legalconference.
NRCA new members
ARCHITECTS/ENGINEERS/CONSULTANTS
Aquatech Consultancy Inc., Walnut Creek, Calif.
Coleman Consulting LLC, Baltimore
Dandeneau Architecture, Pinehurst, N.C.
Northwest Investigative Engineering Inc., Eagle, Idaho
Reeves Consulting Inc., Duluth, Ga.
The School of Roofing, Maricopa, Ariz.
TriGain Inc., Spring Hill, Fla.
USF, Metairie, La.
CONTRACTORS
Absolute Roofing and Construction, Searcy, Ark.
Aduddell Industries, Port St. Lucie, Fla.
Advanced Roofing and Woodworking Inc., West Chicago, Ill.
Advanced Roofing Solutions LLC, Katy, Texas
Aguilar Roofing, Costa Mesa, Calif.
AR, San Antonio
Ballman Roofing & Coating LLC, Kasota, Minn.
Benchmark Exteriors, Oak Brook, Ill.
BYLTup, Long Beach, Calif.
Citadel Contracting, Raleigh, N.C.
Dynamic Home Improvements LLC, Franklin Lakes, N.J.
First Choice Consulting, Centerville, Minn.
FIXX LLC, Gurnee, Ill.
Flawless Roofing & Construction, Rochester, N.Y.
Home Restorer P&G LLC, Katy, Texas
Husky Restorations LLC, Auburn, Ga.
Knowles Roofing LLC, Canton, Texas
Mackie One Construction LLC, New Orleans
Marquee Restoration, Washington Crossing, Pa.
Martino Home Improvements, Madison Heights, Mich.
Monarch Roofing, Wilmington, N.C.
Nu-Worx LLC, Kenner, La.
OakTree Management Group LLC, San Antonio
Ram Roofing & Remodeling, Austin, Texas
Rescue Roofer Inc., Mission Viejo, Calif.
R-Squared Services LLC, Elizabethtown, Ky.
Southern Elite Roofing Inc., Kennesaw, Ga.
Steel Rudder Roofing, Jacksonville, Fla.
Thunder Bay Roofing LLC, Edgewater, Md.
Veterans Roofing and Home Improvements, Ledbetter, Ky.
Western Roof Co., Waco, Texas
INDUSTRIAL/INSTITUTIONAL
CTI, Saint Paul, Minn.
MANUFACTURER
WR Meadows Inc., Hampshire, Ill.
MANUFACTURER REPRESENTATIVE
Exterior Building Solutions, Havertown, Pa.
SERVICE PROVIDERS
Roofers Choice Insurance, Waxahachie, Texas
STACK Construction Technologies, Blue Ash, Ohio
EVENTS
SEPTEMBER
14
Virtual Foreman Leadership Training, Level 2
NRCA
Online
Contact: Jeff Jarvis, NRCA's vice president of membership, sales and business development
(847) 493-7512, or jjarvis@nrca.net
24-26
Western Roofing Expo
Western States Roofing Contractors Association
Las Vegas
Contact: WSRCA
(800) 725-0333 or info@wsrca.com
27-29
2022 RCAT/MRCA Conference & Expo
Roofing Contractors Association of Texas and Midwest Roofing Contractors Association
Fort Worth, Texas
Contact: MRCA
(800) 497-6722 or mrca@mrca.org
OCTOBER
12
Virtual CERTA Train-the-trainer
NRCA
Online
Contact: NRCA's Customer Service Department
(866) ASK-NRCA (275-6722) or info@nrca.net
12-14
METALCON 2022
Metal Construction Association
Indianapolis
Contact: PSMJ Resources Inc.
(617) 965-0055 or info@metalcon.com
26-27
NRCA's Virtual Qualified Trainer Conference
NRCA
Online
Contact: Jared Ribble, NRCA's director of Qualified Trainer and ProCertification® programs
(847) 493-7526, or jribble@nrca.net
27-29
NRCA's Annual Legal Conference—Roofing Issues: Decks to Dockets
NRCA
Austin, Texas
Contact: Alison L. LaValley, NRCA's vice president of strategic initiatives and partnerships
(847) 493-7573, or alavalley@nrca.net
NOVEMBER
6-8
RoofCON
Roofing.com
Orlando, Fla.
Contact: RoofCON support
8-11
NRCA's Fall Meetings
NRCA
Chicago
Contact: NRCA's Customer Service Department
(866) ASK-NRCA (275-6722) or info@nrca.net
17
Virtual Foreman Leadership Training, Level 2
NRCA
Elgin, Ill.
Contact: NRCA's Customer Service Department
(866) ASK-NRCA (275-6722) or info@nrca.net
DECEMBER
1
Foreman Leadership Training, Level 1
NRCA
Online
Contact: Jeff Jarvis, NRCA's vice president of membership, sales and business development
(847) 493-7512, or jjarvis@nrca.net