MANUFACTURER NEWS
CertainTeed expands prefabricated assemblies
CertainTeed, Malvern, Pa., has announced the launch of ONE PRECISION ASSEMBLIES,™ fully constructed wall, floor, ceiling and roof panels to help builders complete more homes faster with less risk on the job site.
Using the latest advances in building science and prefabrication, CertainTeed has developed fully constructed building panels that meet local building codes, as well as energy and sustainability requirements, typically consuming less than half the energy of other new homes.
In addition, the panels are prefabricated using structural systems, insulation, windows, doors, weatherproofing and finishes designed to work together. Although times vary, factory production is generally less than one week, with on-site installation of wall panels expected to take less than three days.
ONE PRECISION ASSEMBLIES will roll out this year in the Mid-Atlantic, Midwest and Northeast regions, with plans to expand to other U.S. markets.
ATAS International honors sales professionals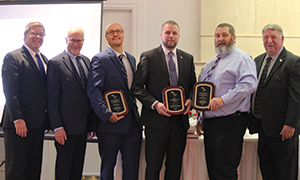 ATAS International, Allentown, Pa., has announced Mike Krahling, product representative for North Carolina, South Carolina and southern Virginia; Jon Loftus, inside technical salesperson for North Carolina, South Carolina and southern Virginia; and Jim Luster, product representative for Florida, received the company's Malan S. Parker Award. The award annually recognizes the company's top sales professionals.
Krahling has been part of ATAS International for 10 years and has previously received the award twice. Loftus joined the company more than five years ago, and Luster joined the company more than four years ago. The salesmen were recognized for their teamwork in overall sales growth and observance of corporate goals and objectives.
"The design assistance, delivery of educational sessions, service and technical advice by Luster and Loftus has made a positive impact in the Carolinas," says Mark Bus, national sales manager for ATAS International. "Krahling transferred to the Carolinas last year, where he is already forming professional relationships within his new territory, continuing the growth momentum in that area. ATAS International and David Srokose, ATAS International's southeast district sales manager, are fortunate to have Luster, Loftus and Krahling on their sales team."
GAF donates roof system to wildlife center
GAF, Parsippany, N.J., partnered with Bachman's Roofing, Solar & Remodeling, Wernersville, Pa., to donate a new roof system to Red Creek Wildlife Center in Schuylkill Haven, Pa. The wildlife center experienced a fire in December 2022, resulting in the loss of its clinic facility.
The new roof system on the rebuilt clinic supports Red Creek Wildlife Center's plan to expand its animal care facilities. GAF donated roofing materials produced locally at its Myerstown, Pa., facility, and Bachman's Roofing, Solar & Remodeling donated installation labor.
"After the fire, we were able to reach out to Red Creek Wildlife Center within days to offer support," says Lisa Sensenig, materials manager at GAF's Myerstown facility. "Peggy Hentz, the owner of Red Creek Wildlife Center, has dedicated her life to saving local wildlife, and it means everything to us to support that mission as well as give back to a local organization."
The collaboration was part of GAF's social impact initiative, GAF Community Matters, which intends to make a positive difference as partners in the community by leveraging roofing expertise, resources and products to help build resilient communities.
In addition, GAF announced the launch of GAF QuickSite,™ reports that provide site-specific data formatted to help contractors and design professionals work faster and more effectively.
GAF QuickSite reports are available for residential and commercial properties and provide local building codes, roof design criteria, roof condition assessments, weather history and parcel data. GAF Quicksite is available as a standalone report or can be ordered with a GAF QuickMeasure™ report. Expected delivery times for both types of reports are less than one hour for single-family residences and less than 24 hours for commercial and multifamily buildings.
GAF also has launched a GAF QuickMeasure mobile app, available for iOS devices, where users can order GAF Quicksite and GAF QuickMeasure reports, view order history, and access 3D renderings and drawings, among other functions.
Gaco names Top Contractor winners
Gaco, Nashville, Tenn., a Holcim Building Envelope brand, has announced the recipients of its inaugural 2023 Gaco Top Contractor program. The program recognizes contractors' commitment to quality, as well as their commercial roofing and waterproofing expertise.
All Gaco Licensed Applicators are eligible for the program. Gaco awarded Top Contractor status to contractors who fulfilled the program requirements, measured by the total volume of Gaco products purchased and installed in 2022, as well as by remaining in warranty good standing.
"As the inaugural year for our Gaco Top Contractor program, we are excited and honored to recognize these professionals who demonstrated an unwavering commitment to excellence and a wealth of expertise in the commercial roofing and waterproofing industry," says Samir Jain, senior vice president of Holcim's Adhesives Coatings and Sealants business unit. "These firms embody the founding values of Gaco that continue to this day: quality, dependability, innovation and a spirit of service for our customers. We look forward to growing these partnerships to provide superior roofing and waterproofing solutions in 2023 and beyond."
The recipients included the following NRCA members: A-1 Roofing Co., Elk Grove Village, Ill.; Atlas Universal Inc., Houston; Battlefield Roofing Co., Manassas, Va.; Beachside Roofing LLC, Waipahu, Hawaii; Blue's Roofing Co., Milpitas, Calif.; Commercial Roofing & Waterproofing Hawaii Inc., Waipahu; Earl W. Johnston Roofing LLC, Hollywood, Fla.; Four Twelve Roofing, Baltimore; Harvey Strassner Contracting, Rochester, N.Y.; Jonesboro Roofing Co. Inc., Jonesboro, Ark.; and Western Roofing Service, San Leandro, Calif.
A complete list of winners is available at gaco.com/category/news.
TAMKO® Building Products receives 13 safety awards
TAMKO Building Products LLC, Galena, Kan., has received 13 awards from the Asphalt Roofing Manufacturers Association in recognition of the company's commitment to workplace safety during 2022.
TAMKO Building Products' Columbus, Kan.; Dallas; Ennis, Texas; Green Cove Springs, Fla.; Inwood, W.Va.; and Phillipsburg, Kan., facilities were awarded ARMA's Perfect Employee Safety Certificates for achieving safety records of no lost or restricted days, as well as no recordable Occupational Safety and Health Administration incidents during 2022.
TAMKO Building Products' Columbus; Dallas; Green Cove Springs; Joplin, Mo.; Phillipsburg; and Tuscaloosa, Ala., facilities each received ARMA's Certificate of Safety Improvement for reducing their ARMA Safety Index 25% or more during the previous year.
In addition, TAMKO Building Products' Inwood facility received ARMA's Award of Excellence for achieving a perfect safety score for three consecutive years.
TAMKO Building Products created a Zero Incident Safety Culture program in 2005 and has since reduced OSHA recordable injuries by 84%. The company has received more than 100 ARMA safety awards since 2007.
DISTRIBUTOR NEWS
Gulfeagle Supply opens new branch
Gulfeagle Supply, Tampa, Fla., has opened a new branch in Cincinnati.
This is Gulfeagle Supply's first location in Ohio and enables the company to serve communities in southeast Indiana, northern Kentucky and southern Ohio. Gulfeagle Supply has more than 110 locations in the U.S.
ABC Supply presents Ken Hendricks awards
ABC Supply Co. Inc. , Beloit, Wis., presented Ken Hendricks Awards to James Crawford, managing partner of ABC Supply's Salisbury, Md., branch, and Charles Morgan, managing partner of ABC Supply's Lynchburg, Va., branch.
The award is presented annually to associates who demonstrate commitment to ABC Supply's character and seven core values in honor of the company's late co-founder. Crawford began his tenure at ABC Supply in 2010 when the company acquired Bradco Supply. One year later, he became managing partner, and in 2014, he was inducted into the President's Club. Morgan joined ABC Supply in 1987 as a delivery driver. During his 36 years with the company, he became branch manager, was named managing partner and has been inducted into the President's Club. Crawford and Morgan will be recognized at ABC Supply's annual Founders' Celebration picnic this month.
In addition, ABC Supply has opened new branches in Gilroy, Calif.; Milwaukee; and Twin Falls, Idaho. The branches are ABC Supply's 48th location in California, 18th location in Wisconsin and sixth location in Idaho; the company operates more than 600 locations in the U.S.
OTHER NEWS
SPRI announces new technical director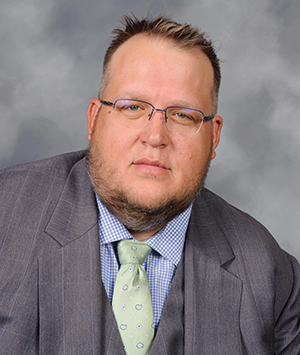 SPRI has announced Chadwick Collins, co-founder of TK Sebastian LLC, Westfield, Ind., has been named technical director by the association's board of directors. Collins has nearly 20 years of roofing and advocacy experience and most recently was director of codes and regulatory compliance for Kellen Company, an Atlanta-based associations and trade organization management firm.
"Collins brings tremendous technical value and roofing industry experience to SPRI," says Brad Van Dam, president of SPRI. "I am excited the board has voted not only to expand the technical director's role, but also that we were able to find someone as talented as Collins. He will have an immediate effect on the organization and our strategic plan."
Collins now is responsible for leading and managing the technical agenda for SPRI and its members, as well as supporting the association's strategic initiatives.
RT3 seeks award nominations
Roofing Technology Think Tank is seeking nominations for its Innovator of the Year Award.
The award was created to nationally recognize a roofing contractor who has contributed to the advancement of the roofing industry through technical innovation and/or product development in one of the following areas: production/technology efficiency; safety innovation; client service/quality of delivery; employee recruitment/training/retention; or environmental impact.
To be eligible, a nominee must be licensed and bonded for a minimum of five years and have a minimum $2 million in annual revenue. He or she also must be a member of a professional industry association and be able to cite community enrichment ties through support of nonprofits or company culture programs.
The deadline for nominations is Sept. 30, and there is a $50 nomination fee to cover processing and award costs. Additional information and award applications are available at rt3thinktank.com/award.
NRCA and the Roofing Alliance are accepting award entries
NRCA and the Roofing Alliance are seeking nominations for NRCA's 2024 Gold Circle Awards and the Roofing Alliance's Most Valuable Player Awards Program.
Gold Circle Awards recognize NRCA members for excellence in the roofing industry. Award categories include outstanding workmanship and innovative solutions. Unique roofing-related jobs, programs and services completed between June 1, 2021, and May 31, 2023, are eligible for the program.
Entry forms are available at nrca.net/goldcircle, and the deadline for entries is Friday, Sept. 15. Winners will be announced during NRCA's 137th Annual Convention and the 2024 International Roofing Expo® Feb. 6-8 in Las Vegas and receive recognition in Professional Roofing.
In addition, the Roofing Alliance is seeking entries for its Most Valuable Player Awards Program. MVP Awards recognize outstanding workers who demonstrate work-related and personal goals to which others aspire. Workers employed by a Roofing Alliance member or an NRCA member roofing contractor, distributor or manufacturer are eligible. From roofing contracting firms, any roofing field worker, foreman or superintendent can be nominated, and from distributor and manufacturer firms, any warehouse employee, warehouse foreman, driver or equipment operator can be nominated.
Award categories include outstanding performance and leadership and outstanding community involvement. Additionally, one MVP winner will be chosen as Best of the Best, co-sponsored by Professional Roofing and OMG® Roofing Products Inc., Agawam, Mass.
All MVP Award winners and their nominators will be notified in early November so they can make arrangements to attend NRCA's 137th Annual Convention. In addition, all winners will be recognized in Professional Roofing, the Roofing Alliance Newsletter and on the Roofing Alliance's website, roofingalliance.net, as well as recognized in press releases.
The deadline for entries is Friday, Sept. 29. Entry forms are available at roofingalliance.net/programs/mvp.
ARMA recognizes workplace safety
The Asphalt Roofing Manufacturers Association has recognized the workplace safety practices of 66 asphalt roofing manufacturing facilities, including four that received the prestigious President's Award.
ARMA's annual Accident Prevention Contest honors individual facilities in North America that have low incident rates among workers. The President's Award is presented to facilities that have the best safety score during a two-year period. This year, facilities belonging to NRCA members CertainTeed LLC, Malvern, Pa., and GAF, Parsippany, N.J., received President's Awards. CertainTeed's Little Rock, Ark., and Oxford, N.C., facilities and GAF's Stockton, Calif., and Chester, S.C., facilities were recognized for their safety records.
MBMA announces student competition
The Metal Building Manufacturers Association has opened submissions for its 2023 Student Design Competition. This year, architecture students are tasked with creating a metal building design for a new nature center and environmental research facility.
Registration is free to full-time graduate and undergraduate students, who are required to have a faculty sponsor. Six prizes totaling more than $28,000 will be awarded to one overall winner, two graduate entrants and three undergraduate entrants.
The deadline for submissions is Jan. 5, 2024, and winners will be announced Feb. 27, 2024. Interested individuals or teams can register at mbmaeducation.org.
Roofing Alliance announces board of trustees
The Roofing Alliance has announced the members of its 2023-24 board of trustees. Greg Bloom, vice president of national and strategic accounts at Beacon Building Products, Herndon, Va., will serve as president; Reed Gooding, CEO of GSM Roofing, Ephrata, Pa., will serve as vice president; and Jason Dark, vice president of sales at Duro-Last Roofing Inc., Saginaw, Mich., will serve as secretary-treasurer. A complete list of the board of trustees is available at roofingalliance.net.
In addition, the Roofing Alliance welcomes Sterling Commercial Roofing Inc., Sterling, Ill., at the Regent level. The Roofing Alliance now has 191 members representing leaders from the contracting, manufacturing, distributing and service provider communities.
NRCA NEWS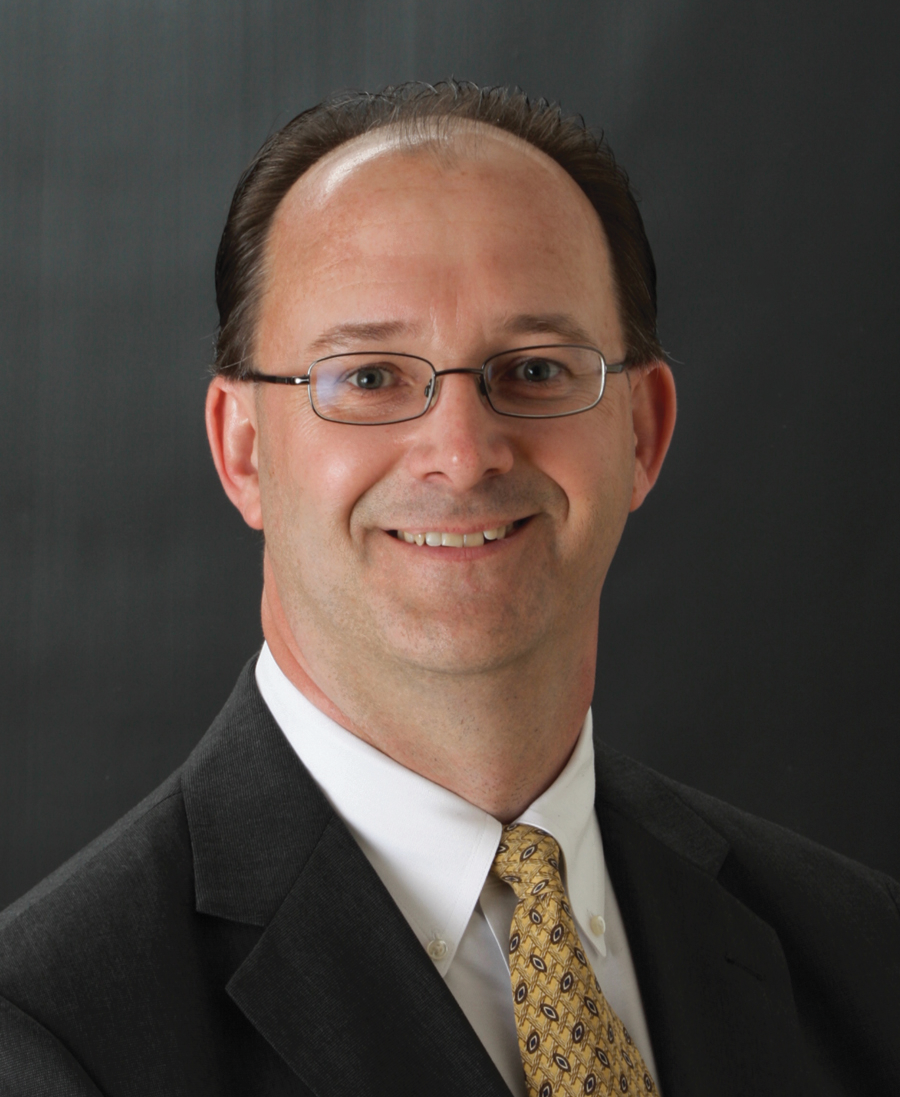 NRCA is pleased to announce Mark Graham, NRCA's vice president of technical services, received ASTM International's Award of Merit in June. Graham was recognized for his contributions to ASTM International's Committee D08 on Roofing and Waterproofing. Graham has served on the committee since 1989.
UP THE LADDER
ABC Supply Co. Inc. has promoted Andrew Bindl to Wisconsin district manager and Tyler Remaly to Chicago district manager. In addition, the company has promoted 25 individuals to branch managers. A list of the new branch managers is available at abcsupply.com/media-center/press-release.
Mule-Hide Products Co. Inc. has named Derek Govan west region director.
THE INDUSTRY ONLINE
PABCO® Roofing Products has launched an online visualization tool to demonstrate the look of the company's asphalt shingles on uploaded images of homeowners' roofs. The visualizer includes a shingle color selector and roofing design tool and is available at pabcoroofing.com.
NRCA NEW MEMBERS
ARCHITECTS/ENGINEERS/CONSULTANTS
Anjali Grant Design LLC, Seattle
Arizona's Roof Consultant, San Tan Valley, Ariz.
BrunnoNoBs LLC, Port Saint Lucie, Fla.
CannonDesign, Buffalo, N.Y.
Helene Hardy Pierce, Dalton, Pa.
Kate Cowing Architect LLC, Philadelphia
Kitchell Contractors, Phoenix
Mark Cook Roofing Consultant LLC, Metairie, La.
Northwest Roof Consultants, Hayden, Idaho
WHEMCO Inc., Pittsburgh
Zimmerman Studio LLC, Philadelphia
CONTRACTORS
Advance Builders Corp., Cedar Rapids, Iowa
Amalgamated Construction Group Inc., Plantation, Fla.
Ascent Roofing, South Jordan, Utah
Brown Buyers Group, Boiling Springs, Pa.
Coleman Roofing & Construction, Gonzales, La.
Copeland's Complete Construction, Auburndale, Fla.
David Martin & Son Roofing, Colleyville, Texas
G Storm Solutions LLC, Houston
Guaranteed Roofing, Canterbury, Conn.
Horseback Roofing and Siding, Guilderland, N.Y.
Iris Builders Inc., Charlotte, N.C.
Kingdom Roofing & Remodeling LLC, Wylie, Texas
Kirk's 5 Star Roofing, North Adams, Mich.
LaPorta Contracting, Fort Lauderdale, Fla.
Luby Construction Group LLC, Plano, Texas
M4 Roof Services, Newnan, Ga.
Midwest Coating Inc., Topeka, Kan.
North Hills Constructors Inc., Glenside, Pa.
Nu-Tek Roof Systems, Lake Hopatcong, N.J.
Old Colony Roofing, Gamer, N.C.
Phoenix Exteriors, Schaumburg, Ill.
Pro Builders Roofing LLC, Richardson, Texas
Restoration Roofing, Fort Worth, Texas
Reyes and Son Construction, Revere, Mass.
Ridge Roofing LLC, Mesa, Ariz.
Riegle Metals LLC, West Branch, Mich.
Roof Artistry, Norfolk, Va.
ROOFCO Ontario Inc., Barrie, Ontario
Roofing Specialists, Sun Prairie, Wis.
RoofPro Roofing, Destin, Fla.
Sanbury Construction LLC, Reading, Pa.
Summit Roofing Inc., North Richland Hills, Texas
Sunflo Construction Group Inc., Miami
Superior Roofing Systems Inc., Anaheim, Calif.
United Family Builders, West Lake, Ohio
Weather Shield Roofing Systems, Grand Rapids, Mich.
Wilson Roofing Inc., Hendersonville, N.C.
EVENTS
SEPTEMBER
23-25
Western Roofing Expo
Western States Roofing Contractors Association
Las Vegas
Contact: WSRCA
(800) 725-0333 or info@wsrca.com
27
Virtual CERTA Train-the-trainer
NRCA
Elgin, Ill.
Contact: NRCA's Customer Service Department
(866) ASK-NRCA (275-6722) or info@nrca.net
29-30
IIBEC Building Enclosure Symposium
IIBEC
Orlando, Fla.
Contact: IIBEC
(800) 828-1902 or info@iibec.org
OCTOBER
4-6
2023 Texas Roofing Conference
Roofing Contractors Association of Texas
Houston
Contact: RCAT
(800) 997-6631
11-13
LEGALCon Live 2023
NRCA
Chicago
Contact: NRCA's Customer Service Department
(866) ASK-NRCA (275-6722) or info@nrca.net
18-20
METALCON 2023
Metal Construction Association
Las Vegas
Contact: PSMJ Resources Inc.
(800) 537-7765 or info@metalcon.com
18-20
2023 MRCA Conference & Expo
Midwest Roofing Contractors Association
Omaha, Neb.
Contact: MRCA
(800) 497-6722 or mrca@mrca.org
22-27
AGC's Advanced Management Program
The Associated General Contractors of America Inc.
Dallas
Contact: AGC
(703) 548-3118 or info@agc.org
NOVEMBER
7-10
NRCA's Fall Committee Meetings
NRCA
Nashville, Tenn.
Contact: NRCA's Customer Service Department
(866) ASK-NRCA (275-6722) or info@nrca.net
15
CERTA Train-the-trainer
NRCA
Elgin, Ill.
Contact: NRCA's Customer Service Department
(866) ASK-NRCA (275-6722) or info@nrca.net