William J. Palmer High School is the flagship high school of Colorado Springs, Colo., and has nearly 1,600 students. It is an International Baccalaureate World School for students in grades nine through 12 and offers career-related and diploma programs.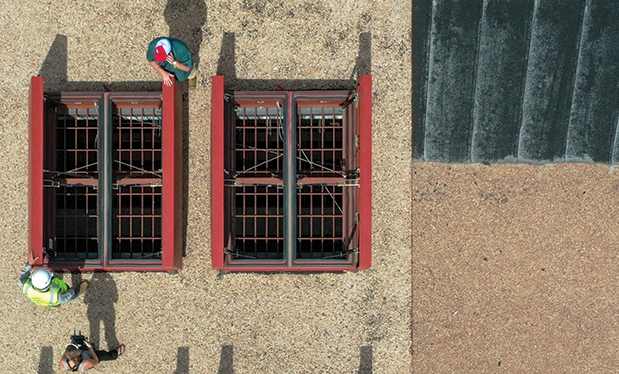 Designed by Edward Bunts, a William J. Palmer High School alumnus, and constructed in 1939, the high school is one of 113 schools built by Works Progress Administration workers. Franklin D. Roosevelt created the Works Progress Administration in 1935 as part of a New Deal plan to lift the U.S. out of the Great Depression. Colorado was one of the biggest beneficiaries of the Works Progress Administration and received more per capita federal dollars than any state except Washington. Works Progress Administration workers also reconstructed 381 other schools in the state.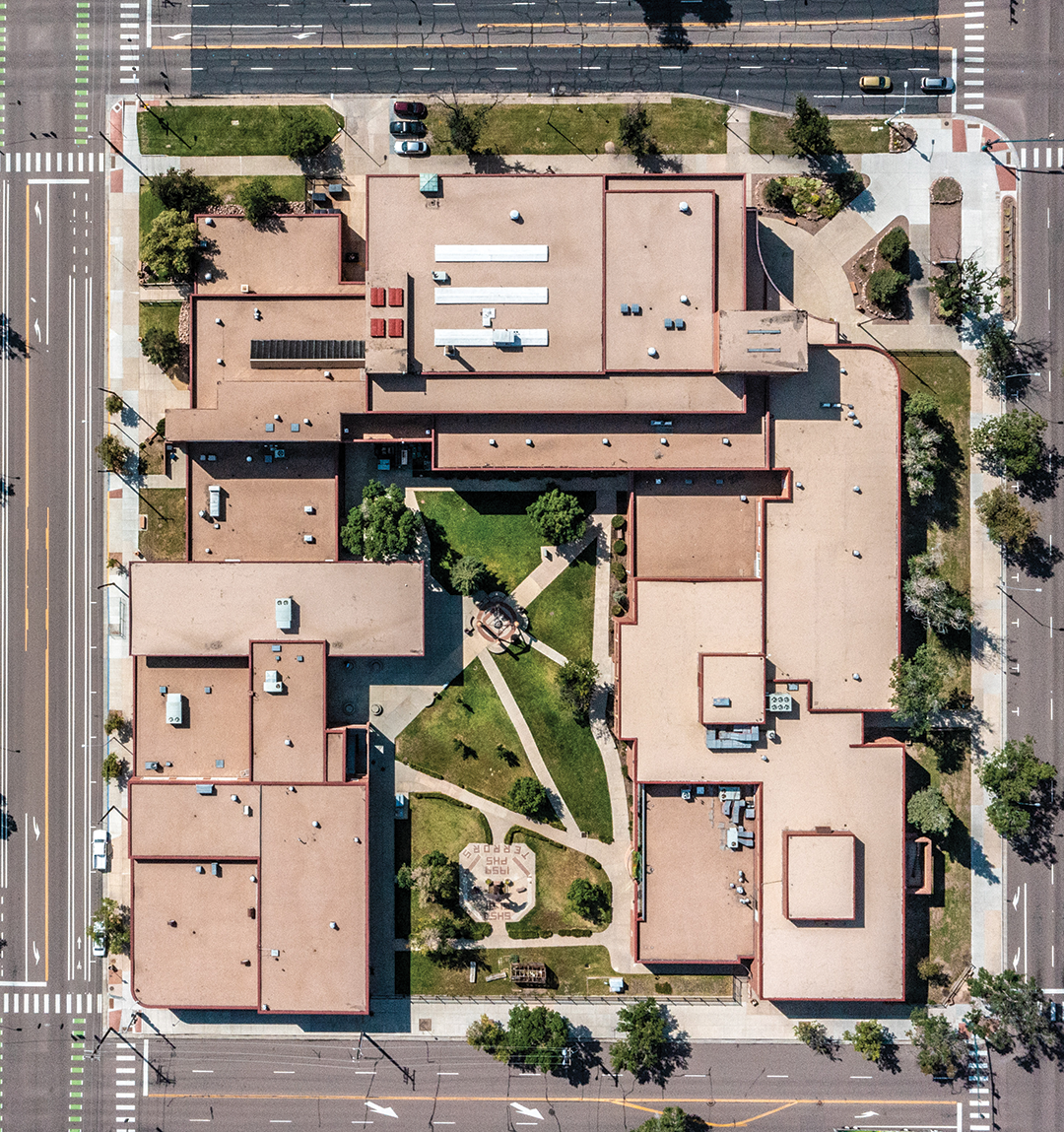 Although the building remains sturdy, the school district sought to replace the outdated smoke vents in the school's auditorium and improve its acoustical performance. NRCA member Weathercraft Company of Colorado Springs Inc., Fountain, Colo., was selected by the general contractor, iiCON Construction, Colorado Springs, to assist with the school's smoke vent modifications.
A different design
The project's architect, LKA Partners Inc., Colorado Springs, found the existing vents were installed horizontally on a concrete structure above the auditorium's stage.
"The existing smoke ventilation system consisted of 24 vertically hinged doors that could be remotely opened 45 feet above the floor," says Vernon Champlin, senior consultant with fire-protection engineering firm Jensen Hughes, Baltimore. "The complex system of jute ropes and pulleys allowed the ventilation doors to fall open simultaneously via gravity from a single manual releasing point on the stage. As codes and technologies advanced, these antiquated systems have become obsolete, and worse, there is no applicable standard for inspection, testing or maintenance. The greatest concern of the existing system was an inability to effectively test and reset the system to ensure proper operation."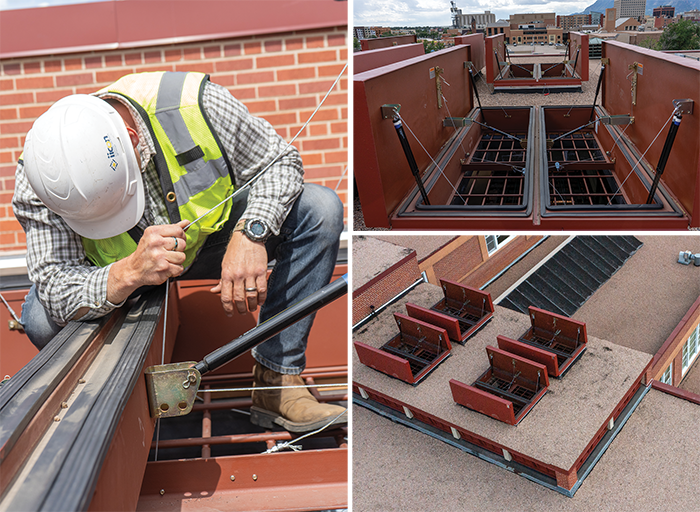 Portions of the existing concrete roof deck were removed to provide openings for new smoke vents.
"This is the first time we've ever run into this particular design," adds Frank Kaiser, an architect and associate at LKA Partners. "The existing vents were connected with a series of pulleys and ropes, and the panels did not seal well. There was no way to replace them."
Instead, the architects devised a creative retrofit. The existing vents were loose and uninsulated, so they were abandoned and sealed. The built-up roof system above the auditorium would be replaced with a new built-up roof system that included four acoustical smoke vents.
The existing 200-square-foot roof area above the auditorium consisted of a concrete roof deck, 2 inches of perlite insulation, 1/2-inch-thick perlite cover boards and a layer of asphalt embedded with gravel.
In July 2022, the crew from Weathercraft Company of Colorado Springs began work on the project by sweeping and removing nearly 4,000 pounds of gravel; spudding the asphalt surfacing; and removing existing felt, insulation and flashing. The iiCON Construction team manually cut openings in the roof deck with a saw cutter to fit four 5- by 7-foot Bilco® Type ACDSV-Automatic Smoke Vents.
"I've done a lot of different things, and we always find challenges," says Don Johnson, executive vice president of iiCON Construction. "Anybody can build from the ground up. It's when you go in and do renovation that you're always going to find some challenges."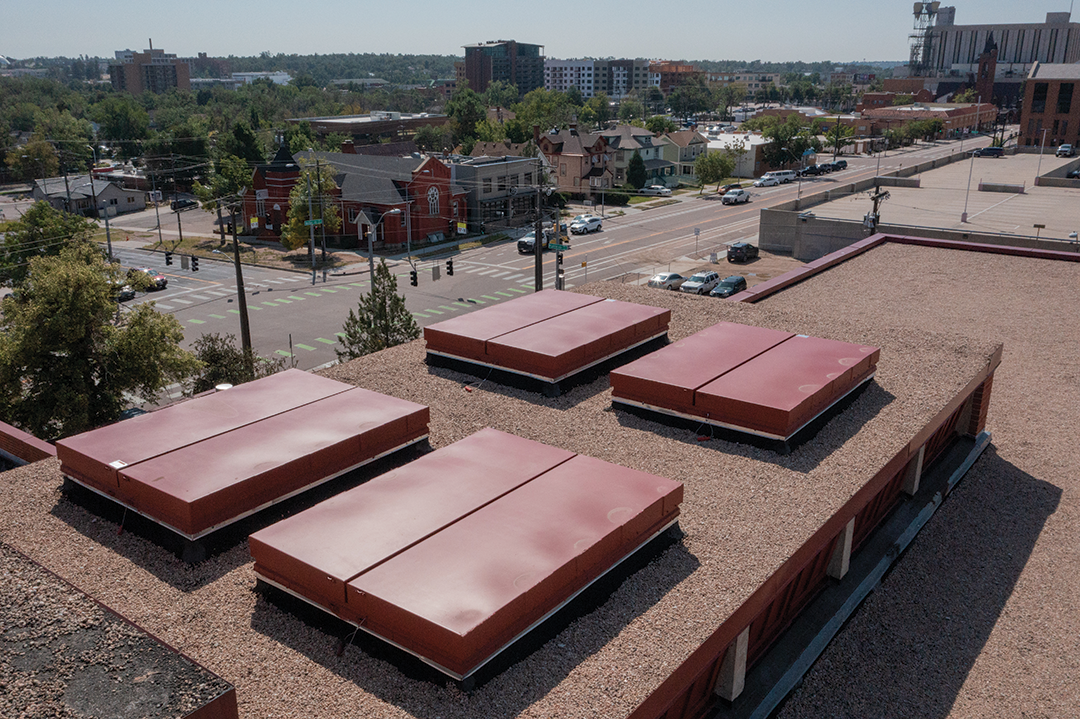 The auditorium's roof area is surrounded by lower roofs with no room for staging, so workers used a crane to lower the removed deck and debris and lift materials to the upper roof.
After the vents were set in place, the crew placed 2-inch-thick Johns Manville ENRGY 3® polyisocyanurate insulation in asphalt followed by 1/2-inch-thick Retro-Fit Boards. Next, workers set four plies of GlasPly IV in United Asphalt Type 3 asphalt, applied another coating of asphalt embedded with 1/2 of an inch of gravel and completed the tie-in system with DynaBase and DynaLastic 180 cap sheets. All work was done while the school was out of session.
"Student safety is paramount, and cutting any hole in a roof is a big deal," says Jennifer Hotaling, assistant capital program manager for District 11 schools. "The whole team of dedicated professionals came together to provide taxpayers with the best possible solution."
Back in session
In September 2022, the crew at Weathercraft Company of Colorado Springs successfully completed work on William J. Palmer High School before classes resumed. Thanks to diligent work, students, faculty and families now have the security of robust smoke vents to aid in the event of a fire evacuation, and auditorium performances no longer will be affected by outside noise intrusion.
"It was a specialized project," Kaiser says. "We worked with the local building department and the fire department to make sure it passed muster. The school was well-built and plenty strong to handle the new smoke vent openings. We didn't have to do any remedial structural work. Everybody in Colorado Springs knows about William J. Palmer High School, and we were glad to be a part of this project."
PROJECT NAME: William J. Palmer High School
PROJECT LOCATION: Colorado Springs, Colo.
PROJECT DURATION: July 16-Sept. 3, 2022
ROOFING CONTRACTOR: Weathercraft Company of Colorado Springs Inc., Fountain, Colo.
ROOF SYSTEM TYPE: Gravel-surfaced built-up roofing
ROOFING MANUFACTURERS: The BILCO® Company, New Haven, Conn.; Johns Manville Roofing Systems, Denver; United Asphalts, Commerce City, Colo.
---
CHRYSTINE ELLE HANUS is Professional Roofing's associate editor and an NRCA director of communications.