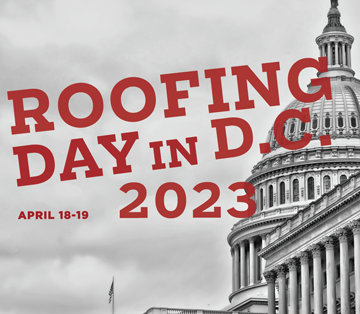 On April 18-19, the roofing industry will gather in Washington, D.C., for Roofing Day in D.C. 2023, the premier industry advocacy event of the year. This annual event provides an opportunity for lawmakers to hear the industry speak with one voice regarding key government policy issues. With a new Congress, it is critical the industry be heard now. All roofing industry professionals are invited and urged to participate to demonstrate the breadth and diversity of the industry.
With hundreds of participants attending in previous years, Roofing Day in D.C. has become one of the largest advocacy events in Washington, D.C. It brings together all segments of the roofing industry to advocate collectively regarding matters that are unifying and critical to the industry's continued success. The event is a collaboration among NRCA members; industry stakeholders; and numerous regional, state and local associations and designed to expand the professionalization and prosperity of the industry.
The plan
Roofing Day in D.C. 2023 will kick off with an opening program and reception April 18 at the Grand Hyatt Washington. On April 19, participants will attend a morning program with speakers who will discuss the current political outlook, give tips for successful congressional meetings and talk about emerging industry issues. In the afternoon, participants will have three to four meetings with senators, representatives and congressional staff to convey the roofing industry's message.
Participation is easy, as all meetings will be scheduled by NRCA and Advocacy Associates, a leading Washington, D.C.-based consulting firm that specializes in managing large advocacy events. Participants will have access to an online platform that will host schedules of congressional meetings, position papers, talking points, links to video meetings, automated thank-you note templates and other features.
Building on success
All participants will be given position papers and talking points for the key policy issues that will be the focus of the meetings with members of Congress. Selected with input from members of NRCA's Roofing Day Advisory Committee, the issues unify all segments of the industry. At press time, the 2023 advocacy issues have not been finalized but previous topics have included federal legislation to address workforce challenges, immigration, and pro-growth spending and tax policies. Progress has been made regarding most of the issues the industry has presented to Congress.
First, since Roofing Day in D.C. began in 2018, Congress has increased funding for Perkins Basic State Grants by nearly $200 million. This funding for career and technical education is critical to help employers meet their workforce development needs. NRCA and the roofing industry also helped secure passage of the bipartisan Infrastructure Investment and Jobs Act, which included a strong buildings component.
Roofing Day in D.C. helped increase support for the Strengthening Career and Technical Education for the 21st Century Act to ensure workforce development programs work well for the roofing industry and helped pass important provisions of the Energy Savings and Industrial Competitiveness Act of 2019, legislation to promote energy efficiency in residential and commercial buildings. Additionally, the Essential Workers for Economic Advancement Act was reintroduced to create a new visa program to help roofing industry employers meet their workforce needs. This kind of immigration reform has been a long-standing priority for the roofing industry.
The primary goal of each Roofing Day in D.C. event is to establish long-term relationships with lawmakers in Congress that ultimately will help achieve important policy goals for the roofing industry's future.
Your voice matters
NRCA strongly encourages all industry professionals to participate in Roofing Day in D.C. 2023. All participating companies are encouraged to include one or more field workers; elected officials benefit greatly from hearing from the roofing industry's dedicated workforce. Registration fees are $95 per person for company representatives and $35 for field workers, students and spouses. Additional information about Roofing Day in D.C. 2023 and registration information are available at nrca.net/roofingday.
As a roofing industry professional, you need to be a part of this transformational event. Your participation is vital to helping make your business and the industry more successful and prosperous. Lawmakers need to hear directly from constituents regarding issues of importance, and this is your opportunity to make your voice heard.
On behalf of NRCA's leadership and staff, we look forward to seeing you April 18-19 in Washington, D.C.!
---
DEBORAH MAZOL is NRCA's director of federal affairs in Washington, D.C.
This story is part of Rules + Regs. Click here to read additional stories from this section.
WEB
EXCLUSIVE
Web exclusive: Click below for more information.