Oct. 29, 2020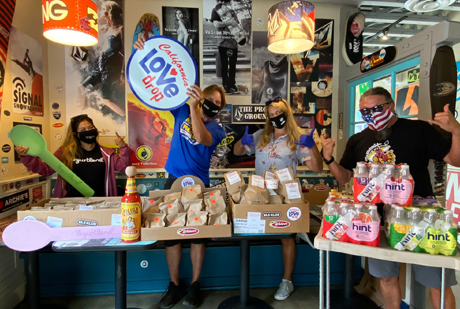 Antis Roofing & Waterproofing, Irvine, Calif., has received two OneOC 2020 Community Cup Charity Challenge awards for charitable giving to local nonprofit organizations during the COVID-19 pandemic. OneOC's Community Cup Charity Challenge is a community service competition that directs much-needed resources to Orange County nonprofit organizations. During OneOC's second annual Community Cup Charity Challenge, participants were encouraged to think outside of the box to support their community during the pandemic.
Thirty-seven teams from 30 companies in Orange County each partnered with a charity on a project. A panel of judges decided the winners based on overall community impact, monetary and in-kind donations, volunteer hours, social media promotions and more. Five winning teams were each awarded $1,000 to gift to their charity partner.
Two teams from Antis Roofing & Waterproofing competed, and each team received an award. One team won Best Overall Impact Project for supporting California Love Drop, which provides meals, beverages, treats and supplies to healthcare workers and first responders. The other team won Best Hands-On Project for supporting Second Harvest Food Bank, which feeds local residents in need and engages the community in the fight against hunger.
"We've provided the essential service of keeping families safe and dry for more than 30 years, and this year our purpose was clear in that our role must expand to support essential workers who are keeping us safe during these unprecedented times," says Charles Antis, founder and CEO of Antis Roofing & Waterproofing. "We're innovating in the moment to be able to give back where it's needed most as we've seen firsthand how simple acts of kindness can have rippling effects throughout our communities.
"Someday I'll be able to reflect back on this year as one of the most fulfilling and beautiful times in my life, as our company ignited passion in others to do good during an incredible time of need. We're grateful to OneOC for the recognition of our charitable work, and the entire Antis Roofing & Waterproofing team feels energized to continue our giving journey as it's clear there is much more to be done and we are up for the challenge!"