MANUFACTURER NEWS
CertainTeed to build new facility in Texas
CertainTeed LLC, Malvern, Pa., has announced plans to build a new manufacturing facility and distribution center in Bryan, Texas.
The facility will co-locate a distribution center with a manufacturing site to reduce distances for product transportation, lowering the company's carbon footprint and aligning with Saint-Gobain's global vision of carbon neutrality by 2050. Construction is expected to begin this year with project completion expected within several years.
CertainTeed expects to create 130 full-time jobs in Bryan.
"Our new manufacturing facility and distribution center symbolizes our commitment to customers in the southern U.S., to the state of Texas and to the city of Bryan and its citizens," says Carmen Bodden, vice president and general manager of CertainTeed Roofing. "As the leader in light and sustainable construction, this new facility will ensure our business has the materials necessary to continue serving our customers while remaining focused on minimizing our environmental footprint."
GAF replaces roof system for veteran in need
GAF, Parsippany, N.J., recently partnered with The Contractors Association of Minnesota; Disabled American Veterans of Minnesota; and 10K Construction, Coon Rapids, Minn., to donate a new roof system for a veteran in need in Chaska, Minn.
Rich Daniels served in Vietnam from 1967-68 supporting Army intelligence efforts and has since dedicated his life to serving other veterans. As a former history teacher, Daniels takes pride in working with local educators to talk about Vietnam and his life since the war.
The home Daniels built in 1991 still had its original roof system, which was beginning to deteriorate significantly. 10K Construction and GAF stepped up to support Daniels by donating the roofing materials and labor to make the roof replacement project possible. The collaboration is part of GAF's social impact initiative, GAF Community Matters.
Holcim Building Envelope recognized for diversity
Holcim Building Envelope, Nashville, Tenn., was named one of "America's Greatest Workplaces for Diversity 2023" by Newsweek.
Newsweek and Plant-A Insights Group, New York City, conducted a large-scale employee study to identify diverse employers. The study analyzed more than 350,000 anonymous reviews from employees of U.S. companies with more than 1,000 employees.
"Our commitment to diversity has yielded more innovation and collaboration at every level of the organization," says Jamie Gentoso, president of Holcim Building Envelope and global head of Holcim Solutions & Products. "Our differences make us stronger, and knowing our teammates are our most fundamental and important asset, I've worked hard to instill inclusivity in our hiring, training and promotion processes—especially as a female in an industry predominantly led by men."
The complete list of winners is available at newsweek.com/rankings/americas-greatest-workplaces-2023-diversity.
Polyglass U.S.A. announces product changes
Polyglass U.S.A. Inc., Deerfield Beach, Fla., has announced Polystick® XFR packaging has been upgraded from a box to a roll wrap, and Polystick P has been temporarily discontinued while the product undergoes production changes.
Polystick XFR has transitioned to roll-wrap packaging, which reportedly enables less waste on job sites, easier handling and better resistance to the elements. Additionally, more rolls of the product will fit on each pallet; the number of rolls per pallet will increase from 20 to 30. Polyglass U.S.A. will continue shipping boxed product from finished goods inventory until the boxed inventory is depleted.
Significant changes to the production of Polystick P are under way in an effort to enhance the underlayment's quality and performance. Polyglass U.S.A. has paused production and temporarily discontinued availability of the product until the fourth quarter of 2023.
The BILCO Co. hires manufacturer representatives
The BILCO Co., New Haven, Conn., has announced Architectural Building Solutions, St. Charles, Ill., will be its manufacturer representative in Illinois and Indiana.
Architectural Building Solutions is part of BILCO's group of independent representatives that provide building materials and customized solutions for challenging projects. Architectural Building Solutions aligned with BILCO in 2021.
In addition, BILCO has hired Roofing Trade Services, Martville, N.Y., as its manufacturer representative for selling specialty access commercial building products in upstate New York.
Roofing Trade Services is an independent sales representative firm specializing in commercial roofing material sales. The company has provided services to contractors, architects, building owners and construction professionals since 2007.
Owens Corning expands algae warranty
Owens Corning, Toledo, Ohio, is transitioning its shingle lines and all hip and ridge shingles to a 25-year Algae Resistance Limited Warranty. Owens Corning shingles previously had a 10-year warranty.
The warranty covers most Owens Corning laminate shingles, including Oakridge® Series, Duration® Series, Berkshire,® Woodcrest® and Woodmore.® To get the enhanced warranty, approved Owens Corning hip and ridge shingles will need to be installed alongside a new algae-resistant laminate shingle roof system.
The long-term algae protection is achieved by changes Owens Corning made to its advanced granule formulation. Paired with hip and ridge components, laminate shingles with StreakGuard™ Algae Resistance Protection are formulated to help protect against blue-green algae staining and discoloration for 25 years. The combination of laminate shingles with hip and ridge components reportedly works to deliver protection against algae that covers the entire slope of a home's roof.
Additional information is available at owenscorning.com/en-us/roofing/streakguard.
CONTRACTOR NEWS
Roofing Corp of America expands to Texas
Roofing Corp of America, Atlanta, has expanded into Texas with the acquisition of WeatherShield Roofing & Sheet Metal, Aledo, Texas. The company is Roofing Corp of America's eighth acquisition.
WeatherShield Roofing & Sheet Metal was founded by Brandon Flowers in 2009 to serve the Dallas/Fort Worth commercial and residential roofing markets. The company has become one of the largest providers of emergency reroofing services for building owners navigating loss from hail, wind, rain or fire.
WeatherShield Roofing & Sheet Metal will operate as a standalone entity within Roofing Corp of America and continue to be led by Flowers.
Korellis CEO Pete Korellis retires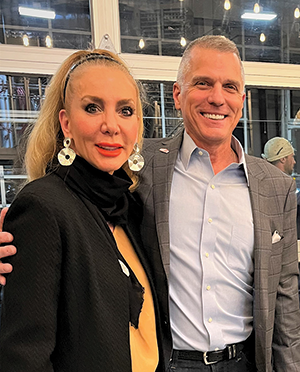 Korellis, Hammond, Ind., has announced CEO Pete Korellis' retirement after 40 years at the company.
Working alongside friend and business partner Jeff Tharp, Korellis built a team that has nearly 220 team members during the summer construction season.
A constant proponent of safety in the roofing industry, Korellis testified on behalf of NRCA before the Workforce Protections Subcommittee of the House Committee on Education and the Workforce in 2011. He discussed NRCA's concerns with new fall-protection rules issued by the Occupational Safety and Health Administration.
Korellis also hosted OSHA visits to his company's job sites to witness fall protection being used and how dangerous some regulations could be for certain roof systems. Additionally, he helped support production of NRCA's safety videos and has involved Korellis' safety director with NRCA's Health and Safety Committee for more than a decade.
John Ziolkowski, company president since April 2021, now will take on CEO as a part of his title.
DISTRIBUTOR NEWS
Gulfeagle Supply, Tampa, Fla., has announced its newest branch will open in Englewood, Fla.
The branch will share a property with its sister company Kimal Lumber and support contractors rebuilding areas affected by Hurricane Ian. Gulfeagle Supply now has 25 locations in Florida.
UP THE LADDER
Malarkey Roofing Products® has named Craig Lott director of sales operations.
Mule-Hide Products Co. Inc. has named Kyle Stavish national business development manager.
NRCA NEW MEMBERS
ARCHITECTS/ENGINEERS/CONSULTANTS
ButlerMatrix LLC, Orlando, Fla.
Empower Claims Inc., Fort Worth, Texas
Halliwell, Marietta, Ga.
National Property Consulting Group, Loveland, Ohio
Platinum Building Management, Grand Cayman, Cayman Islands
Roof Inspections, Joliet, Ill.
Sedgwick, Peyton, Colo.
Wehrman Investigative Engineering LLC, Bessemer, Ala.
Whitman, Requardt and Associates, Baltimore
Wrap Building Enclosure, Edmonton, Canada
CONTRACTORS
Achelpohl Roofing & Sheetmetal Inc., Little Mountain, S.C. All House Group LLC, Louisville, Ky. Apex Maintenance, Wilmette, Ill. Beckett Roofing, Big Bear Lake, Calif. Bell Commercial Roofing, Pennsauken, N.J. BluRoof LLC, Marietta, Ga. Currie Legacy Construction LLC, Roseburg, Ore. Fox River Roofing, Chicago HoodCo Construction & Roofing Inc., Mineral Wells, Texas Javco Roofing LLC, Palm Coast, Fla. Lion Roofing and Construction, Centennial, Colo. Lion Roofing and Contracting, Austin, Texas Mighty Dog Roofing, Dade City, Fla. My Roofing Contractor, Hamilton, N.J. No. 1 Exteriors, Danville, Ind. Palladium Roofing, Moore, Okla. SHC Roofing Inc., Shawnee, Kan. Spartan Construction LLC, Noblesville, Ind. SPG Roofing & Restoration, Whiteland, Ind. Stalwart General Contractor LLC, Baton Rouge, La. Stinson Services Inc., Edina, Minn. Sweeps N Ladders, McKinney, Texas TKO Construction & Roofing LLC, Poultney, Vt. Top Crew Construction, Fort Worth, Texas Tristar Roofing Solutions, Dickson, Tenn. Wrangler Roofing, Forney, Texas Yowell's Roofing, Tampa, Fla.
MANUFACTURER
Ace Screws, Wall, N.J.
EVENTS
MARCH
6-9
NRCA's 136th Annual Convention
NRCA
Dallas
Contact: NRCA's Customer Service Department
(866) ASK-NRCA (275-6722) or info@nrca.net
7-9
International Roofing Expo®
Informa Markets
Dallas
Contact: Informa Markets
(800) 684-5761 or info@theroofingexpo.com
22
Virtual CERTA Train-the-trainer
NRCA
Online
Contact: NRCA's Customer Service Department
(866) ASK-NRCA (275-6722) or info@nrca.net
23
LEGALCon Virtual 2023
NRCA
Online
Contact: Anne Schroeder, NRCA's director of legal and volunteer leadership administration
(847) 493-7547 or aschroeder@nrca.net
APRIL
12-13
Virtual Qualified Trainer Conference
NRCA
Online
Contact: Jared Ribble, NRCA's vice president of certifications
(847) 493-7526 or jribble@nrca.net