Roofing Alliance presents new Bennett Award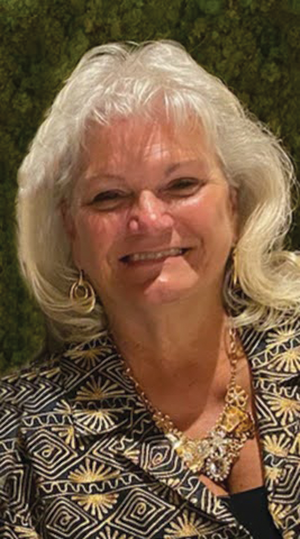 Judson
The Roofing Alliance has presented its new Bennett Award to Bennett Judson, former executive director of the Roofing Alliance. Judson was recognized as an individual who makes things happen for the betterment of the roofing industry. She accepted the award during a Roofing Alliance ceremony at NRCA's Fall Meetings in November 2021.
Judson began her career at NRCA more than 40 years ago. As the executive director of the Roofing Alliance from 2003-21, she embodied the type of leadership that truly brings the highest level of professionalism to the roofing industry.
"The Bennett Award acknowledges the venerable Bennett Judson and her inspiring 40-year career in the roofing industry," says Dave Lawlor, the 2021-22 Roofing Alliance president. "Bennett is an exemplary team player who is also organized, passionate, tireless, professional, humble and positive. Anyone who has had the pleasure to work with or alongside her knows this recognition is well deserved."
Future Bennett Awards will be presented annually and recognize individuals who volunteer and offer notable positive accomplishments on behalf of the Roofing Alliance and roofing industry. This recognition will be presented to future honorees during the Roofing Alliance's spring meeting.
Military veterans can be assets to the construction industry
During a time when contractors are facing a labor shortage, it is key to recognize people with military training and experience can be assets to the construction industry, according to forconstructionpros.com.
Contractors often seek employees who are hardworking, safety-oriented and able to perform effectively under stressful conditions. Military veterans value teamwork, understand how to demonstrate and respond to leadership, and have the ability to overcome adversity. Construction can be a strong match for men and women transitioning from military to civilian life and looking for jobs that offer good wages and competitive benefits.
"Veterans provide an excellent talent base for construction companies because they have a foundation of skills that are strong assets at the worksite," says Kelly French, veterans—talent acquisition program specialist for United Rentals, Stamford, Conn. "Many people with military experience have traits and qualities contractors look for in new hires: loyalty, integrity, dedication, service excellence and a focus on safety. It's a smart move for companies to build on what veterans have learned in the military to address hiring needs with skilled, motivated people."
Following are three steps contractors can take to support veterans looking to enter the construction industry.
Add a tool such as a military skills translator to company websites. These online tools allow service members and veterans to input their military occupation codes and receive an instant list of open positions that match their various skills and attributes.
Participate in job fairs that target military personnel and veterans. Recruiters also can engage with employment outreach programs such as Work for Warriors, Hiring our Heroes and Helmets to Hardhats, as well as programs offered by the Department of Veterans Affairs.
Provide work-study programs to help veterans smoothly and efficiently transition into civilian positions. These programs deliver job-readiness instruction, including a mix of intensive technical training and corporate skills training.
Industry professionals might struggle to discuss mental health
A new survey of the construction workforce addresses construction culture regarding mental health and offers important insights, according to forconstructionpros.com. The survey was conducted in spring 2021 to examine mental health experiences and needs in the industry.
The survey was distributed by the American Psychiatric Association Foundation's Center for Workplace Mental Health; Minneapolis-based construction risk management company Cobb, Strecker, Dunphy and Zimmermann; the Construction Financial Management Association; and insurance brokerage Holmes Murphy, West Des Moines, Iowa, as well as state chapters of national construction trade associations, labor unions and joint labor-management benefit trusts. Of the 1,175 respondents, 29% were CFOs, controllers or financial professionals; 22% were in safety or risk management; and 16% were CEOs, presidents and owners.
Following are some of the survey's key findings:
Ninety-three percent of survey respondents recognize address-ing mental health at work as a sound business practice; among presidents, CEOs and owners, 77% indicate mental health is prioritized at work.
When asked whether workers are likely to seek needed mental health care, only 26% of respondents believe workers are likely to seek care; 43% do not know; and 31% say workers are unlikely to seek care.
Overall, respondents say their organizations make supervisor training or employee training available; 69% identify supervisor training as most helpful, and 66% identify employee training as most helpful.
Only 17% of respondents say workers would openly discuss mental health with supervisors; 37% indicate their workers would not, and 46% are undecided or do not know.
Only 18% of respondents say workers would openly discuss mental health with co-workers; 31% say their workers would not, and 51% are undecided or do not know.
The top four reasons given for the hesitancy to discuss mental health are shame and stigma (78%); fear of judgment by peers (77%); fear of negative consequences (55%); and not knowing how to access care (46%).
To support industry professionals, the Construction Industry Alliance for Suicide Prevention offers free anonymous mental health screening tools on its website, preventconstructionsuicide.com, as well as suicide-prevention resources for employers.
Construction expected to power the global economy through 2030
A new global forecast produced by Oxford Economics, Oxford, U.K., and New York-based Marsh McLennan companies Marsh and Guy Carpenter says construction will drive global economic growth from 2020 to 2030, with output expected to be 35% higher than during 2010-20, according to globalconstructionreview.com.
Household savings, pandemic stimulus programs and population growth are expected to spur average annual growth of 3.6% between now and 2030, with construction growth outpacing manufacturing.
Four countries—China, India, the U.S. and Indonesia—will account for about 58% of projected global expansion. However, the forecast contains some surprises, such as growth in the U.K.'s infrastructure averaging 3.7% per year to rival China.
Graham Robinson, global infrastructure lead at Oxford Economics and the report's lead author, says it was unusual to see construction outstripping growth in services and manufacturing during a sustained period.
"But it's not surprising that construction is expected to power the global economy over this next decade, considering the unprecedented nature of stimulus spending on infrastructure by governments and the unleashing of excess household savings in the wake of COVID-19," Robinson says.
Extra output during the decade will amount to $4.5 trillion, giving construction an output worth $15.2 trillion by 2030 and 13.5% of global gross domestic product. Growth was expected to begin in 2021, with a 6.6% output expansion globally in 2021 driven by government stimulus plans such as the $1.2 trillion bipartisan infrastructure bill in the U.S.
The report notes climate change and the race to net zero are the greatest challenges for the construction industry and are expected to drive new deconstruction opportunities.
Homeowners interested in eco-friendly construction materials, practices
From reducing air pollution to using renewable energy as a power source, U.S. homeowners have an overwhelming desire for eco-friendly construction materials and practices, according to the 2021 3M Home Renovation Study.
Commissioned by 3M, the independent research study gauges homeowners' level of interest in eco-friendly construction materials and whether the industry is meeting homeowner needs. The study was conducted from March through April 2021.
According to the study, 74% of homeowners surveyed agree using eco-friendly construction materials would strongly affect the environment, and 70% of homeowners plan to purchase eco-friendly materials for their next renovation project.
Homeowners' eco-friendly purchases may also be influenced by others. Fifty-two percent of homeowners surveyed say they would be more active in considering eco-friendly materials if their friends and family were integrating eco-friendly options into their lives.
Homeowners believe recycling and reducing waste are the top activities that will positively affect the environment, as well as eliminating single-use plastics, using renewable energy, reducing air pollution and selecting energy-efficient products.
Roofing Alliance is accepting scholarship applications
The Roofing Alliance is accepting applications for its Melvin Kruger Endowed Scholarship Program. There are three scholarship opportunities available for the 2022-23 academic year.
The Accredited Post-Secondary Institution Scholarship is for employees, their spouses and their dependent children who are pursuing postsecondary education. Scholarship recipients are awarded $5,000 per year for up to four years of undergraduate study.
The Accredited Career Technical Education Scholarship is for employees, their spouses and their dependent children who are pursuing an education at a vocational or technical trade school; the scholarship is not designed for careers that require a four-year degree. Scholarship recipients are awarded $1,000 per year; awards are not renewable, but students may reapply each year provided they meet the requirements.
The Diversity Scholarship is for employees, their spouses and their dependent children who are pursuing a construction science education at either an accredited postsecondary institution or an accredited vocational or technical trade school. It is open to African American, Black, Hispanic or Latino, Asian, Pacific Islander, Native American, Native Hawaiian, Indigenous, LGBTQ+ and multiracial students. All female students also are eligible regardless of race or ethnicity. Other students who come from backgrounds that would add to the cause of diversity, regardless of race or gender, are eligible to apply, including applicants with physical, mental or other disabilities. Scholarship recipients are awarded $1,000 per year; awards are not renewable, but students may reapply each year provided they meet the requirements.
The application deadline is Jan. 31 at 3 p.m. CST. The application is available at learnmore.scholarsapply.org/melvinkruger. For more information, visit roofingalliance.net/education-research/scholarship or contact Jessica Priske, the Roofing Alliance's director, at (847) 493-7517 or jpriske@roofingalliance.net.
Three companies join NRCA's One Voice initiative
Captive Resources LLC, Itasca, Ill.; Furman Insurance, an Acrisure® Partner, Pompano Beach, Fla.; and RoofersCoffeeShop,® Sisters, Ore., have joined NRCA's One Voice initiative and upgraded their memberships to partner member.
NRCA's One Voice initiative is a transformational approach to addressing the roofing industry's most critical issues and concerns—with one voice—to secure its future.
NRCA invites manufacturers, distributors, architects, engineers, consultants and service providers to fully engage with NRCA, as partners, and actively address the industry's most pressing issues, including workforce certification; effecting change in Washington, D.C.; building codes and insurance; and increasing professionalism in all industry sectors.
For more information about NRCA and its One Voice initiative, including a list of the 45 current One Voice member partners, visit nrca.net/onevoice.
WEB
EXCLUSIVE
Web exclusive: Click below for more information.