MANUFACTURER NEWS
GAF Energy's solar shingle earns recognition
GAF Energy, San Jose, Calif., was recognized by media brand Fast Company's Innovation by Design Awards for 2022. The Innovation by Design Awards honor designers and businesses that are solving today's problems and anticipating tomorrow's pressing issues.
Energy's Timberline Solar™ energy shingle was named a finalist in the Impact category and received an honorable mention in the Home category.
The judges for Innovation by Design include renowned designers from a variety of disciplines, business leaders from innovative companies, and Fast Company writers and editors.
Entries are judged on functionality, originality, beauty, sustainability, user insight, cultural impact and business impact. Winners, finalists and honorable mentions were featured online and in the October 2022 print issue of Fast Company magazine.
The list of Innovation by Design Awards honorees is available at fastcompany.com/innovation-by-design/list.
Owens Corning® announces Shingle Color of the Year
Owens Corning, Toledo, Ohio, has announced Midnight Plum, a shingle color from the company's TruDefinition® Duration® shingle line, is its 2023 Shingle Color of the Year. Owens Corning's Shingle Color of the Year is an annual roofing color initiative intended to highlight the roof as a design element that can express a homeowner's style and contribute to a home's curb appeal.
Midnight Plum introduces undertones of purple infused with hints of pomegranate, eggplant and mulberry. The versatile color evokes tones found in nature, food, and current fashion and interior design trends.
Midnight Plum is Owens Corning's seventh Shingle Color of the Year, following Bourbon in 2022, Aged Copper in 2021, Pacific Wave in 2020, Black Sable in 2019, Sand Dune in 2018 and Sedona Canyon in 2017.
EagleView launches new technology
EagleView, Bellevue, Wash., has launched EagleView Assess, an autonomous drone technology that provides residential property intelligence, including high-resolution imagery, anomaly detection and roof system measurements.
Launching from the ground, EagleView Assess allows contractors and insurance adjusters to obtain evidence of roof damage, including hail, wind and aging—without needing to pilot the drone. Using artificial intelligence, machine learning and real-time 3D processing, EagleView Assess gathers, catalogs and assesses shingles for damage. This process results in an independent set of data that may ease claim submission and acceptance.
Already used by insurance carriers, contractors now can join the waitlist to use EagleView Assess at construction.eagleview.com/assess-waitlist.
Mule-Hide Products expands product availability
Mule-Hide Products Co. Inc., Beloit, Wis., has announced six of its spray polyurethane foam roof systems now are available nationwide to meet growing demand for energy-efficient roof system restorations. The SPF roof systems previously were offered only in the Southwest.
There are 60 SKUs available to meet the needs of any job. All are two-component, rigid, closed-cell systems said to provide a fully adhered, monolithic, sustainable air barrier and thermal insulation. The SPF roof systems reportedly are lightweight, offer strong adhesion to most substrates and enhance wind-uplift resistance.
Each of the six systems is available in five reactivity grades—very slow, slow, regular, fast and very fast—allowing contractors to choose which system is best suited to ambient temperatures at the time of application. All components are packaged in 55-gallon drums.
Additional information is available at www.mulehide.com/en-us/roofing- products/c/sprayfoam.
GAF donates land for wetland preserve
GAF, Parsippany, N.J.; the Michigan City Sanitary District; environmental law firm Plews Shadley, Indianapolis; and other local partners marked the opening of the Cheney Run Wetland Preserve at Karwick Nature Park in Michigan City, Ind.
The Oct. 19 opening came after a decade-long revitalization project by the Michigan City Sanitary District, which conducted preventive work and designed the preserve to allow wildlife to return to the area.
GAF, an employer in the Michigan City community, donated the land on the west side of the preserve along the Cheney Run tributary to the city to transform it into the Stormwater Treatment Wetland. The area was designed to act as a barrier between the park and invasive plant species, naturally filtering pollutants and slowly releasing water to Trail Creek.
GAF team members were on hand to commemorate the moment as part of its continued commitment to the community.
GCP Applied Technologies acquired by Saint-Gobain
GCP Applied Technologies, Alpharetta, Ga., has been acquired by Saint-Gobain, Malvern, Pa.
Saint-Gobain has acquired all outstanding shares of GCP Applied Technologies in a transaction valued at $2.3 billion.
GCP Applied Technologies' brands will integrate with Saint-Gobain's CertainTeed and Chryso businesses. GCP Applied Technologies' specialty building materials business in North America will merge with the CertainTeed business, serving the marketplace in its region. All other GCP Applied Technologies businesses, consisting mainly of concrete admixtures and cement additives, will be combined with the Chryso business and be part of the High Performance Solutions segment.
DISTRIBUTOR NEWS
ABC Supply opens new locations
ABC Supply Co. Inc., Beloit, Wis., has opened new locations in Cleveland; Danvers, Mass.; Gibbon, Neb.; Haslet, Texas; and Pottstown, Pa.
Local customers will be able to purchase roofing, siding, and other exterior and interior building products. This is ABC Supply's 27th location in Ohio, 17th location in Massachusetts, sixth location in Nebraska, 46th location in Texas and 25th location in Pennsylvania.
Elite Roofing Supply opens two locations
Elite Roofing Supply, Glendale, Ariz., has opened new locations in Houston and Prescott, Ariz.
The locations will serve local residential and commercial roofing contractors. The Houston facility is Elite Roofing Supply's fifth location in Texas, and the Prescott facility is the company's fourth location in Arizona. Elite Roofing Supply now has 27 branches in the U.S.
OTHER NEWS
Roofr acquires additional funding
Roofr Inc., San Francisco, has acquired $12 million in Series A funding. The new investment brings the total amount raised to $19 million for Roofr software, which helps roofing contractors prepare estimates and measure roofs via aerial imagery.
The latest funding round will help Roofr build a robust end-to-end experience for roofing contractors. Roofr intends to add new features including payments and lead acquisition, solidify new partnerships for better integrations, increase support hours and double the company's staff.
Since Roofr announced its seed funding in 2021, the company has launched new software features such as proposals and an instant estimator allowing users to provide roofing estimates in seconds. Roofr has measured more than 1.5 million roofs in total.
Additional information is available at roofr.com.
Modernize Home Services upgrades Connect features
Modernize Home Services, Austin, Texas, has announced upgraded capabilities in Connect, an automated messaging platform for contractors. Connect is designed to help contractors grow their businesses by making it easier to follow up and engage with homeowners.
The upgraded version of Connect helps contractors avoid losing out on leads by immediately communicating with homeowners even when potential customers reach out after business hours. Connect will send an automated message letting the homeowner know the contractor will address the request as soon as the office reopens.
Another upgraded feature enables Connect users to search and filter for conversations by name, flag homeowner engagement across email and text messaging, and highlight homeowner contact information to enable immediate response by phone, text or email.
Connect is included for all leads from Modernize Home Services. Additional information is available at modernize.com/contractor-resources/connect-by-modernize.
Roofing Alliance announces student competition participants
The Roofing Alliance has announced six universities will participate in the 2022-23 Roofing Alliance Construction Management Student Competition.
The participating schools are Bradley University, Peoria, Ill.; California Polytechnic University, San Luis Obispo; Clemson University, Clemson, S.C.; Colorado State University, Fort Collins; Texas A&M University, College Station; and University of Florida, Gainesville. Finalist teams will be announced in January, and teams will present their proposals to a panel of judges Wednesday, March 8, 2023, during the International Roofing Expo® at the Kay Bailey Hutchison Convention Center in Dallas.
The Roofing Alliance Construction Management Student Competition is designed to test the students on their roofing knowledge, project management capabilities and presentation skills. This year's project is Globe Life Field in Dallas. Teams research the chosen project, submit a qualified bid package proposal and complete an oral presentation to illustrate their roofing, project management, estimating and safety knowledge.
In addition, the Roofing Alliance has welcomed new members Kodiak Roofing & Waterproofing Co., Roseville, Calif., and Madsen Roofing & Waterproofing Inc., Sacramento, Calif. Both companies joined at the Governor level. The Roofing Alliance now has 185 members.
MCA launches Metal Architecture Academy
The Metal Construction Association has launched the 2022-23 Metal Architecture Academy.
Part of Architectural Record's Continuing Education Center, the new academy has eight courses, including an on-demand webinar, a multimedia course and six written courses. Eight continuing education credits are available in a variety of categories, and participants who complete all eight courses are eligible to earn badges.
Learn more and view the course list at continuingeducation.bnpmedia.com/academies/metal.
ARMA releases quarterly shipment report
The Asphalt Roofing Manufacturers Association has released its Quarterly Product Shipment Report for the third quarter of 2022. The report covers asphalt roofing product shipments in the U.S. and Canada during the third quarter, as well as year-to-date shipment information and a comparison with the prior year's data.
"The shipment report provides valuable insight into the asphalt roofing industry for trade professionals and interested parties," says Reed Hitchcock, executive vice president of ARMA. "Asphalt roofing data is relevant and meaningful to a number of industries."
Roofing product shipment data is collected from participating manufacturers by an independent third party and aggregated to create the report. Companies that are not members of ARMA may examine free quarterly summaries, and those ineligible for ARMA membership can subscribe to the full, detailed report at asphaltroofing.org.
Roofing Alliance announces award winner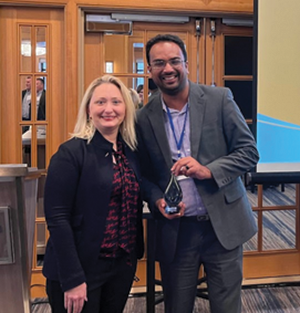 Van Winkle and Gajjar
The Roofing Alliance has announced the winner of the 2022 Bennett Award is Dhaval Gajjar, Ph.D., assistant professor and undergraduate program director, Clemson University, Clemson, S.C. The award recognizes individuals who volunteer and offer notable positive accomplishments on behalf of the Roofing Alliance and roofing industry.
Gajjar was recognized for his contributions during the past five years helping to build university-level curriculum in partnership with the Roofing Alliance with the goal of bringing a higher level of roofing education in construction management programs. He has developed a nine-credit, three-course Roofing Certificate Program that is changing the view of roofing in higher education. The Roofing Alliance is committed to sharing the curriculum with other construction management programs and is backing that with essential training for professors who want to implement the courses.
"Dhaval's enthusiasm for roofing has been obvious from the beginning," says Kelly Van Winkle, president and CEO of King of Texas Roofing Co. LP, Grand Prairie, and president of the Roofing Alliance. "We are proud to present this prestigious award to Dhaval, recognizing his contribution to roofing along with his passion to grow the professionalism of the industry."
ASTM International presents award
ASTM International, W. Conshohocken, Pa., presented its top annual award–the Award of Merit–to Bruce Darling, president of BPD Roof Consulting Inc., East Granby, Conn., for his contributions to ASTM International's Committee D08 on Roofing and Waterproofing.
The award is ASTM International's highest recognition for distinguished service and outstanding participation in committee activities and includes the accompanying title of fellow.
Darling was recognized for his effective leadership, tirelessness and ability to move subcommittee affairs forward through contentious issues. An ASTM International member since 1983, Darling previously received two Awards of Appreciation and the Distinguished Leadership Award.
THE INDUSTRY ONLINE
SOPREMA® Inc. has launched the SOPREMA Toolbox App designed to give customers 24/7 access to product information, documents, and liquid product and catalyst calculators. The app is available from the Apple App Store and Google Play.
UP THE LADDER
Mule-Hide Products Co. Inc. has announced Jeremy Grunewald was named a Cool Roof Rating Council Educator.
OMG® Inc. has named Jeffrey Gelinas manager of sales training for its FastenMaster and Roofing Products divisions.
NRCA new members
ARCHITECTS/ENGINEERS/CONSULTANTS
AMP of Illinois, Joliet, Ill.
Engineered Exteriors LLC, Austin, Texas
GFAFB, Grand Forks Air Force Base, N.D.
Heintges, San Francisco
Hunt Roof Consulting LLC, Round Rock, Texas
Quinn Evans Architects, Ann Arbor, Mich.
SSV Architects, Boston
CONTRACTORS
AG Roofing and Construction LLC, Dallas
Alliant Roof Specialists, Naples, Fla.
Architectural Siding Trim and Roofing Inc., Warrenville Heights, Ohio
BASE Roofing, Canton, Ga.
BLV 360 LLC, Detroit
Cavalry Construction, San Antonio
Commercial & Industrial Services LLC, Shreveport, La.
Farr 2 Cool LLC, Austin, Texas
Four Elements Restoration Inc., Westchester, Ill.
Green Light Restoration LLC, Schaumburg, Ill.
Huber & Associates, Lake City, Fla.
Kamakani Roofing Services Inc., Honokaa, Hawaii
Luck Roofing LLC, Fort Smith, Ark.
Outlast Roofing LLC, Beachwood, Ohio
P D Roofing Inc., Auburn Hills, Mich.
Roofwise LLC, Raleigh, N.C.
San Diego Roof Doctor, San Marcos, Calif.
Southlake Group LLC, Southlake, Texas
Superior Roofing and Waterproofing LLC, Covina, Calif.
Weathertite Roofing of NWFL LLC, Pensacola, Fla.
MANUFACTURER
Bayford Construction Inc., Spencerport, N.Y.
MEMBER BRANCHES
Aspen Group, Englewood, Colo.
Peak View Roofing, Colorado Springs, Colo.
RoofCARE, Albuquerque, N.M.
SERVICE PROVIDER
Service First Solutions, Double Oak, Texas
EVENTS
NOVEMBER
8-11
NRCA's Fall Meetings
NRCA
Chicago
Contact: NRCA's Customer Service Department
(866) ASK-NRCA (275-6722) or info@nrca.net
15-16
NRCA's Qualified Trainer Conference
NRCA
Orlando, Fla.
Contact: Jared Ribble, NRCA's vice president of certifications
(847) 493-7526, or jribble@nrca.net
17
CERTA Train-the-trainer
NRCA
Elgin, Ill.
Contact: NRCA's Customer Service Department
(866) ASK-NRCA (275-6722) or info@nrca.net
DECEMBER
1
Foreman Leadership Training, Level 1
NRCA
Online
Contact: Jeff Jarvis, NRCA's vice president of membership, sales and business development
(847) 493-7512, or jjarvis@nrca.net
6-8
Fall Protection Competent Person Training
NRCA
Elgin, Ill.
Contact: NRCA's Customer Service Department
(866) ASK-NRCA (275-6722) or info@nrca.net
JANUARY 2023
18
Virtual CERTA Train-the-trainer
NRCA
Online
Contact: NRCA's Customer Service Department
(866) ASK-NRCA (275-6722) or info@nrca.net
18-20
2023 CRCA Trade Show & Seminars
Chicago Roofing Contractors Association
Oakbrook Terrace, Ill.
Contact: CRCA
(708) 449-334
25-26
NRCA's Virtual Qualified Trainer Conference
NRCA
Online
Contact: Jared Ribble, NRCA's vice president of certifications
(847) 493-7526, or jribble@nrca.net
Jan. 29-Feb.1
Storm Restoration Contractor Summit
Storm Consultants LLC
Denton, Texas
Contact: April Hall, president of Storm Consultants
(469) 416-6883, or april@srcsummit.com
Jan. 31-Feb.2
NAHB International Builders' Show®
National Association of Home Builders
Las Vegas
Contact: NAHB
(202) 266-8184
FEBRUARY 2023
12-15
SprayFoam 2023 Convention & Expo
Spray Polyurethane Foam Alliance
Daytona Beach, Fla.
Contact: Kelly Marcavage
(800) 523-6154 or kmarcavage@sprayfoam.org
MARCH 2023
6-9
NRCA's 136th Annual Convention
NRCA
Dallas
Contact: NRCA's Customer Service Department
(866) ASK-NRCA (275-6722) or info@nrca.net
7-9
International Roofing Expo®
Informa Markets
Dallas
Contact: Informa Markets
(800) 684-5761 or info@theroofingexpo.com
22
Virtual CERTA Train-the-trainer
NRCA
Online
Contact: NRCA's Customer Service Department
(866) ASK-NRCA (275-6722) or info@nrca.net