As anticipated, attendance numbers nearly reached pre-pandemic levels as the roofing industry reunited during NRCA's annual convention and Sarasota, Fla.-based Informa's 2023 IRE in Dallas March 6-9. More than 14,000 professionals—significantly more than the 10,000 attendees at the 2022 show—descended upon the Kay Bailey Hutchison Convention Center to explore the expo floor and learn about the latest industry news and trends.
"This year's IRE was another phenomenal event," says McKay Daniels, NRCA's CEO. "With a tremendous turnout, attendees were treated to excellent educational content and an impressive exhibit. The energy and excitement at the show were palpable. It makes me incredibly excited for what lies ahead in Las Vegas next year."
The sixth annual National Women in Roofing Day, a full-day conference for female roofing professionals, was held Sunday, March 5. During the event, 500 participants learned about the latest business strategies and shared their tactics and secrets to success before attending an evening reception.
The convention kicked off Monday, March 6, with NRCA's Executive Committee and board of directors meetings at the Omni Dallas Hotel. NRCA's affiliate executives meeting was held at the convention center the following day.
Community service
On Monday, March 6, Informa partnered with Rebuilding Together® North Texas to host the IRE's 14th annual Community Service Day sponsored by Canton, Mass.-based Sika® Sarnafil. During the event, 75 volunteers helped renovate three homes of Dallas residents in need.
Donald Duckworth served as a Navy medic on the front lines during the Vietnam War before he was honorably discharged and bought a house in 1974. He cared for his grandmother at his home until her passing and his mother after she was diagnosed with Alzheimer's disease. Prioritizing caring for his family above home maintenance, Duckworth's home fell into disrepair, and he has no family left to provide assistance. Community Service Day volunteers installed subflooring and vinyl plank flooring, replaced the front and back doors, installed storm doors, painted inside the home and completed exterior yard work.
Mildred Garcia fell in love with her community and her home when she purchased it in the late 1990s. She completed almost all the home's necessary repairs herself and quickly became a pillar of the close-knit community by serving as a Spanish-language translator for neighbors in need. After caring full-time for her mother and aunt in her home before their passings, Garcia found her home needed more repairs—but this time, she could not do the work herself, and her community had disbanded as a result of regentrification over the years. A fall at home left Garcia permanently disabled, and she worried her home's condition remained unsafe. Community Service Day volunteers completed interior work to help improve Garcia's mobility and safety and performed a general clean-up of the home.
Barbara Shaw escaped from a domestic violence relationship and became a single mother to two teenagers in 2000. Her family moved to Dallas, where she could fulfill her dream of becoming a homeowner. Shaw purchased a fixer-upper and made it her family's home. She spent years volunteering to assist other domestic violence survivors, homeless women and neighbors in need before suffering a heart attack that severely limited her mobility. After a fall at home caused an injury, Shaw believed her home no longer was a place she could age safely. Community Service Day volunteers installed handrails for the home's front steps, installed gutters and completed exterior work.
Primary sponsor Sika Sarnafil has sponsored Community Service Day each year and donated $15,000 for the event, and safety sponsor Carlisle Construction Materials, Carlisle, Pa., donated $1,000. IRE attendees fundraised an additional $5,000 for Rebuilding Together North Texas. GAF, Parsippany, N.J., donated roofing materials, and KPost Roofing & Waterproofing, Dallas, donated labor for a roof system replacement. In addition, CentiMark Corp., Canonsburg, Pa., donated tool sets to Rebuilding Together North Texas; OMG® Roofing Products Inc., Agawam, Mass., sponsored lunch for participants; and Roofing Contractor sponsored shuttle buses for the event.
Expo events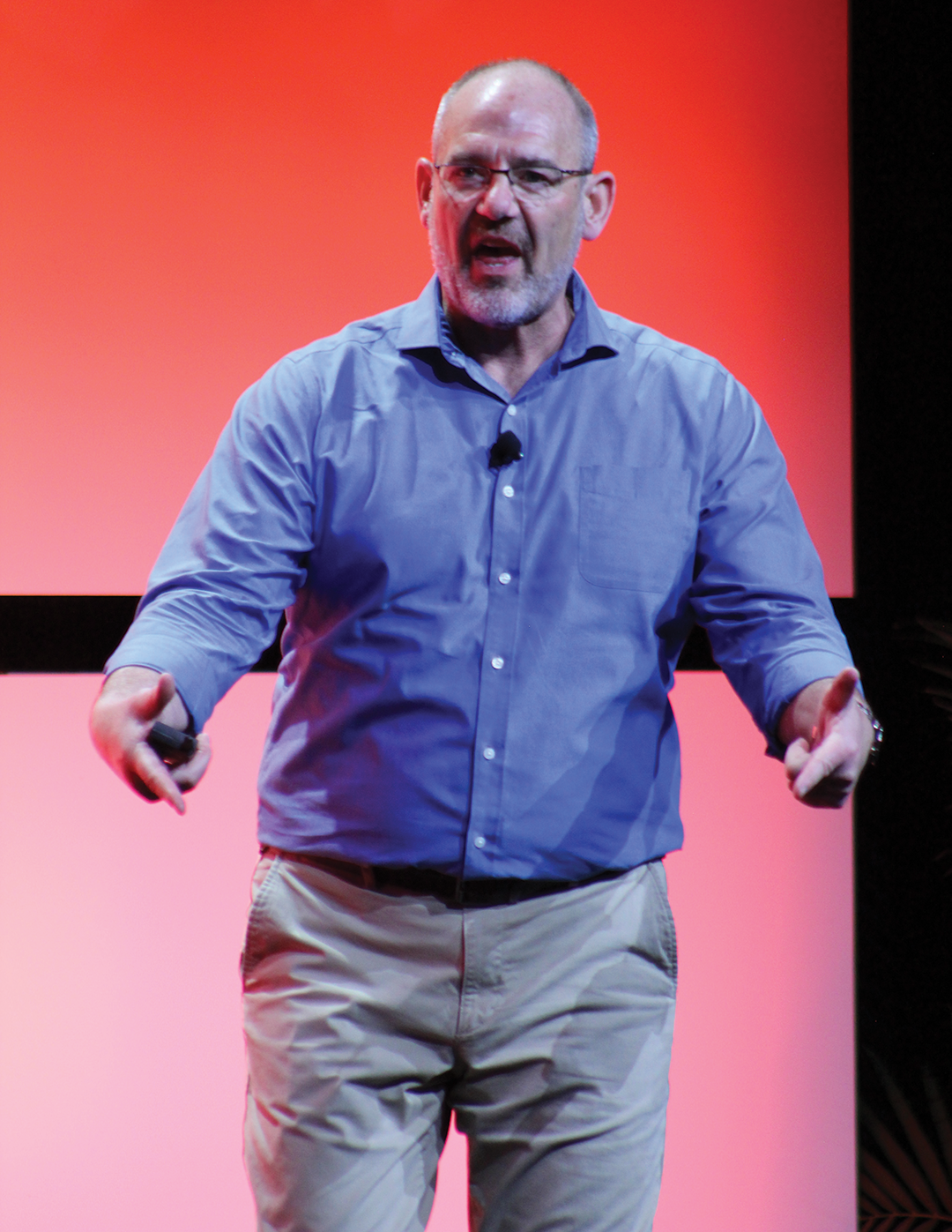 On Tuesday, March 7, the IRE kicked off with a keynote address delivered by Chris Czarnik, an author, motivational speaker, and recruiting and retaining talent subject matter expert. Czarnik explained he wrote his book, Winning the War on Talent, specifically for the roofing industry and outlined real-world strategies for employee recruitment, engagement and retention that attendees can implement right away.
During the evening, Informa held a welcome party at House of Blues Dallas. Attendees enjoyed food, drinks and live music, as well as a large collection of southern vernacular art from more than 150 artists.
More than 1,200 roofing professionals visited NRCA's booth to learn about the benefits of NRCA membership and speak with NRCA experts about NRCA ProCertification,® Qualified Trainer Conferences, Training for Roof Application Careers, LEGALCon Virtual and LEGALCon Live, Roofing Day in D.C. 2023, and technical topics and risk management issues. Information about the 2023 edition of The NRCA Roofing Manual, Professional Roofing magazine, the Roofing Alliance and other resources also was available. Visitors tried their luck at the NRCA "Spin to Win" wheel, where lucky winners received prizes such as a Solo Stove,® Bosch job-site radio, DEWALT® tool backpack, free NRCA ProCertification registration and free NRCA membership for one year. Twenty-five companies joined NRCA during the IRE.
NRCA's training programs offered during the IRE were well-attended by enthusiastic industry professionals. NRCA held a Roofing Industry Fall Protection from A to Z class March 7 and a Foreman Leadership Training, Level 1, program March 9 for foremen, superintendents and field managers. NRCA staff also served as speakers for educational sessions and hosted a roundtable event, "The Upside of a Downturn," during which attendees discussed how they overcame challenges during the past year.
NRCA conducted NRCA ProCertification assessment demonstrations on the trade show floor March 7-9. Industry professionals were able to see what a hands-on skills assessment looks like and speak with NRCA Qualified Assessors about the ProCertification process.
NRCA University's Future Executives Institute—Class 10 met twice during the week to study leadership theory and practice and develop management and communication skills. FEI-10 students are in their second year of the three-year program.
Benefiting ROOFPAC
ROOFPAC, NRCA's political action committee, hosted 253 industry professionals during "A Lone Star Evening," an NRCA/ROOFPAC fundraising event held in conjunction with National Women in Roofing at Gilley's Dallas March 6. Attendees enjoyed a cocktail reception and live auction with opportunities to bid on vacations, spirits and artwork, among other items. The event raised $63,775.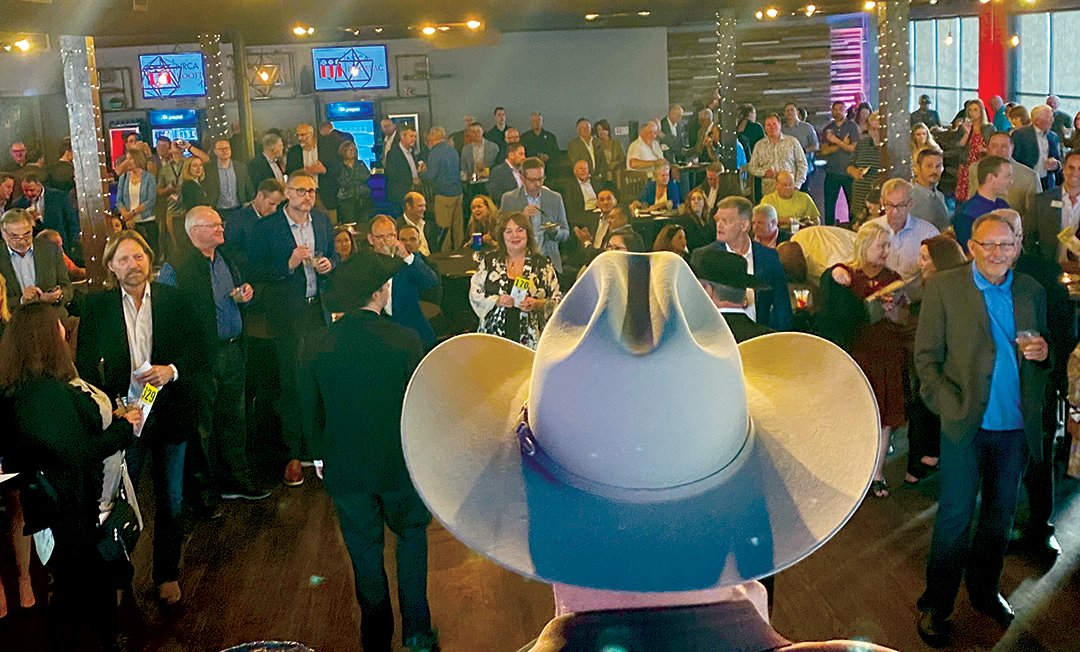 In addition, ROOFPAC held its annual silent auction in NRCA's booth March 7-8. On Wednesday afternoon, participants enjoyed an open bar during the final two hours of the event while bidding on jewelry, vacations and electronics. The silent auction raised $36,429.
Thanks to generous corporate sponsors that underwrote the events' costs, a record amount of funds was raised during the IRE and will be used directly to support NRCA's ongoing efforts to advocate for the roofing industry in Washington, D.C.
Roofing Alliance student competition
The talent of future industry professionals was on display during the IRE as six finalist teams of college students competed in the Roofing Alliance's ninth annual Construction Management Student Competition.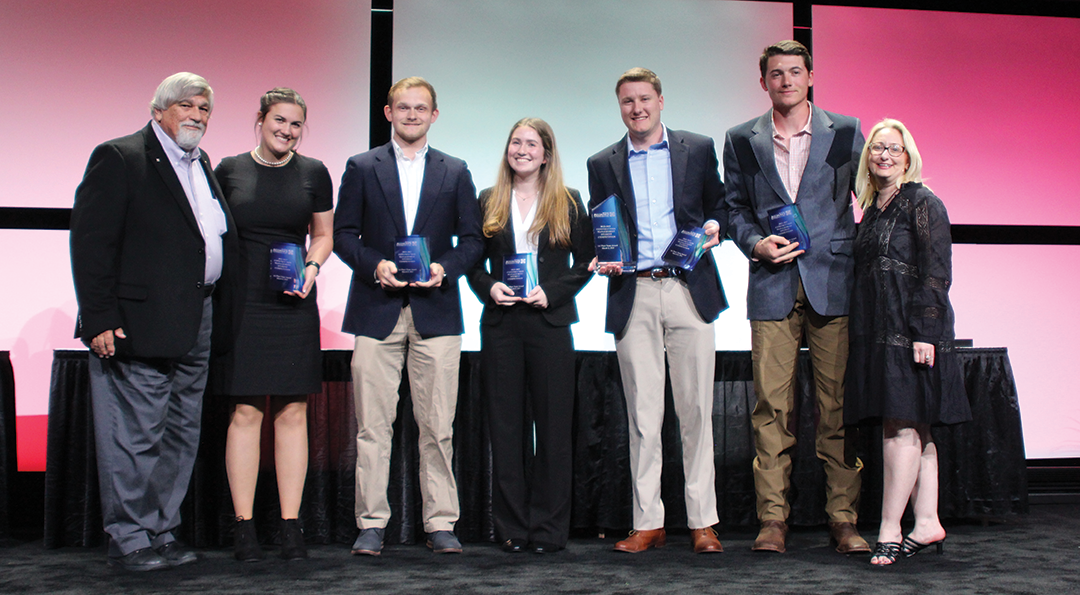 Student teams from the following schools were tasked with creating a bid for installing a roof system on Globe Life Field in Dallas:
Bradley University, Peoria, Ill.
California Polytechnic University, San Luis Obispo
Clemson University, Clemson, S.C.
Colorado State University's Department of Construction Management, Fort Collins
Texas A&M University, College Station
University of Florida's M.E. Rinker Sr. School of Building Construction, Gainesville
Each team was required to research the project and submit a qualified bid package proposal. The teams each delivered oral presentations before a panel of judges March 8.
Later that evening during NRCA's Awards Ceremony and Cocktail Reception, Clemson University was announced the winner of the competition. The team received a trophy and a $5,000 L.B. Conway scholarship for its school, and team members received individual trophies.
The University of Florida placed second. Team members received a team trophy, a $2,500 scholarship for their school and individual awards.
The student team from Texas A&M University placed third. Team members received a team trophy, a $1,000 scholarship for their school and individual awards.
In addition, Dylan Smithwick from Colorado State University was named Best Individual Student Presenter, and Adam Wascher from Bradley University was named second Best Individual Student Presenter.
Industry awards
NRCA's Awards Ceremony and Cocktail Reception honored several roofing professionals. NRCA's 2023-24 slate of officers and directors was presented (see "NRCA's 2023-24 leadership") as well as the industry's most prestigious awards: NRCA's J.A. Piper Award; NRCA's John Bradford Volunteer Award; NRCA's Gold Circle Awards; the CNA/NRCA Community Involvement Award; the Roofing Alliance's Most Valuable Player Awards; and NRCA's Charlie Raymond Award.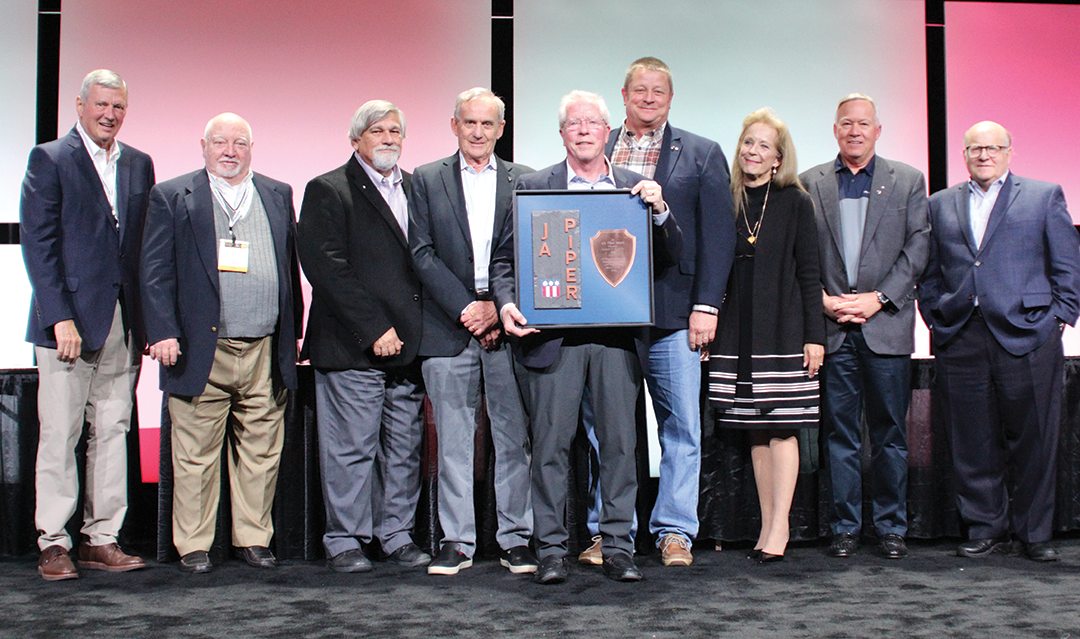 J.A. Piper Award
Robert Daly Jr., president of Kaw Roofing & Sheet Metal, Kansas City, Kan., received NRCA's 76th annual J.A. Piper Award. Named for former NRCA President Joseph A. Piper, whose extraordinary efforts kept NRCA alive during the Great Depression, the J.A. Piper Award is the industry's most prestigious honor. The award is presented to an individual who has demonstrated constant, outstanding service to NRCA and the industry.
Daly is a third-generation roofing contractor who joined his father—who received the J.A. Piper Award in 1950—brothers and sister in the family business founded by his grandfather after graduating from college. In 1996, he was elected to NRCA's board of directors and served as a director from 1996-99 and 2002-06. In 2000, he was elected as an NRCA vice president and served from 2000-02 and 2003-04. In 2006, Daly served as senior vice president before being elected as NRCA's president in 2007. He also served on many NRCA committees and task forces, including the Associated Specialty Contractors, Energy Conservation and Environment, Government Relations, National Roofing Service Corporation and PAC Advisory committees.
In addition, Daly served on the board of directors of the Associated Roofing Contractors of Greater Kansas City; The Builders—a chapter of the Associated General Contractors; and the Sheet Metal and Air Conditioning Contractors' National Association—Kansas City chapter before serving as president.
Daly also served as secretary/treasurer of National Roofing Partners; has co-chaired the Joint Roofing Industry Labor and Management Committee of the United Union of Roofers, Waterproofers and Allied Workers since 1989; has served on the Labor Negotiating Committee for Greater Kansas City Building and Construction Trades Council since 1993; and is a member of the Roofing Alliance.
John Bradford Volunteer Award
Bill Collins, former president and CEO of GAF, Parsippany, N.J., received the John Bradford Volunteer of the Year Award, which is presented to an individual who has consistently demonstrated outstanding acts of volunteerism.
Collins is a registered civil engineer who served as president and CEO of GAF for several years beginning in 2000. During his time at GAF, he took a year's sabbatical to work with Habitat for Humanity. Collins joined Habitat for Humanity International's Global Leadership Council and served as senior vice president for Habitat for Humanity International, co-leading Operation Home Delivery, which helped build more than 1,000 homes in 18 months after Hurricanes Katrina and Rita.
Collins also has mentored startup company executives, seasoned CEOs and Naval ROTC undergraduate civil engineering students; provided pro bono investment advice to emerging or new companies; and helped develop COVID-19 contact tracing systems. He currently volunteers on the advisory boards of Englert Metals, iRoofing, Jordan Energy, Lifetime Tool and National Nail.
Collins was a founding member of the Center for Environmental Innovation in Roofing, including its research advisory committee, and was a founding board member of the Roofing Alliance. He remains an active member, offering pro bono cybersecurity advice to NRCA and Roofing Alliance members and currently serves on the organization's Fundraising Committee.
The John Bradford Volunteer Award is named after John Bradford, who served as NRCA's president from 1982-83 and was a past president of the Midwest Roofing Contractors Association. He was instrumental in the development of the Montana Roofing Contractors Association, served on many boards during his roofing career and enjoyed civic involvements.
Gold Circle Awards
NRCA's 2023 Gold Circle Awards were presented to NRCA members for their significant contributions to the roofing industry. The following received Gold Circle Awards:
Innovative Solutions: Flynn Group of Companies, Beaverton, Ore., for Oregon-Columbia Roofer JATC, Portland, Ore.
Outstanding Workmanship—Steep-slope: Midland Engineering Co. Inc., South Bend, Ind., for Remick Family Hall at University of Notre Dame, Notre Dame, Ind.
CNA/NRCA Community Involvement Award
NRCA and CNA, Chicago, presented the eleventh annual CNA/NRCA Community Involvement Award to Bliss Roofing Inc., Clackamas, Ore. The award honors charitable works performed by NRCA contractor members between Jan. 1 and Dec. 16, 2022. Bliss Roofing was honored for its charitable efforts with Metro Portland Housing Industry Foundation, d/b/a Home Builders Foundation. Bliss Roofing participated in four projects supported by Home Builders Foundation—a sleeping pod community for veterans, a home for girls escaping sex trafficking, a youth drop-in center and a family shelter—for vulnerable communities experiencing homelessness and housing instability. CNA awarded Bliss Roofing with $7,500 to be presented to Home Builders Foundation. In addition, NRCA dedicated the proceeds of its Cyber Monday sale in November 2022 to Home Builders Foundation.
Beck Roofing Corp., Norfolk, Va., was chosen as the second-place winner for its charitable efforts with ForKids. Beck Roofing provided a full roof system replacement on a ForKids home. ForKids' mission is to break the cycle of homelessness and poverty for families and children. The organization currently helps more than 250 families, including 500 children, in 14 cities and counties in southeastern Virginia. CNA awarded Beck Roofing with $5,000 for its charity.
Dan Perkins Construction Inc., Ishpeming, Mich., was chosen as the third-place winner for its work with Bay Cliff Health Camp, which helps children ages 7-17 overcome handicaps and become more independent in a summer camp setting that is fun and challenging. The company replaced the roof on the camp's arts and crafts building. CNA awarded Dan Perkins Construction with $2,500 for its charity.
Additionally, the winner of the People's Choice category was chosen via online voting. Foster Contracting Inc., Indianapolis, won the People's Choice Award for its work with Isaiah 117 House. Foster Contracting is acting as general contractor and plans to provide a fully renovated home to Isaiah 117 House in July. The home will provide a safe, loving space for children waiting for an alternate placement, such as foster care. CNA awarded Foster Contracting with $1,500 for its charity.
MVP Awards
The Roofing Alliance announced the winners of its 23rd annual MVP Awards during the ceremony. The awards recognize outstanding roofing workers who achieve work-related and personal goals to which others aspire. Award winners are chosen by a panel of roofing industry representatives.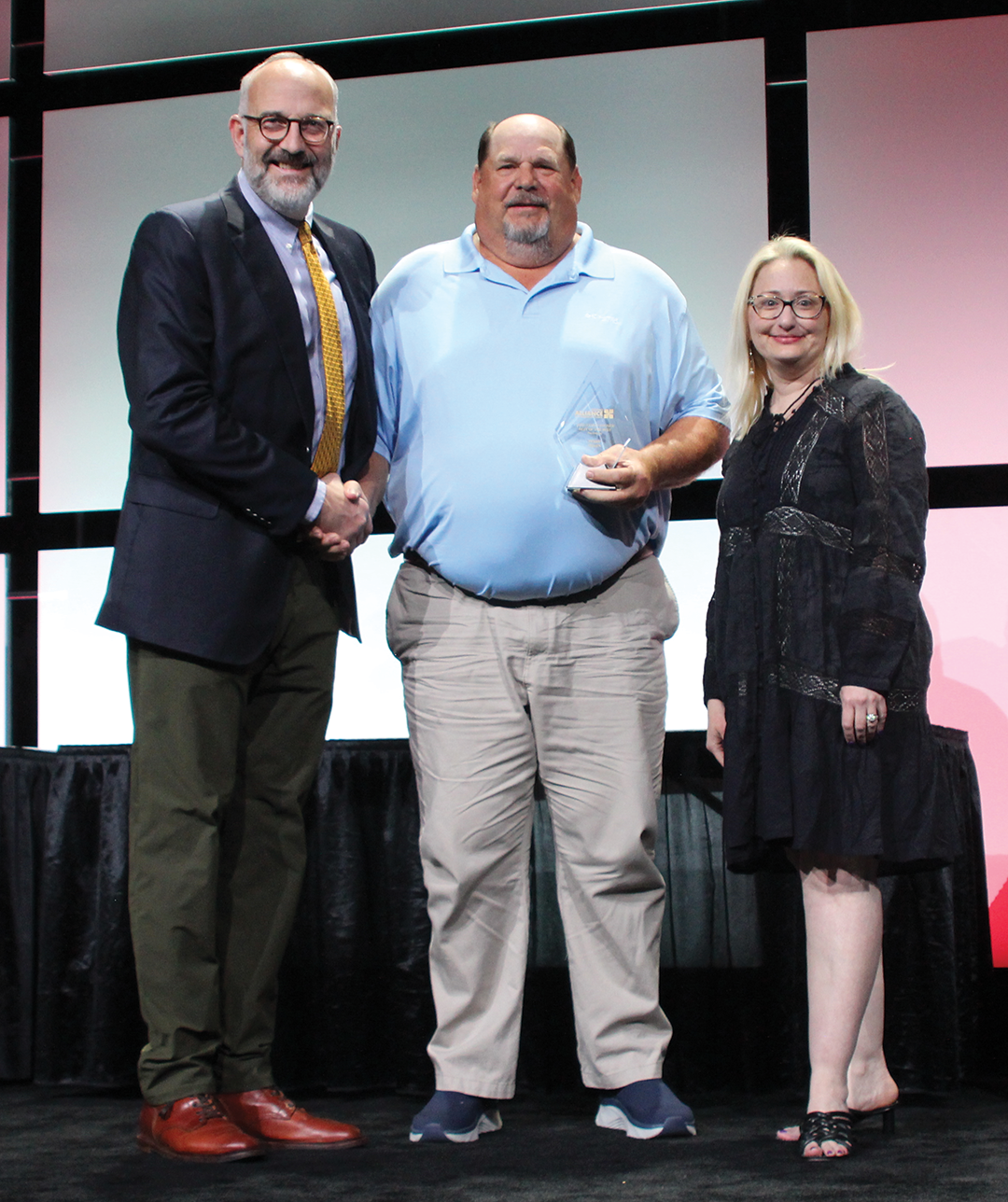 The winner in the outstanding community involvement category was Christopher Knott, field worker for East Coast Roofing, Siding & Windows, Mays Landing, N.J.
The winner in the outstanding performance and leadership category was Oscar Salas, superintendent for KPost Roofing & Waterproofing, Dallas.
The Best of the Best Award winner also was annou-nced. Terry Tilsen, superintendent for Advanced Roofing Inc., Fort Lauderdale, Fla., won the Best of the Best Award based on his extraordinary contributions to the roofing industry. The Best of the Best Award is sponsored by Professional Roofing and OMG Roofing Products.
Charlie Raymond Award
NRCA presented the Charlie Raymond Award, its prestigious membership recruitment award, to GAF. Named for former NRCA President and J.A. Piper Award recipient Charlie Raymond, the award honors members for their efforts to recruit new members into NRCA.
On to Vegas
Bringing the roofing industry together for peer engagement, learning and fun is what makes NRCA's annual convention and the IRE attractive and successful events each year.
Make plans now to attend NRCA's 137th Annual Convention and the 2024 IRE Feb. 6-8 in Las Vegas, an always-popular destination that also will be gearing up for Super Bowl LVIII. It's sure to be another hugely successful show, and you won't want to miss out!
NRCA's 2023-24 leadership
NRCA announced its 2023-24 slate of officers and directors during NRCA's Awards Ceremony and Cocktail Reception March 8 in Dallas. The officers and directors will begin their terms June 1.
Lisa Sprick, president of Sprick Roofing Co. Inc., Corvallis, Ore., was named chairman of the board, and Doug Duncan, president of Nations Roof of Illinois, Villa Park, was named chairman of the board-elect. Randy Adams, chairman/CEO of R. Adams Roofing Inc., Indianapolis; Alex Hernandez, president of Clark Roofing Company, Broadview, Ill.; and Gary Howes, COO of The Durable Slate Company, Columbus, Ohio, were named vice chairmen for two-year terms.
Additionally, the following were named as new NRCA directors:
Danny Davis, president of DAVCO Roofing & Sheet Metal Inc., Charlotte, N.C.
Piers Dormeyer, president of commercial group for Eagleview, Bellevue, Wash.
John Embow, president of Grove Roofing Services, Buffalo, N.Y.
Jean-Paul Grivas, project manager for Ray Nolan Roofing Co. Inc., Louisville, Ky.
Bryan Karel, vice president of operations for Garlock-French Corp., Minneapolis
John Kiesel, president of Division 7 Roofing, Galena, Ohio
Michael Kruger, vice president of L.E. Schwartz and Sons Inc., Macon, Ga.
Christian Madsen, president of Madsen Roofing & Waterproofing Inc., Sacramento, Calif.
Jake Magalsky, president of Ace Roofing LLC, Wilsall, Mont.
Wendy Marvin, CEO and founder of Matrix Roofing & Home Solutions, Vancouver, Wash.
Sherri Miles, vice president of J.D. Miles & Sons Inc., Chesapeake, Va.
Lynn Price, president of Dryspace Inc., Cedar Rapids, Iowa
Jim Prusak, owner of Prusak Roofing Inc., Bridgeview, Ill.
---
SARA VAUGHN is Professional Roofing's assistant editor and NRCA's manager of communications.
WEB
EXCLUSIVE
Web exclusive: Click below for more information.