Aerial imagery is regularly updated
EagleView
has made available EagleView Cloud for commercial use. EagleView Cloud is a subscription-based service that enables users to access property-specific data gathered from aerial imagery. With three resolution options and imagery that is refreshed up to two times per year, users can make claims decisions, remodeling estimates, solar designs and more using recent data. EagleView Cloud now covers more than 94% of the U.S. population, including 1-, 3- and 6-inch image capture over more urban areas. Users reportedly can access the service to reduce the amount of site visits and surveys required for projects.
Underlayment withstands hot temperatures
Petersen has introduced PAC-CLAD HT high-temperature self-adhering roof underlayment. Designed for a variety of roofing applications, the underlayment is said to protect against water and ice damming while withstanding extreme weather conditions. PAC-CLAD HT's self-adhering qualities reduce labor costs and installation times. The 40-mil, skid-resistant, high-tensile-strength rubberized asphalt membrane reportedly is designed to withstand temperatures up to 250 F without adhesive degradation. The rubberized asphalt is laminated to an impermeable polyethylene film layer. In addition, the underlayment has a split-release film for quick installation and seals around roof fasteners. PAC-CLAD HT is available in black and white.
pac-clad.com
Drills are ideal for tight spaces
DEWALT® has added the ATOMIC™ 20V MAX Brushless Cordless 1/2-inch Drill/Driver (DCD794) and ATOMIC 20V MAX Brushless Cordless 1/2-inch Hammer Drill (DCD799) to its tool portfolio. The tools reportedly are DEWALT's shortest 20V MAX drill/driver and hammer drill available to benefit users working in confined spaces. Measuring 5.88 inches, the drill/driver delivers 404 unit watts out and up to 1,650 revolutions per minute (no-load), providing users with up to 16% more power. At 6.49 inches, the hammer drill produces 552 unit watts out with up to 1,650 revolutions per minute (no-load) and delivers up to 14% more power. The drill/driver and hammer drill feature an on-tool LED work light to illuminate dark areas. Both tools deliver high bit retention with a 1/2-inch ratcheting chuck and aid user control with variable speed triggers and 15 clutch settings. The tools are available as bare units or kits.
dewalt.com
Tool holders are magnetic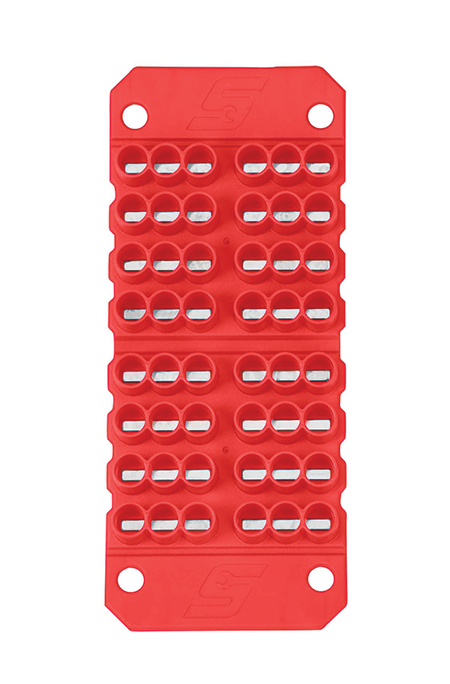 Snap-On® Tools has introduced its Snap-on Flexible Magnetic Can and Prybar Holders and Snap-On Flexible Magnetic Bit Holder. Made of nonmarring silicone polymer, the organization solutions contain powerful neodymium magnets said to secure tool accessories on nearby work surfaces for easy access. The Snap-on Flexible Prybar Holder features front magnets to allow attachment of prybars horizontally or vertically and a modular, interlocking design for multiple prybar holders to be connected. The Snap-on Flexible Magnetic Can Holder uses the same front-magnet feature to secure spray cans and includes an integrated clip designed to keep loose lids in place. Rear magnets secure the holders to a user's toolbox or other metallic surface, and pull tabs reportedly make removal easy and damage-free. The Snap-On Flexible Magnetic Bit Holder features front and back magnets and has a storage capacity of 48 1/4-inch hex drive bits, ensuring a user can keep many pieces stationary and visible.
snapon.com
Redesigned shingles are thicker
GAF has made available its redesigned Timberline® Ultra High Definition shingles as Timberline UHDZ™ shingles. Timberline UHDZ shingles now include features seen in Timberline HDZ,™ including LayerLock™ technology, Dual Shadow Line and StrikeZone® nailing area for faster installation. The laminate shingles reportedly offer a thicker and 20% heavier design compared with Timberline HDZ shingles and 10% more time-release algae-fighting technology. The shingles are available in several colors, including Barkwood, Charcoal, Pewter Gray, Shakewood, Slate and Weathered Wood.
gaf.com/uhdz
Shingles have smog-reducing technology
Atlas Roofing Corp. has added Pinnacle® Sun shingles and Pinnacle Impact shingles to its Pinnacle product offerings. Pinnacle Sun features 3M™ Cool Roof technology, 3M Scotchgard™ Protector and HP42® technology. The shingles are designed to reflect the sun's radiant heat away from the roof system, reducing the amount of heat that enters a home. Pinnacle Sun shingles also incorporate 3M Smog-reducing granules formulated with a photocatalytic coating that allows the granules to transform smog into water-soluble ions, helping improve air quality. On an average-sized roof system, Pinnacle Sun shingles reportedly have the smog-fighting capacity of two or three trees. Pinnacle Sun shingles are available in a variety of colors inspired by coastal regions. Pinnacle Impact shingles also feature 3M Smog-reducing granule technology and HP42 technology, as well as 3M Scotchgard Protector, which is said to prevent black streaks caused by algae. Pinnacle Impact shingles are manufactured with special polymers to achieve a Class 4 impact rating. The shingles' unique polymer blend reportedly reduces energy usage and emissions during the manufacturing process and provides greater hail resilience. Pinnacle Impact shingles are offered in a neutral palette of colors.
atlasroofing.com